#RenoUndarted: Apostle Suleman Roasts Nigerians For Accusing Omokri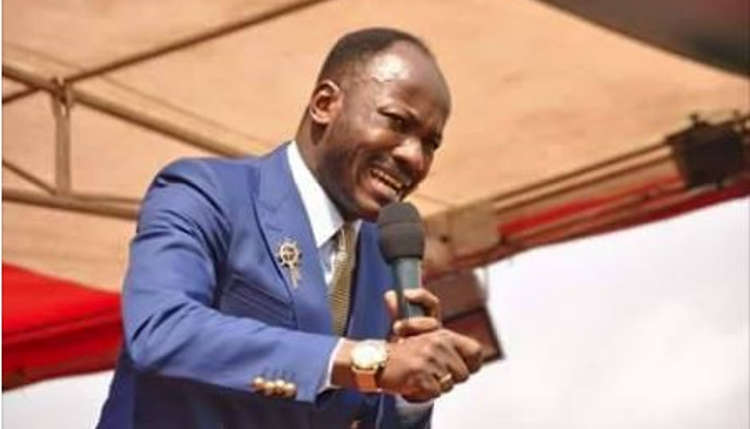 The General Overseer of Omega Fire Ministries, Apostle Johnson Suleman, has berated Nigerians for accusing Reno Omokri of making money with Leah Sharibu, the Dapchi schoolgirl, who was kidnapped by Boko Haram terrorists last year.
Naija News understands that Omokri, who is the Author of Facts V Fiction: True Story of GEJ Years, has been advocating for Miss Sharibu's release.
In an attempt at reintroducing her case in national and global consciousness, Omokri launched a book: "Leah Sharibu: The Girl Boko Haram Left Behind," and also introduced customs made 'Free Leah Sharibu' T-shirts for varying amounts of money, which has been patronized by notable Nigerians.
Pastor Ayo Oritsejafor, the former president of the Christian Association of Nigeria; a former finance minister, Senator Nenadi Usman; Umar Sani, a former spokesman for ex-Vice President Namadi Sambo, are among those who have bought the T-shirt for prices ranging between N30,000 and N100,000.
The former Presidential media aide says he has traveled to twenty-seven countries in a bid to fulfill his promise of reintroducing Leah's case, a tour some say he is using to enrich his pocket. The accusation led to the trending of #RenoUndarted on Twitter on Friday.
Reacting to the accusation, Omokri said he made ₦1 million from the book "Leah Sharibu: The Girl Boko Haram Left Behind" and that the money was transferred to Leah's mother.
Defending Omokri in a tweet on Friday night, Apostle Suleman wondered why Nigerians fight good people, noting that Omokri has "selflessly championed the cause of Leah Sharibu."
"Why must Nigerians fight good [email protected] has selflessly championed the cause of Leah Sharibu. I gave N1m to LEAH and he sent me the parents acct. The mum thanked me on phone..now you accuse such a man of fraud?. Must we discourage good men?" The Apostle questioned.
Why must Nigerians fight good people?@renoomokri has selflessly championed the cause of leah sharibu.i gave N1m to LEAH and he sent me the parents acct.the mum thanked me on phone..now you accuse such a man of fraud?.must we discourage good men?

— Apst Johnson Suleman (@APOSTLESULEMAN) June 21, 2019
Source: Naija News