Breakdown Of States Governorship Election Results From All LGAs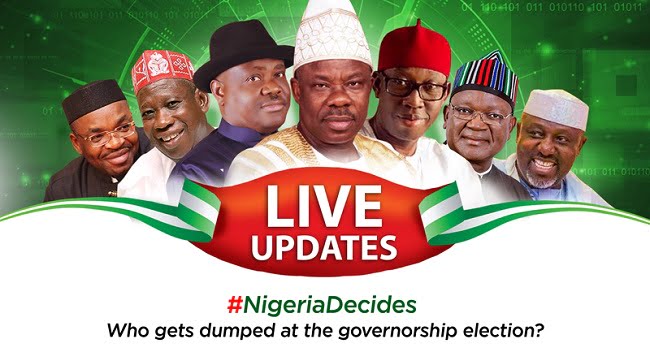 Naija News has obtained the breakdown of the governorship election results recorded in all the local government areas in twenty-nine (29) states.
This online news platform reports that the Independent National Electoral Commission (INEC), commenced the governorship and House of Assembly elections at exactly 8 am on Saturday, March 9, amidst tight security.
The governorship election took place in 29 states while state assembly polls held in all the nation's 36 states.
While INEC declared winners in some elections, others it declared it inconclusive while that of Rivers state was suspended.
Below is the breakdown of the results from all LGAs:
Abia – Okezie Ikpeazu (PDP)
Bende LGA – APC: 12,172 APGA: 4,238 PDP: 7,265
Umuahia South LGA – APC: 7,606 APGA: 4,502 PDP: 8257
Ukwa East LGA – APC: 1447 APGA: 1,935 PDP: 3819
Umunneochi LGA – APC: 7,238 APGA: 3,190 PDP: 7,004
Ugwunagbo LGA – APC: 1,865 APGA: 1,054 PDP: 22,084
Osisioma LGA – APC: 1,981 APGA: 2,298 PDP: 19,835
Isialanwagwa South LGA – PDP: 19,672 APGA: 5,129 APC: 1,967
Obingwa LGA – APGA: 3,390 APC: 2,679 PDP: 78,803
Akwa Ibom – Udom Emmanuel (PDP)
Ibeno LGA – APC: 1,442 PDP: 10,008
Urue Ofong Oruko LGA – APC: 4,592 PDP: 6,915
Nsit Ubium LGA – APC: 6,004 PDP: 17,863
Okobo LGA – APC: 6,079 PDP: 10,800
Esit Eket LGA – APC: 3,913 PDP: 13,290
Onna LGA – APC: 2,110 PDP: 32,103
Uruan LGA – APC: 5,192 PDP: 12,895
Nsit Atai LGA – APC: 3,783 PDP: 8,855
Ikot Abasi LGA – APC: 7,549 PDP: 9,335
Obot Akara LGA – APC: 4,704 PDP: 13,979
Uyo LGA – APC: 12,549 PDP: 35,092
Abak LGA – APC: 11,505 PDP: 17,461
Ini LGA – APC: 3,316 PDP: 17,335
Nsit Ibom LGA – APC: 4,816 PDP: 17,326
Mbo LGA – APC: 5,419 PDP: 9,631
Eket LGA – APC: 5,087 PDP: 26,372
Oruk Anam LGA – APC: 8,640 PDP: 35,093
Itu LGA – APC: 5,911 PDP: 14,633
Esit Eket LGA – APC: 3,917 PDP: 13,290
Ukanafun LGA – APC: 7,220 PDP: 35,447
Etinan LGA – APC: 8,089 PDP: 22,954
Ibesikpo Asutan LGA – APC: 7,179 PDP: 15,679
Udung Uko LGA – APC: 2,108 PDP : 4,036
Mkpat Enin LGA – APC: 4,769 PDP: 18,056
Ika LGA – APC: 3,212 PDP: 12,752
Oron LGA – APC: 3,859 PDP: 8,433
Ibiono Ibom LGA – APC: 7,820 PDP: 36,988
Ikot Ekpene LGA – APC: 11,240 PDP: 14,832
Etim Ekpo LGA – APC: 2,776 PDP: 10,149
Eastern Obolo LGA – APC: 1,914 PDP: 10,780
Ikono LGA – APC: 4,498 PDP: 18,910
Adamawa – Inconclusive
Girei LGA – APC: 14,976 PDP: 14,115
Mubi North LGA – APC: 31,794 PDP: 16,667
Yola South LGA – APC: 21,941 PDP: 17,432
Yola North LGA – APC: 20,979 PDP: 24,383
Shelleng LGA – APC: 15,880 PDP: 11,135
Mayo-Belwa LGA – APC: 14,198 PDP: 19,897
Song LGA – APC: 17,439 PDP 24,764
Michika LGA – APC: 13,224 PDP: 24,504
Numan LGA – APC: 11,592 PDP: 18,826
Ganye LGA – APC: 19,063 PDP: 17,809
Jada LGA – APC: 18,006 PDP: 20,076
Guyuk LGA – APC: 12,494 PDP: 18,305
Fufore LGA – APC: 21,669 PDP: 17,266
Maiha LGA – APC: 14,939 PDP: 8,745
Mubi South LGA – APC: 19,825 PDP: 10,420
Lamurde LGA – APC: 10,102 PDP 18,783
Demsa LGA – APC: 10,342 PDP: 22,037
Hong LGA – APC: 21,358 PDP 25,878
Madagali LGA – APC: 9,265 PDP: 17,529
Gombi LGA – APC: 9,347 PDP: 12,968
Bauchi – Inconclusive
Bogogo LGA – APC: 7,442 PDP: 19,667
Dass LGA – APC: 15,388 PDP: 12,411
Kirfi LGA – APC: 15,562 PDP: 15,408
Giade LGA – APC: 17,004 PDP: 11,391
Warji LGA – APC: 17,939 PDP: 17,022
Misau LGA – APC: 16,282 PDP: 19,928
Jama'are LGA – APC: 12,901 PDP: 11,041
Alkaleri LGA – APC: 27,238 PDP: 34,625
Zaki LGA – APC: 23,179 PDP: 24,582
Dambam LGA – APC: 11,383 PDP- 11,846
Gamawa LGA – APC: 27,462 PDP: 18,998
Shira LGA – APC- 23,061 PDP: 19,296
Itas Gadau – APC: 23,670 PDP: 20,054
Katagum – APC: 27,820 PDP: 26,666
Benue
Oju LGA – APC: 19,061 PDP: 13,110
Obi LGA – APC: 9,696 PDP: 9,055
Gwer West LGA – APC: 7,292 PDP: 14,375
Ogbadibu LGA – APC: 9,018 PDP: 8,518
Gwer East LGA – APC: 14,582 PDP: 19,596
Ushongo LGA – APC: 14,589 PDP: 22,351
Ushongo LGA – APC: 14,589 PDP: 22,351
Ohimini LGA – APC: 8,470 PDP: 7,304
Agatu LGA – APC: 7,538 PDP: 9,935
Apa LGA – APC: 8,460 PDP: 8,429
Ukum LGA – APC: 11,725 PDP: 22,540
Katsina Ala LGA – APC: 21,614 PDP: 17,987
Ado LGA – APC: 7,711 PDP: 7,258
Ado LGA – APC: 7,711 PDP: 7,258
Guma LGA – APC: 8,869 PDP: 28,479
Gboko LGA – APC: 28,547 PDP: 36,186
Makurdi LGA – APC: 35,967 PDP: 29,232
Logo LGA – APC: 4,552 PDP: 30,152
Buruku LGA – APC: 13,215 PDP: 29,149
Kwande LGA – APC: 22,783 PDP: 29,048
Vandeikya LGA – APC: 18,579 PDP: 27,124
Borno
Abadam LGA – APC: 9,968 PDP: 50
Askira Uba LGA – APC: 58,719 PDP: 9,800
Bayo LGA – APC 33,752 PDP 1,903
Biu LGA – APC 46,794 PDP: 5,597
Damboa LGA – APC: 36,617 PDP: 721
Gwoza LGA – APC: 120, 213 PDP: 3,118
Gubio LGA – APC: 33,203 PDP: 419
Guzamala LGA – APC: 28,030 PDP: 277
Dikwa LGA – APC: 22,138 PDP: 1,542
Kaga LGA – APC: 16,647 PDP: 1,166
Kalabalge LGA – APC: 35,780 PDP: 497
Kukawa LGA – APC: 29,040 PDP: 344
Kwaya Kusar LGA – APC: 19,790 PDP 6,860
Mafa LGA – APC: 53,011 PDP: 163
Magumeri LGA – APC: 22,261 PDP: 123
Marte LGA – APC: 19,329 PDP: 173
Mobbar LGA – APC: 35,828 PDP: 622
Monguno LGA – APC: 41,999 PDP: 493
Ngala LGA – APC: 42,301 PDP: 1,910
Nganzai LGA – APC: 20,196 PDP: 907
Chibok LGA – APC: 19,370 PDP :1,804
Konduga LGA – APC: 31,484 PDP: 2,407
Jere LGA – APC: 122,384 PDP: 3,440
Bama LGA – APC: 54,783 PDP: 1,036
Hawul LGA – APC: 29,845 PDP: 7,039
Maiduguri Metropolitan Council – APC: 168,952 PDP: 5,493
Shani LGA – APC: 23,006 PDP: 8,205
Cross River – Ben Ayade (PDP)
Akpabuyo LGA – APC: 4,524 PDP: 12,614
Ogoja LGA – APC: 7,466 PDP: 28,798
Calabar Municipality – APC: 7,703 PDP: 15,524
Etung LGA – APC: 3,892 PDP: 6,282
Ikom LGA – APC 10,049 PDP: 16,862
Abi LGA – APC: 7,387 PDP: 13,035
Odukpani LGA – APC: 6,633 PDP: 14,003
Yakurr LGA – APC: 10,885 PDP: 20,110
Biase LGA – APC: 6,250 PDP: 11,811
Bakassi LGA – APC: 1,533 PDP: 5,225
Obanliku LGA – APC: 4,538 PDP: 15,066
Obudu LGA – APC: 4,296 PDP: 65,167
Obubra LGA – APC: 9,461 PDP: 19,575
Yala LGA – APC: 10,756 PDP: 42,271
Bekwarra LGA – APC: 5,359 PDP: 24,819
Akamkpa LGA – APC: 7,097 PDP: 12,959
Calabar Sourth LGA – APC: 8,587 PDP: 19,228
Boki LGA – APC – 14,745 PDP: 38,135
Delta – Ifeanyi Okowa (PDP)
Ika South LGA – APC: 3,877 PDP: 33,371
Patani LGA – APC: 3,288 PDP: 19,683
Ika North East LGA – APC: 2,303 PDP: 67,417
Ethiope East LGA – APC: 21,141 PDP: 11,489
Ukwuani LGA – PDP: 18,328 APC: 7,264
Aniocha North LGA – APC: 4,653 PDP: 17,054
Ethiopie West LGA – APC: 6,211 PDP: 62,044
Oshimili South LGA – APC: 2,700 PDP: 54,766
Aniocha South LGA – APC: 3,138 PDP: 20,947
Isoko South LGA – APC: 14,259 PDP: 43,730
Oshimili North LGA – APC: 2,906 PDP: 37,744
Isoko North LGA – APC: 9,817 PDP: 29,648
Ebonyi – David Umahi (PDP)
Ohaozara LGA – PDP: 48,256 APC: 1,004
Ikwo LGA – PDP: 37,947 APC: 11,475
Izzi LGA – PDP: 34,199 APC: 13,430
Ohaukwu LGA – PDP: 30,606 APC: 9,943
Afikpo South LGA – PDP: 27,720 APC: 9,245
Ezza South LGA – PDP: 27,583 APC: 3,245
Ishielu LGA – PDP: 26,700 APC: 3,105
Ebonyi LGA – PDP: 25,830 APC: 5,951
Ivo LGA – PDP: 19,166 APC: 1,704
Ezza North LGA – PDP: 14,181 APC: 2,482
Abakaliki LGA – PDP: 26,005 APC: 9,764
Onicha LGA – PDP: 52,851 APC: 2,497
Afikpo North – PDP: 21,245 APC: 7,446
Enugu – Governor Ifeanyi Ugwuanyi (PDP)
Enugu South LGA – PDP: 17,513 APC: 533
Aninri LGA – PDP: 21,450 APC:496
Awgu LGA – PDP: 23,025 APC: 1,232
Ezeagu LGA – PDP: 21,448 APC: 255
Isiuzo LGA – PDP: 19,698 APC: 284
Nkanu West LGA – PDP: 30,698 APC: 243
Igboetiti LGA – PDP: 25,557 APC: 1,223
Oji River LGA – PDP: 22,369 APC: 536
Udenu LGA – PDP: 39,437 APC: 394
Udi LGA – PDP: 25,124 APC: 823
Enugu North LGA – PDP: 15,120 APC: 276
Igboeze North LGA – PDP: 30,666 APC: 1,607
Nsukka LGA – PDP: 51,207 APC: 572
Enugu East LGA – PDP: 22,300 APC: 352
Igboeze South LGA – PDP: 38,326 APC: 705
Uzouwani LGA – PDP: 22,879 APC: 256
Nkanu East LGA – PDP: 23,118 APC: 636
Gombe – Muhammad Inuwa (APC)
Shomgom LGA – APC: 13,463 PDP 12,993
Gombe LGA – APC: 68,384 PDP: 21,673
Kaltungo LGA – APC: 26,744 PDP: 22,259
Nafada LGA – APC: 9,018 PDP: 17,937
Yamaltu Deba LGA – APC: 51,521 PDP: 25,852
Kwami LGA – APC 30,539 PDP 18,240
Billiri LGA – APC: 18,612 PDP: 18,063
Funakaye LGA – APC: 29,191 PDP 20,020
Akko LGA – APC: 58,479 PDP: 30,832
Balanga LGA – APC: 30,926 PDP: 18,192
Dukku LGA – APC: 27,302 PDP: 16,807
Imo – Emeka Ihedioha (PDP)
Nkwerre LGA – AA: 8,205 APC: 2,147 PDP: 1,889
Ikeduru LGA – AA: 4,006 APC: 3,139 PDP: 14,848
Owerri Minucipal – AA: 2,617 APC: 1,540 PDP: 10,118
Onuimo LGA – AA: 4,173 APGA: 4,577 APC: 1,217 PDP 2,063
Owerri Municipal – AA: 2,617 APC: 1,540 PDP: 10,118
Ngor Okpalla LGA – AA: 4,797 APC: 2,310 PDP: 11,502
Owerri North LGA – AA: 2,988 APC: 2,272 PDP: 12,797
Orlu LGA – AA: 9,659 APC: 3,007 PDP: 5,053
Ideato South LGA – AA: 40,438 APC: 4,893 PDP: 3,600
Ihitte Uboma LGA – AA: 5,444 APC: 3,160 PDP: 4,235
Ahiazu Mbaise LGA – AA: 3,395 APC: 971 PDP: 32,987
Isiala Mbano LGA – AA: 3,383 APC: 1,893 PDP: 3,589
Ezinihitte Mbaise LGA – AA: 2,646 APC: 1,462 PDP: 30,035
Owerri West LGA – AA: 2,538 APC: 2,868 PDP: 12,878
Ohaji Egbema LGA – AA: 16,739 APC: 4,585 PDP: 5,872
Oru East LGA – AA: 4,531 APC: 24,257 PDP: 4,806
Ideato North LGA – AA: 5,599 APC: 3,723 PDP: 3,064
Nwangele LGA – AA: 9,924 APC: 1,831 PDP: 3,482
Oguta LGA – AA: 3,431 APC: 1,644 PDP: 5,663
Orsu LGA – AA: 6,203 APC: 3,780 PDP: 2,596
Mbaitolu LGA – AA: 5,869 APC: 3,704 PDP: 13,358
Jigawa – Badaru Abubakar (APC)
Gagarawa LGA – APC: 15,565 PDP: 8,411
Auyo LGA – APC: 27,771 PDP: 7,879
Kazaure LGA – APC: 22,074 PDP 3,216
Taura LGA – APC: 32,735 PDP: 11,417
Hadejia LGA – APC: 27,242 PDP: 4,399
Miga LGA – APC: 22,746 PDP: 9,269
Jahun LGA – APC: 41,937 PDP: 16,119
Garki LGA – APC: 33,674 PDP: 15,147
Malam Madori LGA – APC: 27,616 PDP: 7,397
Kaugama LGA – APC: 26,025 PDP: 7,382
Sule Tankarkar LGA – APC: 32,154 PDP: 12,543
Dutse LGA – APC: 43,165 PDP: 15,108
Babura LGA – APC: 43,601 PDP: 7,131
Kiyawa LGA – APC: 36,255 PDP: 12,866
Kiri kasamma LGA – APC: 26,388 PDP: 9,333
Yankwashi LGA – APC: 11,880 PDP: 5,677
Ringim LGA – APC: 41,481 PDP: 28,035
Roni LGA – APC: 19,516 PDP: 5,013
Gwaram LGA – APC: 58,210 PDP: 12,227
Birniwa LGA – APC: 24,993 PDP: 12,227
Kafin Hausa LGA – APC: 38,989 PDP: 10,133
Birnin Kudu LGA – APC: 48,401 PDP: 22,777
Maigatari LGA – APC: 26,123 PDP: 12,494
Buji LGA – APC: 21,406 PDP: 9,389
Guri LGA – APC: 20,953 PDP: 7,389
Gwiwa LGA – APC: 24,953 PDP: 7,746
Gumel LGA – APC: 15,800 PDP: 5,298
Kaduna – Nasir El-Rufai
Kaura LGA – APC: 8,342 PDP: 38, 764
Makarfi LGA – APC: 34,956 PDP: 22,301
Jaba LGA – APC: 6,298 PDP: 22,976
Kudan LGA – APC: 28,624 PDP- 22,022
Ikara LGA – APC: 41,969 PDP: 22,553
Kubau LGA – APC: 57,182 PDP: 17,074
Kajuru LGA – APC: 10,229 PDP: 34, 658
Giwa LGA – APC: 51,455 PDP: 19,824
Kachia LGA – APC: 30,812 PDP: 51,780
Soba LGA – APC: 55,046 PDP: 25,440
Kauru LGA – APC: 34,844 PDP: 31,928
Zango Kataf LGA – APC: 13,448 PDP: 87,546
Sanga LGA – APC: 20,806 PDP: 21,226
Kaduna North LGA – APC: 97,243 PDP: 27,665
Birnin Gwari LGA – APC: 32,292 PDP: 16,901
Chikun LGA – APC: 24,262 PDP: 86,261
Sabon Gari LGA – APC: 57,655 PDP- 25,519
Lere LGA – APC: 71,056 PDP: 45,215
Jema'a LGA – APC: 21,265 PDP: 63,129
Kagarko LGA – APC: 21,982 PDP: 27, 643
Igabi LGA – APC: 102,612 PDP: 31,429
Kaduna South LGA – APC: 102,035 PDP: 37,948
Zaria LGA – APC: 111, 014 PDP: 37, 356
Kano – Inconclusive
Madobi LGA – APC: 24,491 PDP: 24,309
Bebeji LGA – APC: 17,418 PDP: 18,533
Kunchi LGA – APC: 16,157 PDP: 13,171
Danbatta LGA – APC: 24,696 PDP: 18,696
Karaye LGA – APC: 18,770 PDP: 17,163
Albasu LGA – APC: 25,358 PDP: 18,401
Garko LGA – APC: 16,952 PDP: 12,295
Bunkure LGA – APC: 20,407 PDP: 20,222
Rano LGA – APC: 16, 694 PDP: 14, 892
Bagwai LGA – APC: 20,768 PDP: 18,511
Kibiya LGA – APC: 15,760 PDP: 17,373
Karaye LGA – APC: 18,770 PDP: 17,163
Gwarzo LGA – APC: 27,015 PDP: 24,773
Tofa LGA – APC: 17,506 PDP: 13,885
Gabasawa LGA – APC: 18,215 PDP: 14,679
Shanono LGA – APC: 20,691 PDP: 14,503
Kabo LGA – APC: 27,522 PDP: 26,233
Sumaila LGA – APC: 23,934 PDP: 16,606
Makoda LGA – APC: 22,788 PDP: 9,253
Ajingi LGA – APC: 17,711 PDP: 14,485
Gezawa LGA – APC: 20,642 PDP: 24,151
Bichi LGA – APC: 31,958 PDP: 27,644
Warawa LGA – APC: 14,599 PDP: 15,114
Kiru LGA – APC: 28,765 PDP: 27,868
Rimingado LGA – APC: 19,453 PDP: 13,777
Gwale LGA – APC: 23,871 PDP: 41,591
Wudil LGA – APC: 18,589 PDP: 18,220
Tudun Wada LGA – APC: 27,917 PDP: 21,556
Doguwa LGA – APC: 20,696 PDP: 12,642
Dawakin Kudu LGA – APC: 25,657 PDP: 30,901
Minjibir LGA – APC: 17,707 PDP: 17,952
Garun Malam LGA – APC: 14,765 PDP: 14,446
Tarauni LGA – APC: 21,734 PDP: 35,314
Gaya LGA – APC: 19,202 PDP: 18,090
Rogo LGA – APC: 23,859 PDP: 27,342
Ungogo LGA – APC: 26,843 PDP: 42,241
Dawakin Tofa LGA – APC: 32,945 PDP: 17,418
Kura LGA – APC: 22,390 PDP – 24,410
Kumbotso LGA – APC: 24,751 PDP: 40,417
Kano Municipal LGA – APC: 32,394 PDP – 57,781
Takai LGA – APC: 19,070 PDP: 14,119
Dala LGA – APC: 32,530 PDP: 60,082
Fagge LGA – APC: 18,370 PDP: 27,344
Katsina – Aminu Masari (APC)
Batagarawa LGA – APC: 39,420 PDP: 12,512 GAB: 26,908
Sandamu LGA – APC: 32,193 PDP: 11,912 GAB: 20,281
Matazu LGA – APC: 28,253 PDP: 10,327 GAB: 17,926
Dutsi LGA – APC: 22,482 PDP: 10,564 GAB: 11,918
Kusada LGA – APC: 20,799 PDP: 8,080 GAB: 12,719
Zango LGA – APC: 23,143 PDP: 11,662 GAB: 11,481
Rimi LGA – APC: 37,278 PDP: 12, 469 GAB: 23,782
Ingawa LGA – APC: 28,905 PDP: 12,602 GAB: 16,303
Baure LGA – APC: 41,078 PDP: 18,012 GAB: 23,066
Mani LGA – APC: 34,254 PDP: 16,476 GAB: 177,778
Katsina LGA – APC: 64,709 PDP: 16,734 GAB: 47,975
Jibia LGA – APC: 30,538 PDP: 12,616 GAB: 17,702
Danmusa LGA – APC: 28,008 PDP: 10,306 GAB: 17,702
Kankai LGA – APC: 29,096 PDP: 14,706 GAB: 14,390
Mai'Adua LGA – APC: 34,154 PDP: 12,904 GAB: 21,250
Batsari LGA – APC: 33,702 PDP: 10,102 GAB: 23,600
Kaita LGA – APC: 27,076 PDP: 11,479 GAB: 15,597
Mashi LGA – APC: 34,695 PDP: 19,255 GAB: 15,440
Dandume LGA – APC: 32,560 PDP: 13,533 GAB: 19,027
Bindawa LGA – APC: 34,659 PDP: 13,183 GAB: 21,476
Kwara – Abdulrahman Abdulrasaq (APC)
Oyun – APC 11,399 PDP 3,728
Offa – APC 22,874 PDP 5,172
Irepodun – APC 16,155 PDP 7,339
Isin – APC 6,624 PDP 2,588
Moro – APC 18,985 PDP 5,490
Asa – APC 16,246 PDP 8,963
Edu – APC 26,805 PDP – 6,174
Oke Ero – APC 7,423 PDP 4,891
Ilorin South – APC 26,752 PDP 9,489
Ilorin East – APC 31,521 PDP 10,888
Ifelodun – APC 23,734 PDP 7,445
Ekiti – APC 7,938 PDP 3,950
Kaiama – APC 14,829 PDP 3,386
Ilorin West – APC 55,287 PDP 25,583
Patigi – APC 18,109 PDP 2,578
Baruten LGA – APC: 26,865 PDP: 7,090
Lagos – Babajide Sanwo-Olu (APC)
Ikeja LGA – ADP: 143 APC: 28,592 PDP: 8,109
Ikorodu LGA – ADP: 620 APC: 45,879 PDP: 14,769
Amuwo-Odofin LGA – ADP: 184 APC: 23,267 PDP: 13,700
Ibeju Lekki LGA – ADP: 143 APC: 23,298 PDP: 3,320
Agege LGA – ADP: 86 APC: 38,515 PDP: 8,371
Apapa LGA – ADP: 53 APC: 20,469 PDP: 5,959
Shomolu LGA – ADP: 203 APC: 40,408 PDP: 9,991
Eti-Osa LGA – ADP: 286 APC: 30,504 PDP: 10,678
Oshodi-Isolo LGA – ADP: 611 APC: 39,945 PDP: 12,585
Mushin LGA – ADP: 317 APC: 51,899 PDP: 8,751
Surulere LGA – ADP: 313 APC: 39,986 PDP: 13,733
Nasarawa – Abdullahi Sule (APC)
Wamba LGA – APC:15,706 PDP: 9,332 APGA: 1,772
Awe LGA – APC: 29,443 PDP: 9,228 APGA: 1,801
Keana LGA – APC: 11,759 PDP: 6,579 APGA: 2,869
Toto LGA – APC: 32,213 PDP: 8,590 APGA: 1,889
Kokona LGA – APC: 23,027 PDP: 18,971 APGA: 5,809
Doma LGA – APC: 10,029 PDP: 10,318 APGA: 8,568 ZLP: 10,879
Keffi LGA – APC: 25,589 PDP: 12,419 APGA: 2,028
Obi LGA – APC: 20,640 PDP: 17,951 APGA: 15,930
Nasarawa LGA – APC: 31,586 PDP: 17,406
Karu LGA – APC: 23,207 PDP: 21,967
Akwanga LGA – APC: 21,968 PDP: 18,402 APGA: 4,866
Nasarawa Eggon LGA – APC: 11,611 PDP: 14,290
Lafia LGA – APC: 70,451 PDP: 18,827
Niger – Abubakar Bello (APC)
Gurara LGA – APC: 14,649 PDP: 7,798
Munya LGA – APC: 14,879 PDP: 8,458
Tafa LGA – APC: 13,111 PDP: 8,608
Suleja LGA – APC: 19,105 PDP: 14,975
Katcha LGA – APC: 20,171 PDP: 9,800
Bosso LGA – APC: 19,610 PDP: 11,470
Paikoro LGA – APC: 21,571 PDP: 13,600
Wushishi LGA – APC: 13,199 PDP: 8,309
Lavun LGA – APC: 27,345 PDP: 15,335
Rijau LGA – APC: 22,111 PDP: 9,566
Edati LGA – APC: 19,200 PDP: 10,200
Rafi LGA – APC: 28,289 PDP: 13,372
Chanchaga LGA – APC: 27,764 PDP: 21,179
Gbako LGA – APC: 24,836 PDP: 10,623
Agaie LGA – APC: 19,295 PDP – 16,903
Mashegu LGA – APC: 18,102 PDP: 10,988
Mariga LGA – APC: 17,890 PDP: 13,433
Borgu LGA – APC: 25,211 PDP: 7,206
Magama LGA – APC: 20,540 PDP: 17,633
Bida LGA – APC: 21,493 PDP: 11,212
Agwara LGA – APC: 11,236 PDP: 5,365
Lapai LGA – APC: 24,724 PDP: 10,599
Shiroro LGA – APC: 28,285 PDP: 16,438
Mokwa LGA – APC: 26,679 PDP: 13,155
Kontagora LGA – APC: 27,117 PDP: 11,888
Ogun – Dapo Abiodun (APC)
Ijebu North East LGA – APC: 7,268 APM: 2,785 PDP: 3,482
Ewekoro LGA – APC: 6,492 APM: 7,588 PDP: 1,418
Sagamu LGA – APC: 23,737 APM: 14,469 PDP: 4,415
Abeokuta South LGA – APC: 19,414 APM: 18,767 PDP: 1770
Ijebu East LGA – APC: 10,726 APM: 5,147 PDP: 5,296
Ogun Waterside LGA – APC: 8,957 APM: 5,803 PDP: 3,211
Abeokuka North LGA – APC: 12,130 APM: 16,708 PDP: 951
Imeko Afon – APC: 2,657 APM: 7,401 PDP: 529
Ikene LGA – APC: 15,109 APM: 6,553 PDP: 1,040
Egbado South LGA – APC: 8,804 APM: 13,622 PDP: 1,721
Obafemi Owode LGA – APC: 13,660 APM: 8,303 PDP: 2,233
Remo North LGA – APC: 7,437 APM: 4,987 PDP: 930
Ijebu Ode LGA – APC: 13,234 APM: 4,401 PDP: 7,289
Ipokia LGA – APC: 12,890 APM: 26,491 PDP: 1,846
Egbado North LGA – APC: 7,742 APM: 12,208 PDP: 1,590
Ijebu North LGA – APC: 10,574 APM: 7,477 PDP: 21,851
Ifo LGA – APC: 15,642 APM: 17,614 PDP: 2,684
Odeda LGA – APC: 8,030 APM: 6,454 PDP: 1,041
Odogbolu LGA – APC: 12,529 APM: 7,516 PDP: 3,418
Ado Odo Ota LGA – APC: 24,838 APM: 27,859 PDP: 3,575
Oyo – Seyi Makinde (PDP)
Ibadan North West LGA – APC: 10,221 PDP: 20,715
Ibarapa East LGA – APC: 8,646 PDP: 13,002
Atiba LGA – APC: 9,690 PDP: 14,636
Kajola LGA – APC: 12,982 PDP: 13,600
Ido LGA – APC: 8,585 PDP: 16,726
Lagelu LGA – APC: 11,923 PDP: 16,217
Iwajowa LGA – APC: 8,459 PDP: 9,358
Ogbomosho South LGA – APC: 10,984 PDP: 11,236
Afijo LGA – APC: 7,591 PDP: 10,515
Ibadan North East LGA – APC: 12,553 PDP- 30,824
Ibadan South East LGA – APC: 13,277 PDP: 24,556
Atisbo LGA – APC: 9,678 PDP: 10,026
Ogooluwa LGA – APC: 9,547 PDP: 6,152
Surulere LGA – APC: 14,168 PDP: 7,505
Ogbomosho North LGA – APC: 14,442 PDP: 13,035
Ibadan North LGA – APC: 18,868 PDP: 40,786
Egbeda LGA – APC: 13,581 PDP: 24,203
Irepo LGA – APC: 7,862 PDP: 7,633
Oluyole LGA – APC: 9,477 PDP: 18,070
Ona Ara LGA – APC: 7,848 PDP: 14, 430
Akinyele LGA – APC: 12,023 PDP: 23,423
Olorunsogo LGA – APC: 5,277 PDP: 7,554
Plateau – Inconclusive
Jos East LGA – APC: 18,602 PDP: 7,994
Kanke LGA – APC: 23,360 PDP: 22,831
Langtang North LGA – APC: 18,979 PDP: 40,519
Barkin Ladi LGA – APC: 17,039 PDP: 44,233
Bokkos LGA – APC: 26,219 PDP: 25,363
Bassa LGA – APC: 29,401 PDP: 32,825
Mikang LGA – APC: 15,150 PDP: 11,703
Langtang South – APC: 13,495 PDP: 17,644
Pankshin – APC: 35,769 PDP: 24,788
Kanam – APC: 54,394 PDP: 21,956
Jos South – APC: 33,075 PDP: 91,846
Jos North LGA – APC: 108,887 PDP: 67,113
Mangu LGA – APC: 44,964 PDP: 40,035
Wase LGA – APC: 37,593 PDP: 27,485
Riyom LGA – APC: 12,720 PDP: 24,017
Qua'an Pan LGA – APC: 31,962 PDP: 20,939
Shendam LGA – APC: 61,646 PDP: 17,035
Sokoto – Inconclusive
Rabah LGA – APC: 16,535 PDP: 13,232
Kware LGA – APC: 19,001 PDP: 20,011
Silame LGA – APC: 12,341 PDP: 15,923
Binji LGA – APC: 10,699 PDP: 12,367
Bodinga LGA – APC: 20,779 PDP: 21,416
Tureta LGA – APC: 11,454 PDP 13,017
Yabo LGA – APC: 16,012 PDP: 13,299
Wurno LGA – APC: 19,487 PDP: 13,592
Tangaza LGA – APC: 16,374 PDP: 17,661
Gudu LGA – APC: 12,022 PDP: 14,901
Isa LGA – APC: 16,762 PDP: 23,911
Tambuwal LGA – APC: 29,081 PDP: 42,830
Dange Shuni LGA – APC: 23,338 PDP: 22,783
Sabon Birni LGA – APC: 31,234 PDP: 33,395
Sokoto South LGA – APC: 36,779 PDP: 40,059
Goronyo LGA – APC: 20,867 PDP: 19,915
Gada LGA – APC: 25,433 PDP: 20,262
Wammako LGA – APC: 34,834 PDP: 26,171
Sokoto North LGA – APC: 31,230 PDP 35,030
Kebbe LGA – APC: 11,820 PDP: 9,751
Gwadabawa LGA – APC: 24,741 PDP: 21,703
Shagari LGA – APC: 19,359 PDP: 17,959
Illela LGA – APC: 25,908 PDP: 20,370
Taraba
Gassol LGA – APC: 46,385 PDP: 28,181
Zing LGA – APC: 7,105 PDP: 31,619
Ardo-Kola LGA – APC: 19,617 PDP: 22,208
Yorro LGA – APC: 6,712 PDP: 16,278
Lau LGA – APC: 12,542 PDP: 20,881
Ussa LGA – APC: 10,209 PDP: 20,567
Takum LGA – APC: 14,014 PDP: 50,562
Gashaka LGA – APC: 10,746 PDP: 12,592
Jalingo LGA – APC: 58,511 PDP: 31,917
Bali LGA – APC: 31,357 PDP: 34,744
Ibi LGA – APC: 18,616 PDP: 13,630
Donga LGA – APC: 13,707 PDP: 42,696
Wukari LGA – APC: 34,995 PDP: 92,527
Kurmi LGA – APC: 3,815 PDP: 28,519
Karim-Lamido LGA – APC: 44,480 PDP: 34,892
Sardauna LGA – APC: 29,924 PDP: 38,618
Zamfara – Mukhtar Shehu (APC)
Bubgudu LGA – APC: 41,335 PDP: 18,329
Kauran Namoda LGA – APC: 38,937 PDP: 14,647
Birnin Magaji LGA – APC: 26,278 PDP: 7,850
Gusau LGA – APC: 67,299 PDP: 22,441
Talatan Mafara LGA – APC: 66,151 PDP: 12,691
Zurmi LGA – APC: 38,535 PDP: 13,194
Maradun LGA – APC: 24,210 PDP: 18,864
Bukuyum LGA – APC: 30,142 PDP: 12,010
Gummi LGA – APC: 56,970 PDP: 13,418
Anka LGA – APC: 20,986 PDP: 8,292
Bakura LGA – APC: 45,467 PDP: 15,331
Maru LGA – APC: 17,582 PDP: 9,830
Shinkafi LGA – APC: 18,890 PDP: 5,707
Tsafe LGA – APC: 41,387 PDP: 16,764
Source: Naija News