President Buhari Meets Mbaka In Aso Rock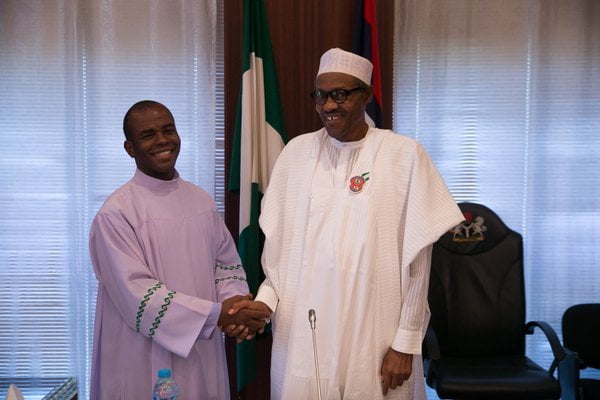 President Muhammadu Buhari on Monday met Rev. Fr. Ejike Mbaka, the spiritual director of Adoration Ministry Enugu, Nigeria (AMEN) at the presidential villa in Abuja, Nigeria's capital.
Naija News learned that Mbaka arrived at the forecourt of the president's office at about 12 noon and made straight to the president's office complex.
Mbaka, a controversial Catholic Priest, predicted Buhari's emergence as the President of Nigeria in the 2015 Presidential election.
The controversial Priest made headlines late 2018 after of video appeared to show the cleric chastising the Peoples Democratic Party's vice presidential candidate, Peter Obi, for not donating money to his ministry.
In December 2018, Mbaka warned that President Buhari will go nowhere if he remains ungrateful to the ministry.
Naija News reports that the controversial Catholic Priest had in a viral video on social media, accused President Buhari of abandoning the ministry despite the support and the prophecy about his victory in 2015.
"We were chased away because of Buhari… No one person has been employed by Buhari after Fr. Mbaka almost died for his sake," he had said.
"Supporting Buhari is almost becoming a curse; we will not tell you that we will not support him, even if not for the sake of his good wife. She has been sending some little charity… for his (Buhari's ) sake, I was almost assassinated because we stood for him.
"APC was down till the prophecy came up that Buhari was going to be the president. After that, we were forgotten…
"If you know what this ministry is going through because we are supporting Buhari, the attackers are waiting to hear me say that I will support him again; and Buhari will remain in Aso Rock, being somebody who cannot give money, what does that mean?
"I want to remind you that if Buhari will remain ungrateful to this ministry he is going nowhere.
"One thing that is holding him (Buhari) is spiritual, how many times has he almost died? And he should not take it for granted that he is healthy " Mbaka had said.
Source: Naija News