Nigerians Accuse Buhari Of Tyranny Over Suspension Of Onnoghen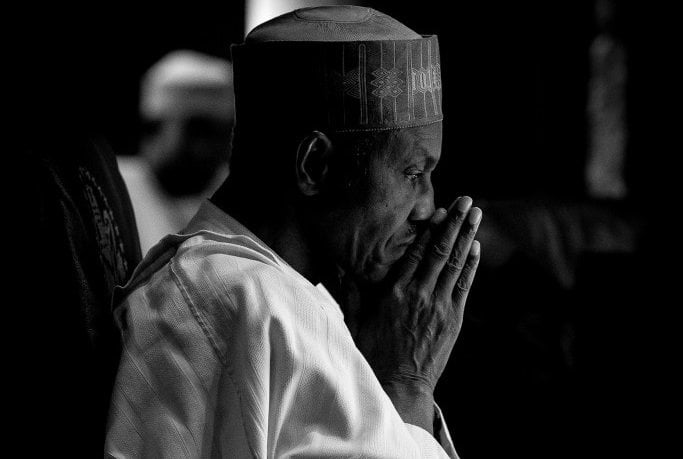 Nigerians have accused President Muhammadu Buhari of tyranny over the suspension of Justice Walter Onnoghen as the Chief Justice of Nigeria.
Naija News had reported earlier that the President suspended Onnoghen on Friday and immediately appointed Tanko Mohammed as the acting Chief Justice of Nigeria.
Giving reasons for his decision in his speech which was obtained by Naija News, the President said there was an order from the Code of Conduct Tribunal, CCT, asking him to wield the big stick.
President Buhari said the order demanded that the CJN be suspended depending on the determination of his ongoing trial at the tribunal.
Apparently displeased with the President's decision, Nigerians took to the micro-blogging site, Twitter to blast the President with #TyrantBuhari.
Naija News captured some of the reactions below…
Three years ago, in January 2016, the PDP Digital Media Family trended #TyrantBuhari and some thought we were doing too much.

There's nothing we've predicted about this man that has turned out to be wrong, nothing.

If anything in fact, he has surprised us exceedingly sometimes.

— Demola Olarewaju (@DemolaRewaju) January 25, 2019
If I happen to follow you and you believe there is any justification for the removal of the CJN outside the provisions of the constitution as #tyrantbuhari has done, keep it to yourself. If I see your tweet, I will insult you and I don't fucking care who you are

— EDWARD Israel-Ayide (@wildeyeq) January 25, 2019
Dear @USEmbassyAbuja @UKinNigeria,

Now is the time to activate the travel ban on all members of the executives and their family. Our democracy is under attack, we have never had it this worst. #TyrantBuhari

— Oluyemi Fasipe?? (@YemieFASH) January 25, 2019
Today is indeed a sad day to be a Nigerian and to be a lawyer.

I haven't felt this much sadness in my soul for a long time.

I feel surreal typing this… ???

The #TyrantBuhari just buried the judiciary.

— Atikulated Prince of Ogoni (@PrinceCBN) January 25, 2019
VP Osinbajo said President Buhari was unaware of Walter Onnoghen trial, and I want to ask Osinbajo if the alleged "Reformed Democrat Buhari" is now aware that "General Buhari" has suspended the Chief Justice of Nigeria,Walter Onnoghen.#TheBuhariEffect #TyrantBuhari #Democracy

— Simeon (@simmeonii) January 25, 2019
Buhari has finally overthrown constitutional governance. Onnoghen remains CJN & Nigerians will continue to recognise him as such

Move is aimed at stopping the swearing in of members of 2019 election petition tribunal – Coalition of United Political Parties (CUPP)#TyrantBuhari

— May Ubeku (@Maybeks) January 25, 2019
How do you sleep at night? @ProfOsinbajo#TyrantBuhari

— Parodisent General Buhari (@TheMbuhari) January 25, 2019
May God punish and destroy all of you defending this nonsense that #TyrantBuhari is doing.

I'm so pissed!

— Shalom Miriam Shehu (@MiriamShehu) January 25, 2019
Buhari is not and can never be bigger than our Constitution. #TyrantBuhari

— Simeon (@simmeonii) January 25, 2019
See, they took the gloves off, tyranny has been fully unleashed on us.
These are dangerous times; or very existence as one nation has been threatened by the illegal suspension of CJN Walter Onnoghen.
I agree that this is tantamount to suspending the constitution. #TyrantBuhari

— Somto Onuchukwu (@chosensomto) January 25, 2019
Buhari will block Internet soon. He attempted to censor it before, when protest begin he will unleash the military on the masses. #tyrantbuhari

— Sunday Balogun (@psbrainbow) January 25, 2019
Only yesterday #TyrantBuhari @MBuhari told the SE that he doesn't trust their sons/daughters to appoint them into sensitive position.

Today, he has-against all known laws, remove a southern CJN to complete his circle of Nepotism.

Never Again #TyrantBuhari pic.twitter.com/oeuFUYFBep

— #History ™ (@iamhistory_) January 25, 2019
Tell your demigod #TyrantBuhari that he has no such powers to suspend, fire or hire the CJN.

Even if Buhari doesn't know how to read, I bet you do. https://t.co/p9SVu1PBph

— #History ™ (@iamhistory_) January 25, 2019
The world just hear this. Democracy has been destroyed in Nigeria #TyrantBuhari

— Sherishery (@Mz_sherifa) January 25, 2019
Liberians Survived Samuel Doe and Gaddafi.
Uganda survived Idiami.
Mugagbe was disgraced out in Harare.
Gambia survived Yayah Jammeh.
We survived Sani Abacha.

One day, Buhari shall be a history and posterity will not forgive all his cronies. #TyrantBuhari

— Governotorial Bolanle. Esq ?? (@bolanle_cole) January 25, 2019
It took him 6 months to Appoint his Ministers!
It took him 6 months to remove his indicted SGF.

It took him only 3 days to remove the CJN.
It took him just 30mins to Apppoint another CJN.

Desperation of a Tyrant. #TyrantBuhari

— Governotorial Bolanle. Esq ?? (@bolanle_cole) January 25, 2019
The story will be told that, at a time when #tyrantbuhari was busy burying democracy in Nigeria, a VP who was supposed to be a SAN and a Pastor did nothing to stop it, rather he consented to it fully.@MBuhari @ProfOsinbajo @john_danfulani @adeyanjudeji @segalink @renoomokri

— Akaji uten (@u10akaji) January 25, 2019
General Muhammadu Buhari lacks the quality of being honest and having strong moral principles. He is a dictator with no democratic traits.

As patriotic Nigerians, it is our responsibility to ensure that this unjust and oppressive use of power is resisted. #TyrantBuhari

— Alhaji Table Breaker (@yemi_adebowale) January 25, 2019
If Osinbajo values principles or decency, he would resign today & no longer be part of this disgrace, but he is not different from the tyrant. Everything Buhari touches turns to ash, all the intellectuals around the President have been transformed to semi-literates. #TyrantBuhari

— Comrade Deji Adeyanju?? (@adeyanjudeji) January 25, 2019
For 3 years #TyrantBuhari led an onslaught on the Legislature, seeking to impose his own puppets to no avail, seeing that his plans to control the legislature grossly failed, he has now launched another onslaught on the Judiciary.

It's 2019, but Bubu is taking us back to 1984.

— FAVOUR ONYEOZIRI (GCFR) (@Rouvafe) January 25, 2019
Call him Lifeless.

Call him Clueless.

Call him #TyrantBuhari

Call him Next Level mediocrity.

Call him anything you like…

I don't care.

The truth is Buhari and his APC led govt. FAILED Nigerians.

Now we MUST get it right next month by VOTING him OUT for GOOD !

— AURA❤️COOL (@TWEETORACLE) January 25, 2019
Finally, @NGRPresident, #TyrantBuhari declared total war against our hard earned democracy.

All meaningful Nigerians must resist this tyranny. #TyrantBuhari #TheBuhariEffect pic.twitter.com/scZzimAZ1m

— PDP Vanguard (@PDPVanguard) January 25, 2019
This one said he'll campaign for Atiku if he went to the USA and came back without been arrested.

Atiku did but this one deleted the tweet.

Today he's once again defending #TyrantBuhari

History will remember https://t.co/jle7lK4B7F

— Atiku for president 2019?? (@isidags) January 25, 2019
January 1, 1984 General Muhammadu Buhari read his coup speech to Nigerians.

January 25, 2019 General Muhammadu Buhari tweets his coup speech to Nigerians.#tyrantbuhari https://t.co/AcmvTOK9t7

— EDWARD Israel-Ayide (@wildeyeq) January 25, 2019
This is why Onnoghen was removed today

He was supposed to swear in the members of 2019 electoral petition tribunals and @MBuhari feared those to be constituted can't be control and brought in his Hausa brother #TyrantBuhari#OnnoghenRemainsCJN#KickOutBuhari

— Fejiro Oliver (@fejirooliver86) January 25, 2019
A big curse awaits the generational lineage of anyone who is wishing this calamity a second time on Nigerians..#TyrantBuhari has locked up @adeyanjudeji up for over 4Weeks now..
In Kano…
Now its Justice Onoghen's turn…

— Anthony Ehilebo (@AnthonyEhilebo) January 25, 2019
He deceived us with "change" in 2015, little did we know that our country would only get worse. #TyrantBuhari is at it again. May we never have this kind of president anymore!!

— Tipee Peter (@Tipeedouble) January 25, 2019
Source: Naija News