"He Collected $5m From Me" – Obanikoro Testifies Against Fayose In Court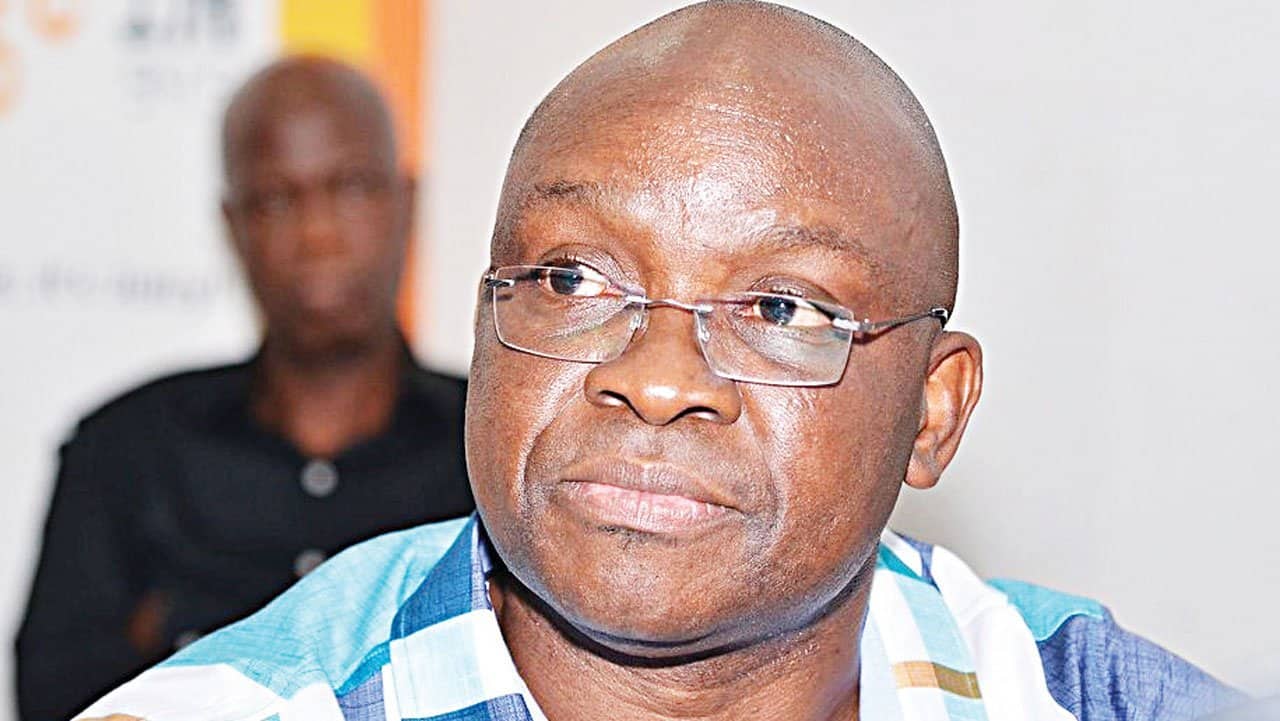 Musiliu Obanikoro, a former minister of state for defence, has today testified against Ekiti state ex-governor, Ayodele Fayose, before a federal high court in Ikoyi, Lagos.
Obanikoro claimed that during the 2014 governorship election in Ekiti, he gave various sums of money that amounted to $5 million to Fayose.
Fayose alongside his company, Spotless Investment Limited, were arrested and arraigned by the Economic and Financial Crimes Commission (EFCC), on an 11-count charge bordering on fraud and money laundering, in October 2018.
The ex-governor is facing trial in connection with N1.299 billion and $5.3 million allegedly allocated to him by the office of the national security adviser (ONSA) from N4.65 billion "slush fund allegedly shared by ONSA".
Obanikoro said Fayose in 2014 called him, asking if the ONSA had dropped a message and he explained that out of the impress of the ONSA, he received a sum of N200 million on June 5, 2014, and another sum of N2 billion on June 16, 2014,
A total of N560m, he said, was transported through the Murtala Muhammed Airport in Ikeja, Lagos, to Ekiti and delivered through one Biodun Agbele to Fayose.
"In June 2014, when we were approaching the gubernatorial election in Ekiti State, I received a call from Mr. Fayose wanting to know if there was any message from the office of the then National Security Adviser, NSA, Col. Sambo Dansuki (retd). But I said 'no' and promised to get back to him," Obanikoro said.
"I later confirmed to him that a message had come from the Office of the NSA. Prior to that time, I had a responsibility of maintaining the account for the security of Lagos State.
"I called Mr. Fayose to ask him how he wanted the money to be remitted. Mr. Fayose told me that I should change the Dollars into Naira.
"I actually wanted to say that Diamond Bank should remit the Naira equivalent to their Bank in Ekiti. But the manager said they could not do that in Ekiti because they did not have such capacity.
"On June 17, 2014, a sum of N560 million was transferred to him. I instructed the bank manager to bring the money to Akure, and it was brought through the private wing of Ikeja, Lagos Airport.
"The money was loaded into two aircraft. Mr. Fayose had earlier informed me about Mr. Biodun Agbele, whom he described as his contact person to take delivery of the money.
"Then, I sent Mr. Agbele and the Bank manager to Spotless Hotel in Ekiti."
In November 2018, Damola Otuyena, head of cash and transit services of Diamond Bank, serving as a witness in the trial, said N1.2 billion was moved to Ekiti for Fayose using three aircraft.
Obanikoro also said that there was a phone conversation on another occasion to deliver another huge sum of money to Fayose three days to the state election.
He added that he wrote a statement to the EFCC while he was out of the country on the transactions.
"The money, again, was from the NSA imprest," he said.
"There is a young man called Kareem Taiwo, who was working for the government on security issues.
"He was the one I told that we had a very serious security issue in Lagos around that time. But I don't think I want to divulge the reason for the security account through which the monies were issued.
"I was outside the country for about one year. I was in the United States of America, USA. That is why I reported to the EFCC directly to avoid embarrassment when I returned home."
Morenikeji Olatoregun, the presiding judge, adjourned the matter till February 4, 5 and 6 for cross-examination of the witness.
Download NAIJA NEWS app: