My Husband Has Never Stolen Nigeria's Money – Titi Atiku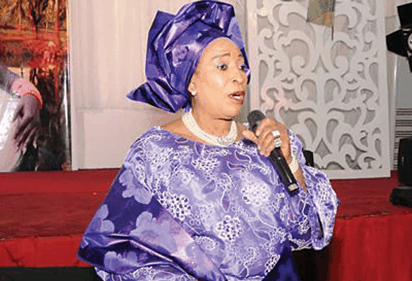 Titi Atiku's Reaction Over Search Of Atiku's Jet
Reactions over the search of Atiku Abubakar, Presidential candidate of the Peoples Democratic Party's Jet has not died down, as his Wife Mrs. Titi Abubakar has joined to criticize the search of her husband by security agents.
Naija News recalls that security agents at the airport  searched the PDP candidate's Jet when he returned from Dubai, last Sunday.
The PDP candidate, who had been on holiday after clinching the party's presidential primary, had alleged that he was unusually searched by security agents, saying his recent search was with the aim of intimidating him.
Government was however quick to react, calrifying that the search conducted was a routine search which has no political reading.
However, reacting to the search when she received members of Atiku Critical Economic Sector Organisations (ACESO), at the WOTCLEF centre, in Abuja, Mrs. Abubakar questioned why her husband was being accused of corruption or being a thief without any substantial evidence against him.
In her words, "Let me say this thing again, you know people used to say my husband is a thief. They call him thief; that he has stolen money, but Atiku has never stolen Nigeria's money.
"Atiku has never taken anything from Nigeria. That is why Atiku is so eager to come and serve the Nigerian people.
"Like he just came back from Dubai three days ago and you know his plane was searched. They thought maybe he brought money from abroad.
"I was now asking that even if he brings money from Dubai, this money is not Nigerian money.
"Even if they find any money on him, it's not Nigerian money; friends can give him money that we know you are going into election and we want to contribute our quota by giving you this amount," she said.
Mrs. Abubakar, who sounded optimistic that her husband would be Nigeria's next president, reiterated that those who were involved in what she termed recent 'illegal' search are angry with PDP candidate because he (Atiku) stopped them from laundering Nigeria's money when he was a custom officer.
She continued, "They went to search the aircraft and they didn't see anything, because you know they had been wanting to give a dog a bad name. If you want to hang a dog, you look for a name to give it. Atiku was in the Customs for so many years, you all heard about the 53 suit cases that came.
"They laundered money, they wanted to pass through customs, then, he was at the airport and he insisted that they had to open those boxes and they got annoyed, that is why should he asked them to open the boxes and then it was the man who is the head of affairs now that was the head of state.
"He called the 'Oga' and said 'why is this boy harassing us'. He's insisting he wants to open our box, please take him away.
"So, their 'Oga' said this is one of the finest officers we have and he is not going to sack him.
"So, the next thing they asked him is that they should transfer him and he was immediately transferred to Kano.
"So, if Atiku were to be corrupt, if Atiku were to be a thief, he would have been caught a very long time. So, Atiku is not a thief."
Mrs. Abubakar, however, promised members of ACESO led by its National Coordinator, Chilenye Ekwuru, that she would not relent in ensuring that succour is provided to suffering Nigerians the way she had been doing since 1999 when her husband was the Vice President.
She recalled that it was a private bill her organisation sponsored that gave birth to establishment of an agency overseeing Human Trafficking, National Agency for the Prohibition of Trafficking in Persons (NAPTIP).