Oyo State Government: Why We Pulled Down Ayefele's Music House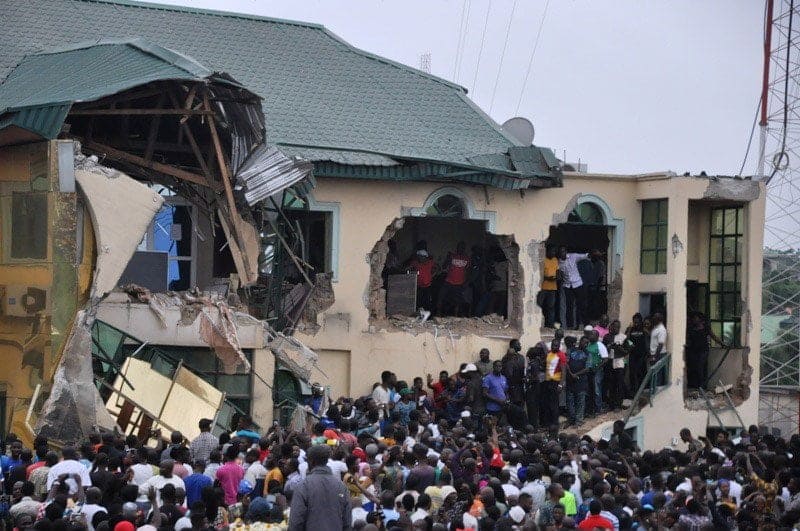 Decision to demolish Fresh FM, a radio station belonging to Yinka Ayefele, a gospel artiste has been defended by the Oyo state government.
The government said the building which housed Fresh Fm radio contravened the planning laws of the state and that they duly informed the organisation through several correspondences.
Widespread condemnation had trailed the action of the government which took place yesterday.
Ayefele had approached the court to hinder the demolition but the government ordered that the building, which was estimated at N800 million, be brought down 24 hours to the time the court fixed for hearing the matter.
At a press conference today, Waheed Gbadamosi, special adviser to Abiola Ajimobi, governor of the state on physical planning, said no court order restrained the government from carrying out its "statutory role".
Gbadamosi said the action of the government was neither politically motivated nor an act of vendetta.
"On May 19, 2017, letters demanding for planning approval were sent to various institutions including University College Hospital, Kola Daisi University, University of Ibadan and other institutions and organisatons. On June 14, 2017, request for approval was sent to Music House and 22 other radio stations in Oyo State," he said.
"On August 18, 2017 reminder Letter was sent to Music House and the letter was received by Adebisi Akinkunmi. On August 25, 2017 we went a step further to send a letter to the National Broadcasting Commission (NBC) titled Operation of Radio Stations without Physical Planning permit/Aprroval in Oyo State. Few months later, precisely November 27, 2017, another letter was sent to NBC complaining about Physical Planning Law and Regulations by the Radio station owners, developers and operators.
"We got a response from NBC on December 4, 2017 and NBC said that the issue is outside its mandate. This is to show that the action of the state government is not to witch-hunt anyone as we even reported the radio stations to NBC. We also wrote to the Central Bank of Nigeria (CBN) on some banks contravening the Oyo State Physical Planning and Development Control laws, sections 30, 31 and 32 of the Oyo State Physical Planning and Urban Development Law of 2012.
"Music house submitted a building plan on June 14, 2018 which necessitated the joint inspection visit we carried out on June 25, 2018. It was discovered that it was meant to be an office complex and not a radio station among some other infractions including a building size measured 29.7 metres by 21.6 metres on ground as against the 11.925metres by 10.20metres in the survey plan/building plan submitted by Music House."
He said Music House deviated from the approved plan which made the approval null and void "because deceitful information was given to the approving authority and also deviation from the approval granted both in construction and use".