Saraki Seige: APC Trying To Crumble Nigeria's Democracy – R-APC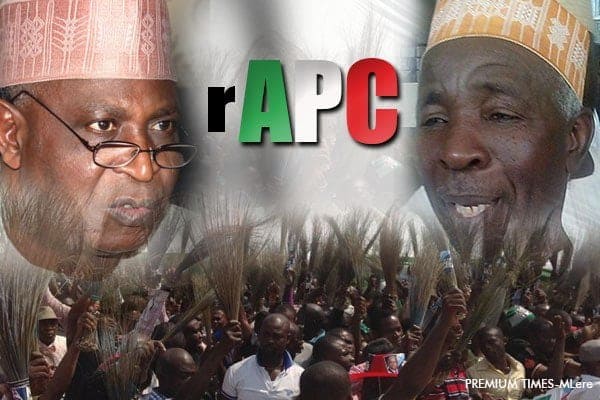 R-APC Condemns Seige On Senate President, Bukola Saraki's Residence
The Reformed All Progressives Congress (R-APC) has congratulated the lawmakers who defected from the ruling party to other parties on Tuesday.
The APC faction in a statement on Tuesday, Kazeem Afegbua, its spokesman, also lamented that the police who should serve as the custodian of democratic rights have decided to lay siege on democracy.
The statement read,
"President Buhari's police decided to lay siege to the house of the leadership of the senate, Bukola Saraki. He was prevented from proceeding to the hallowed chambers to carry out his legitimate duties as the duly elected senate president of the Federal Republic of Nigeria,"
"We had raised alarm on the juicy carrot being dangled before some of our members and had alerted the country of sinister moves to call the senate president a bad name in order to hang him. Barely three days after our earlier note of caution, the well scripted drama to undermine the rights of our members have come to light but in a very disturbing and utterly condemnable, Gestapo manner similar to that of members of the Jacobian scandal club of mideaval ages in American 16th Century political history.
"The police, who should serve as the custodian of the democratic rights of the people, who should provide a good anchorage to safeguard the lives and properties of the people, have suddenly become instruments of oppression, suppression and willing tools in the hands of the powers-that-be. They have brought ridicule to the institution of the police and continuously make us a laughing stock in the comity of nations.
"It baffles us that while we are putting in place concerted efforts to secure our democracy by fighting brazen injustices and outright abuses, the APC government that prides itself as fighters of corruption have been trying hard to crumble this democracy. The utterances of the disputed chairman of the APC, Adams Oshiomhole, churning out presidential orders, signpost a dangerous trend in our democracy.
"We thank Nigerians from all walks of life who rose to the challenge to arrest the drift by defying the early morning rain to stand up and defend democracy. We are glad that Nigerians could now see the rationale for our earlier action to fight absence of internal democracy, infractions and clear abuses within the APC which have brought the party to public disrepute and factionalisation. We salute our gallant lawmakers for their bold decision to exit from this colony of maximum rulers called the APC."
Source: Naija News