Pro-Buhari Rally In Abuja Ends In Clash Over Insufficient Souvenirs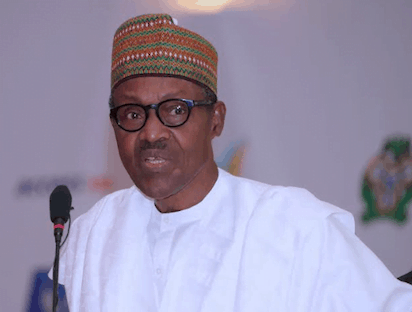 Pro Buhari Rally, Ends In Fist-Fight As Souvenirs Did Not Go Round.
After the Coalition for Peace and Stability (COPS) on Tuesday campaigned for President Muhammadu Buhari's second term in office, at Wuse Market, Abuja, some of the attendees broke into a fight.
In the gathering of hundreds of youths at the Eagle Square venue of the rally, there was sudden trouble as souvenirs being distributed by the organisers did not go round, resulting in a protest by those who felt they were left out who then engaged their counterparts in a brawl, which lasted for several minutes.
As the unruly youths hit one another with sticks and fists, the few dignitaries at the event quickly dashed out of their seats and left in their cars to avoid being caught in the chaos.
A number of the brawlers later left the square with torn shirts, swollen faces and bloodied noses.
The organisers could not be reached for comment as they all left the scene during the confusion.
Members of the party had marched from Wuse Market to the Presidential villa, likened President Buhari to the biblical David, who has succeeded in conquering terrorism in the entity called Nigeria.
While The President through  his assistant of Media and Publicity, Garba Shehu had said "This is the kind of support the government needs at the critical time, he assured that the president is not relenting on his words that Nigeria must be free from terrorism
In his words "In fact, our gallant military troops are working day and night to ensure that all our towns and villages are captured from the extremists. As I speak, I can boldly tell you that no local government in Nigeria is under the control of the insurgents.
"Our soldiers are also helping to combat terrorism in neighbouring countries.
"That goes a long way to tell you that the government is keeping to its promise on a war against the insurgency."
Comrade Abdulmumini Tijani, the National Coordinator of the group,  had earlier called on the Nigerian military to do everything in its power to finish off the remnants of Boko Haram in the shortest time possible so that Nigeria would be in a position to celebrate total freedom from the blood-thirsty terrors.
According to Tijani "The Institute for Economics and Peace has however auspiciously accelerated our achievement of this object when it released the Global Terrorism Index 2017. From what is in the news about the report, it shows that the number of those killed in terror attacks has reduced by 80%. What we understand by this is that eight out of every ten persons that Boko Haram or other terrorists would have killed are alive.
For us the Coalition for Peace and Stability, this is a testimony that President Muhammadu Buhari is committed to fulfilling his campaign promise of restoring security in the country. It is remarkable that keeping this promise has an international impact because the global terrorism-related deaths fell since the figures for Nigeria dropped. It is our earnest hope that this international impact will translate into positive gains like restored investors' interest in Nigeria.
"We also expect that those supporting evil by providing sustenance to Boko Haram will see this report as the reason to cut off the lifeline they provide to terrorists. Human life is precious and sacred and nothing should be done to cut it short for whatsoever reason.
"Our coalition not only congratulates President Buhari on this positive report but also commend Mr President for this achievement considering that most of the efforts that have gone into degrading and defeating Boko Haram are home-grown. The President was able to achieve the improvement in terrorism ranking without going cap in hand to beg for foreign intervention.
He also commended the  Nigerian Army Chief Of Staff, Tukur Buratai  who leads the soldiers to "to perform no mean feats even with funding constraints, harassment from international NGOs and blockade of weapons supply by some interested countries."
Read More News. Download Naija News App. Send us enquiries and press releases.