Soldiers Allegedly Kill Fulani Herdsmen, 150 Cows At Benue-Nasarawa Border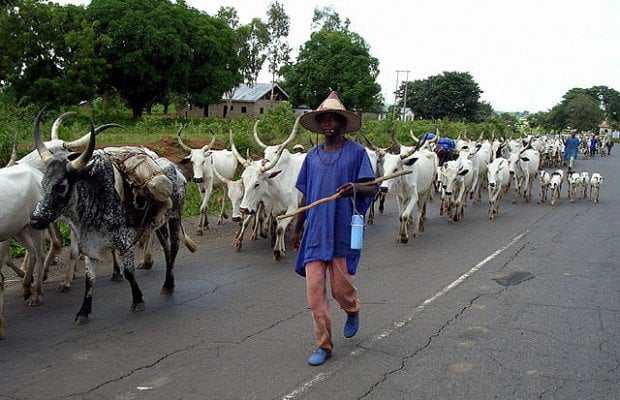 Six Herdsmen, Over 150 Cows, Killed In Keana Local Governement Area of Nasarawa
Seecurity operatives along Benue-Nasarawa border have reportedly killed six herdsmen and over 150 cows in Keana local government of Nasarawa State.
Confirming the incidence, the acting Police Public Relations Officer, Nasarawa State Command, ASP Usman Samaila,  said the command received information that the military personnel came from Benue and carried out the operation that led to the killing of six people suspected to be Fulani herders in the state.
He said the command did not know what had transpired between the Fulani herders and the military men.
I can confirm to you that our men went to the scene of the incident and recovered about six dead bodies killed by the suspected military men in the area." He added.
He described the incident as "a wild operation that was formed by the military personnel to prevent an unabated crisis between Fulani herders and Tiv farmers at Benue and Nasarawa states border."
According to him, the command had already drafted its personnel to Keana Local Government Area of the state to avert any possible future crisis.
If Fulani People Committed Crime, What About The Cows; Miyetti Allah
Following the killings of the cow and the fulani herdsmen, Chairman of the Miyyeti Allah Cattle Breeders Association, Nasarawa State Chapter, Mallam Muhammed Hussein, expressed sadness.
Hussein, while addressing journalists at the association's secretariat in Lafia ,yesterday, said, "We are not happy that six of our members were shot dead by some bad eggs who are in the military.
"If the military suspects any Fulani man for any crime, they should arrest and prosecute him and not to just kill like that.
"I am not aware of what led to the attack but I was informed that some soldiers just invaded a Fulani settlement and shot six of our people, including a traditional title holder in the Fulani community.
He appealed to the government to take the matter up and "punish the soldiers who carried out the killing because we are not going to take it."
"If you claim that the Fulani people committed a crime, how about the cows, what did the cows do that they will kill 150 cows?" He added.
Meanwhile Director, Army Public Relations, Brig. Gen. Texas Chukwu, said he had yet to be briefed on such an operation in Nasarawa and Benue states.
"I have not heard anything from that general area. I will reach the brigade commanders and officers on the ground, but I have no record presently of such an incident." He said.