Melania Trump's unprecedented criticism of the separation of illegal immigrants from their children in the US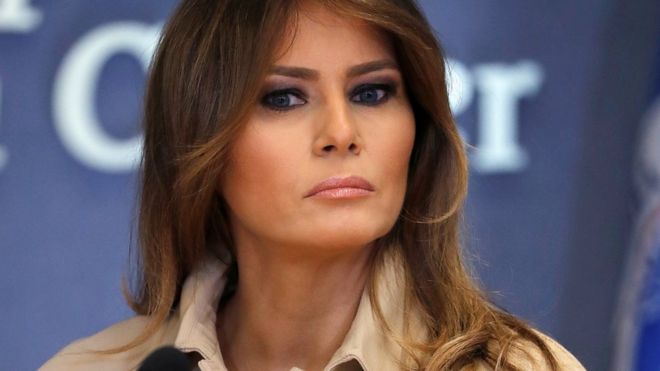 The first lady of the United States , Melania Trump, surprised to make an appeal for the end of the policy of separation of parents and children who enter illegally through the border with Mexico .
Through a statement, read by a spokeswoman, she said that "we need to be a country that respects the laws, but also a country that governs with the heart."
According to their communications director, Stephanie Grisham, the president's wife, Donald Trump, "hates seeing children separated from their families and hopes that both sides (Republicans and Democrats) can finally unite to pass a successful immigration reform."
The comments were made amid a growing policy of "zero tolerance" imposed in early May by the government on illegal immigrants.
In six weeks, about 2,000 families were separated.
Adults attempting to cross the border, many intending to seek asylum, are detained and face criminal prosecution for having entered the country illegally. As a consequence, hundreds of children under the age of 18 are taken to other places of detention and kept separate from their parents.
Donald Trump argues that the situation results from a law he says he has inherited from the Democrats. On Saturday he also urged political opponents to work together with the Republican Party to which he is affiliated to pass new laws.
"Democrats can fix the separation of families on the border by working with Republicans on new legislation, to change!" Trump Trump. "That's why we need more elected Republicans in November. Democrats are good at just three things, High Taxes, High Crimes and Obstruction."
Democrats can fix their forced family breakup at the Border by working with Republicans on new legislation, for a change! This is why we need more Republicans elected in November. Democrats are good at only three things, High Taxes, High Crime and Obstruction. Sad!

— Donald J. Trump (@realDonaldTrump) June 16, 2018
Many noted, however, that the initiative to detain and separate them from their parents is part of the "zero tolerance" policy package introduced last month by US Attorney Jeff Sessions. And that, to be suspended, the measure would not require Congressional action.
Shelters without space
The arrests of the children, which include infants and very small children, have led to complaints from shelters and shelters, which claim they are running out of space to meet demand.
On Sunday, a group of Democratic congressmen visited a detention center at the Immigration and Customs Enforcement (ICE) in New Jersey. The idea was to see people detained and separated from their children.
Meanwhile, officials have announced plans to build camps to house hundreds of children in the Texas desert, where temperatures often reach 40 degrees Celsius.
Also on Sunday, demonstrators marched to one of these encampments in Tornillo, Texas, which hosts hundreds of children separated from their parents, to protest what they consider a "utterly inhumane" measure.
In the first two weeks of the "zero tolerance" policy, 658 children were separated from adults traveling with them, according to data from US border authorities.
From October 2017 to April this year there were just over 700 affected families.
In many of these cases, however, families were able to reunite after the parents were released. There are reports, however, of people who have been separated for weeks and even months.
There have been separations of families of undocumented immigrants in previous governments, but human rights activists say the number of people affected was very small compared to the statistics recorded during the administration of Donald Trump.
On Sunday, at least five illegal immigrants died and several were injured after an accident with the vehicle they were traveling in as they attempted to flee border patrol in South Texas.
According to local authorities, the vehicle was traveling at 160 km / h with 14 people on board.
Source: Naija News