APC Will Pick Buhari As Consensus Candidate – VON DG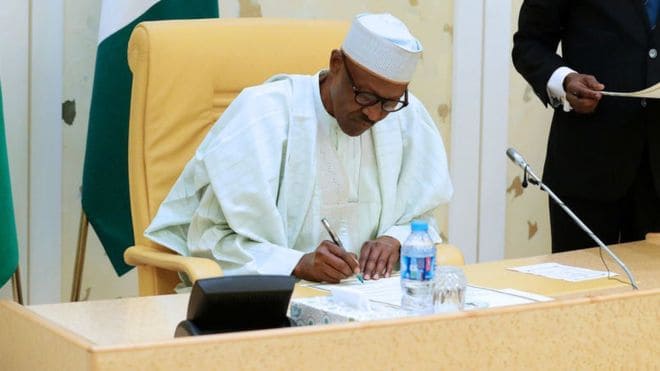 Osita Okechukwu, the Director-General Voice of Nigeria (VON), has stated that the presumptive consensus candidate for the All Progressive Congress (APC) during the 2019 general elections remains President Muhammadu Buhari.
The assured, with speaking to newsmen in Enugu that the June 23rd National Convention for the APC in Abuja would be successful.
He added further that the conflict that grace the various congresses at the ward and state level would not raise it ugly head.
NAN reports that Okechukwu, who was elected as a delegate to the convention, equally predicted that most of the delegates would vote for former Edo State Governor, Adams Oshimole, as the chairman of the party since Buhari had endorsed him.
"To be honest, in spite of conflicting reports of parallel congresses, one envisages a hitch-free national convention of our great party, APC, on June 23″ he said.
"This is because we have President Muhammadu Buhari, who from every index is the presumptive consensus candidate, come 2019 Presidential election".
"Mr President is more like a guardian post for our great party. He is the canopy covering us all from bad weather".
"Remember that what we operate is a presidential system, where unlike the parliamentary system the supremacy of the party is less profound".
"Every President in all presidential systems I know, be it in the United States, tailors the cloth of the party to his size," Okechukwu said.
He assured also that the different fractions and groups in the party had a common ground which is to vote Buhari as their Presidential candidate for 2019.
"In addition, those who lost in the congresses are not only loyalists to Buhari, but are aware of the truism that they were swimming against the tide of the provisions of APC's Constitution.
"The constitution mandated the National Working Committee, subject to the approval of the National Executive Committee to make rules and regulations for nomination of candidates".
"Nobody has the right to reverse the national delegates list validly elected during the local government congress,'' he said.
According to him, with such iconic leader like Buhari, loyalty is enhanced. Loyalty to one leader minimises intra-party conflict. It could have been different if we have two strong presidential contenders.
"Our collective support for Mr. President makes it easy for reconciliation in APC before the 2019 general elections.
The VON boss denied any knowledge of the plot by the National Working Committee to disqualify some candidates.
"More so, I am aware that President Buhari canvassed for waiver for members of the National Working Committee, which was upheld by the National Executive Committee on March 27, 2018.
"Secondly, Gov. Aminu Masari Screening Committee to the best of my knowledge did not disqualify or recommend disqualification of any of them."