Gombe State's House of Assembly's Mace Recovered By The Nigerian Police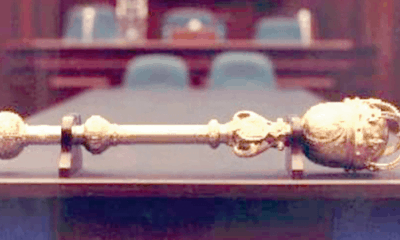 The Gombe State Police Command says it has recovered the mace of the Gombe State House of Assembly taken away yesterday by members of the house,Naijanews Understands
The state Commissioner of Police,
Mr Tairu Shina Olukolu,
who made disclosure  of the recovery at the premises of the house  said that the police team dispatched to recover the mace found it behind the National Industrial Court complex, Gombe.
You will recall that yesterday, May 24, at about 1.30 p.m. the mace, the symbol of authority of Gombe State House of Assembly, was taken away by an honourable member of the house in the company of others.
"The incident was allegedly occasioned by the dispute over leadership change of minority principal officers of the house.
"On receipt of the information, the Commissioner of Police visited the scene and heightened the security architecture already in place in the command based on the directives of the Inspector-General of Police.
"The pressure made them consequently to abandon the mace by the National Industrial Court in the state and it was recovered early on Friday.
"The mace is, therefore, today being handed over to the Speaker for his retention and use," he said.
Receiving the mace from the police, the Speaker, Alhaji Nasiru Nono, commended the police and other security agencies in the state for the proactive steps they took, which led to the recovery of the mace.
Nono said the mace was taken by one of the APC members during plenary on Thursday.