Man Kidnaps Former Bosses' Wife Over Death Of His Child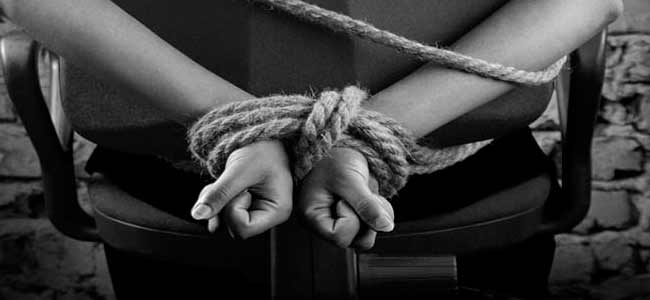 One of the five suspected kidnappers presently undergoing trial in a Igbosere High Court, sitting in Lagos, has confessed that he kidnapped his boss' wife, Mrs Glory Emole, and demanded the sum of $70,000 as ransom.
The defendants, who are facing a three-count charge bordering on conspiracy, armed robbery and kidnapping preferred against them by Lagos State, are Chukwunonso Victor, Ifeanyi Maduako, Obinna Nwanko and Chidiebere Nwoye.
Inspector Gbenga Faguiro said that the first defendant , Chukwunonso Victor, used to work for the victim's husband before he was fired over-misconducts.
He said: "The first defendant said he traveled to China and spent four years there and on his return, he met a lady with whom they were friends before he traveled and they got married, and then she gave birth but after some time, the baby died. So the first defendant got angry and said it was his boss that killed his child because he had warned him not to get married to her.
"The first defendant called the other defendants and one Azeez, who is at large, were caught with offensive weapons with which they kidnapped the victim."
He narrated that the victim was about to leave her house in Ogudu at about 8:30pm on November 19, 2012 when six gunmen stormed her house immediately the gateman opened the gate and kidnapped her.
The witness, who was testifying before Justice Lateef Lawal-Akapo, said the "Mallam started shouting Allah, Allah, don't kill me."
The witness said the victim was eventually driven to an isolated place at Ikorodu.
"When they got to Ikorodu, the hotel they wanted to use was an abandoned hotel, they brought her out hooded, put her inside the booth and drove off. When they got inside, they asked her to call her husband and they started demanding a ransom of $300,000."
Faguiro, who was led in evidence by the Lagos State Prosecutor, Dr Babajide Martins, said the victim's brother eventually paid $70,000 to one of the suspects, who is at large, at Ojodu Berger area of Lagos.
He said: "Chukwunonso and the other defendants, after collecting the money, also took one of the victim's phones from her bag. They also used her Automated Teller Machine, ATM, card to withdraw money from her account."
The victim's husband Chika Emole informed the police about the incidence.
"When the woman came to give statement, she said the defendants were still with one of her phones. The SIB then collected the phone number and tracked it. That was how the first defendant, Chukwunonso, was arrested, which led to the arrest of the other defendants."
Justice Lawal-Akapo adjourned the case till Friday for cross examination.