Court Orders JOHESU To End Strike And Resume Work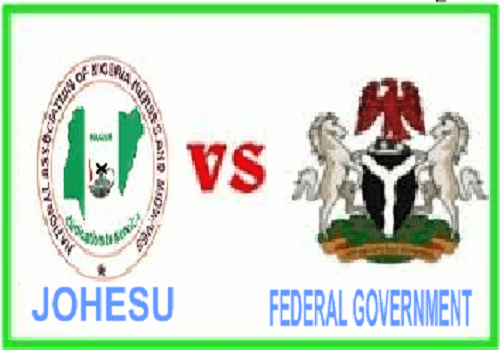 Court Intervenes In JOHESU strike
Striking members of the Joint Health Sector Union (JOHESU), have on Thursday, been ordered by the National Industrial Court, Abuja, to suspend its on-going strike and resume duties across the country within 24 hours.
Justice Babatunde Adejumo gave the order after listening to the submissions of Mr. Okere Nnamdi in an ex-parte motion filed by a non-governmental organisation.
The NGO, Incorporated Trustees of Kingdom Human Rights Foundation International, in the motion prayed the court to order the workers to resume work and go back to negotiation table.
Adejumo, who is also the President of the court, also directed the ministers of Health, Labour and Employment, among others, to immediately set up a committee to address issues raised by the labour union.
The judge further ordered that the parties involved should find an acceptable and amicable solution in the interest of Nigerians who are suffering because of the strike action.
The judge also ordered the President and Vice President of JOHESU to attend the negotiations.
He said that the negotiations should take into consideration the provisions of the National Salaries, Income and Wages Act.
Joined as respondents in the suit are the President and Vice President of JOHESU, and National Salaries, Income and Wages Commission.
Naija News recalls that the JOHESU strike, which commenced on April 17 to demand for upward adjustment of CONHESS salary scale, and employment of additional health professionals, as well as demand better working conditions for health workers, among other demands is now in its fourth week.
The matter was adjourned until June 4 for hearing of motion on notice and originating summons.
Source: Naija News