English Premier League Top Scorers (2017/2018 Season)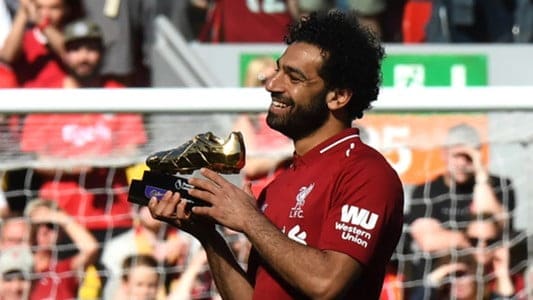 Liverpool Forward, Salah, Wins Premier League Golden Boot
With the 2017/2018 premier league season reaching a climax on Sunday, so did the race for the golden boot also reach a conclusion.
The keenly contested race for the premier league golden boot, which dragged till the last day of the season, was between Liverpool's Mohammed Salah and Tottenham's Harry Kane.
At the end of the day, Salah, who was also crowned the premier league player of the year, beat Kane to the prize, scoring a total of 32 league goals in an unforgettable season for Liverpool, as Kane settled for second place with 30 goals.
Golden Boot? Come here to daddy ? pic.twitter.com/GasYbIerEm

— Mohamed Salah (@MoSalah) May 13, 2018
With 32 goals in a single season, the Liverpool forward also set a new record for the most premier league goals in a 38-game season.
Below is a list of top scorers in the premier league for the 2017/2018 season.
| | | | |
| --- | --- | --- | --- |
| Position | Player | Club | Goals |
| 1 | Mohamed Salah | Liverpool | 32 |
| 2 | Harry Kane | Tottenham | 30 |
| 3 | Sergio Aguero | Manchester City | 21 |
| 4 | Jamie Vardy | Leicester City | 20 |
| 5 | Raheem Sterling | Manchester City | 18 |
| 6 | Romelu Lukaku | Manchester United | 16 |
| 7 | Roberto Firmino | Liverpool | 15 |
| 8 | Alexandre Lacazette | Arsenal | 14 |
| 9 | Gabriel Jesus | Manchester City | 13 |
| 10 | Eden Hazard | Chelsea | 12 |
| 10 | Glenn Murray | Brighton & Hove Albion | 12 |
| 10 | Son Heung-Min | Tottenham | 12 |
| 10 | Riyad Mahrez | Leicester City | 12 |
| 14 | Alvaro Morata | Chelsea | 11 |
| 14 | Marko Arnautovic | West Ham | 11 |
| 16 | Wayne Rooney | Everton | 10 |
| 16 | Luka Milivojevic | Crystal Palace | 10 |
| 16 | Sadio Mane | Liverpool | 10 |
| 16 | Christian Eriksen | Tottenham | 10 |
| 16 | Pierre-Emerick Aubameyang | Arsenal | 10 |
| 16 | Leroy Sane | Manchester City | 10 |
| 16 | Chris Wood | Burnley | 10 |
| 23 | Anthony Martial | Manchester United | 9 |
| 23 | Alexis Sanchez | Manchester United | 9 |
| 23 | David Silva | Manchester City | 9 |
| 23 | Ashley Barnes | Burnley | 9 |
| 23 | Dele Alli | Tottenham | 9 |
| 23 | Wilfried Zaha | Crystal Palace | 9 |