FG Invested Not Less Than N300bn On Road Infrastructure – Fashola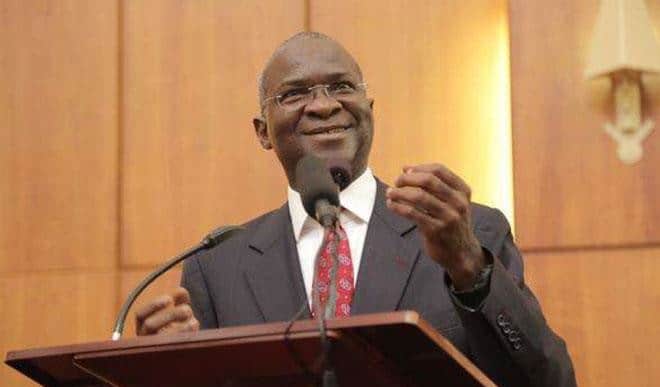 FG Commits N300bn On Road Infrastructure, Says Fashola
The Minister of Power, Works and Housing, Mr Babatunde Fashola has reinstated the commitment of the federal government to the construction of good roads and other infrastructures.
Mr Fashola who gave the assurance during the 4th Quadrennial Delegates Conference of Petroleum Tanker Drivers (PTD) with the theme: "Road Infrastructure in Nigeria: Impacts on Petroleum Products Distribution" said that The Federal Government  had committed N300 billion so far on road infrastructure as against the previous administration, which committed only N18 billon.
"It is one thing to have a plan, it is another thing to commit to the faithful implementation of that plan; let me remind you that the budget I inherited from the Ministry of Works from the last administration was N18 billion for all the roads in Nigeria.
"Only N9 billion was paid out of the budget but the last budget in the state that I left for road was about N74 billion for one state, while the whole country budgeted N18 billion during the time of transformation agenda.
"That is when the country was earning about $100 for one barrel of oil but this is the time of economic recovery and growth plan which has committed close to N300 billion to road and with funding of about N260 billion.
"And this is happening when oil price is below $100 per barrel, meaning that this administration is doing more with less resources."
The minister also noted that there was no state in the country where road construction or rehabilitation was not currently ongoing, adding that 300 roads across Nigeria were under construction.
The minister, who told his listeners that he had yet to start his campaign for the current government, stated that the action points and achievements of the current administration were not accidental.
"On the contrary, they reveal a clear thinking and understanding of what must be done to rebuild our economy and underline the interconnectivity between availability of quality infrastructure and the delivery of energy from petroleum products to drive our economy," he added.
Fashola said the results of road construction by the government would mean reduced journey time, adding that activities on the roads were been revived, as contractors had returned to various project sites.
Meanwhile, the
Nigeria Union of Petroleum and Natural Gas Workers
also called on the Federal Government to declare a state of emergency on the country's roads so as to reduce the huge number of lives and property being lost to accidents due to the bad state of the roads.
The National President, NUPENG,
Williams Akporeha
, noted that although the current administration had been working hard to properly fix the highways, a lot still needed to be done.