Bomb Attack Won't Stop Restructuring – Ohanaeze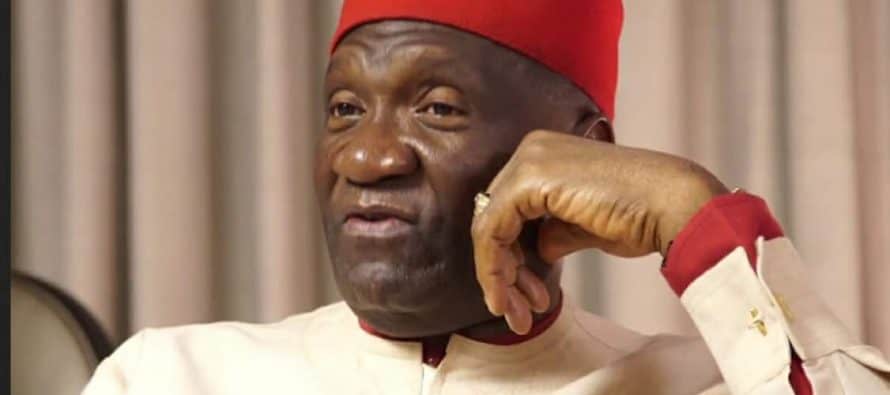 Bomb Attack Can't Stop Us From Backing Restructuring – Ohanaeze
Ohanaeze Ndigbo, the apex socio-cultural body of the Igbos, whose leader's country home was attacked with bomb on Sunday, Chief Nnia Nwodo, has revealed that the action would not stop it from campaigning for the restructuring of the country.
Naija News had earlier reported on the bombing attack that took place at Chief Nnia Nwodo's home while he was away from the house, and the attack led to destruction of properties but no life was lost.
The Ohanaeze President's house at Ukehe, in Igboetiti Local Government Area of Enugu State, was reported to have been attacked with improvised explosive device, which destroyed parts of the building on Sunday.
Ohanaeze Ndigbo has however, affirmed that the attack would not affect its desire for the restructuring of the country.
Reacting to the attack on Nwodo's house, Ohanaeze, in a statement by Chuks Ibegbu, the Deputy National Publicity Secretary, noted that, rather than the incident affecting their agenda of restructuring, it has stimulated their desire to carry it out.
"The bombing of the home of the President General of Ohanaeze Ndigbo, Nnia Nwodo, by the enemies of progress will not in any way deter Ohanaeze Ndigbo from the pursuit of the restructuring of Nigeria.
"The incident will rather reinvigorate the President-General and the entire National Executive Council of the apex Igbo body to redouble their efforts and sync with other progressives in other parts of the country to achieve the goal of restructuring Nigeria and ensuring justice, equity and fair play in our country.
"Ohanaeze Ndigbo would not relent in its effort to ensure that Ndigbo get their fair deal in the Nigerian project and no amount of intimidation and callous display of terrorism will make it shirk its divine responsibility," the statement said.
The Enugu State chapter of Ohanaeze Ndigbo, on Monday paid a solidarity visit to Nwodo over the bomb attack.
Chief Alex Ogbonnia, the Chairman of Ohanaeze Ndigbo in Enugu State, who led the delegation, described the explosion as "an attempt on Nwodo's life."
Responding, Nwodo thanked the Enugu State Ohanaeze delegation for the solidarity visit, which he said had emboldened him "as it was a sign of acceptability and support."
Meanwhile, the police in Enugu, on Monday said they were on the trail of those behind the attack.
Mr. Ebere Amaraizu, the Police Public Relations Officer, Enugu State Police Command, while having a conversation with newsmen revealed that those behind the attacks would soon be arrested.
"We are on their trail, they will be apprehended very soon," the police spokesman said in response to enquiries by one of our correspondents.
The leaders of Southern and Middle Belt Forum has call on the Federal Government and security agencies to investigate the bombing of Nwodo's house.
The spokesman for the forum, Yinka Odumakin, in an email statement on Monday, said the group was worried about the intensification of terrorism in the country.