Those Who Wait For Me After Leaving Office Will Wait In Vain – Fayose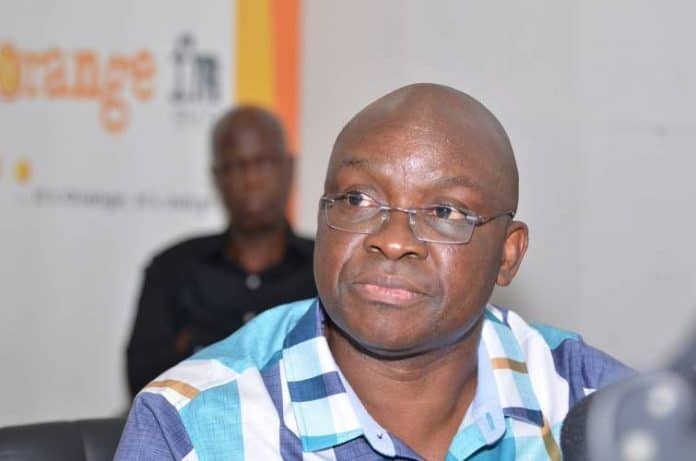 Gov Fayose Sends Powerful Message To Those Planning To Jail Him After Leaving Office
The Governor of Ekiti State, Ayodele Fayose, has sent a strongly-worded message to his predecessor and the Minister of Steel, Dr Kayode Fayemi on plans to send him to jail after leaving office.
Fayose, while reacting to the threat, said those who are planning to send him to jail would wait in vain because his name is Peter and therefore Biblical rock.
He said: "Those waiting for me will wait in vain, I am Peter the rock."I have done everything, I have defended Nigerians and I have no apology and I will never have one, " Fayose noted.
He disclosed this on Channels Television while fielding questions on politics today.
Speaking further, Fayose said the anti-graft body, the Economic and Financial Crimes Commission has metamorphosed into a persecutor instead of being a prosecutor.
"These EFCC people are persecutors, not prosecutors. And that is why they lose cases every day. Even when we won the appeal at the lower court, they still harassed that bank by not allowing them to pay us,"
While speaking on his presidential ambition, the governor said he was still in the race but said he will support whoever emerges as the party's presidential flagbearer in 2019 presidential elections.
"I am going to run a very beautiful campaign, Nigerian wants a man that can fix Nigeria, I served with President Obasanjo, Yaradua was my colleague, I served in Jonathan administration, I am in Buhari's administration. I am the most experienced person in government today" Fayose noted.
Naija News also learnt that  The Governor accused the Federal Government of mismanaging funds from the Federal account which he feels are meant for the three tiers of government.
"Every accrual in this country is supposed to go into a Federal account that is supposed to be shared by the three tiers of government. As at today, the Federal Government is spending money that belongs to the three tiers of government.
"The Supreme court nullified the excess crude account which means all accruals must go into a central purse. Where the Federal Government will take their share, the state will take their share and the local government will take their share," he said.