Senator Dino Melaye Arrested At Abuja's International Airport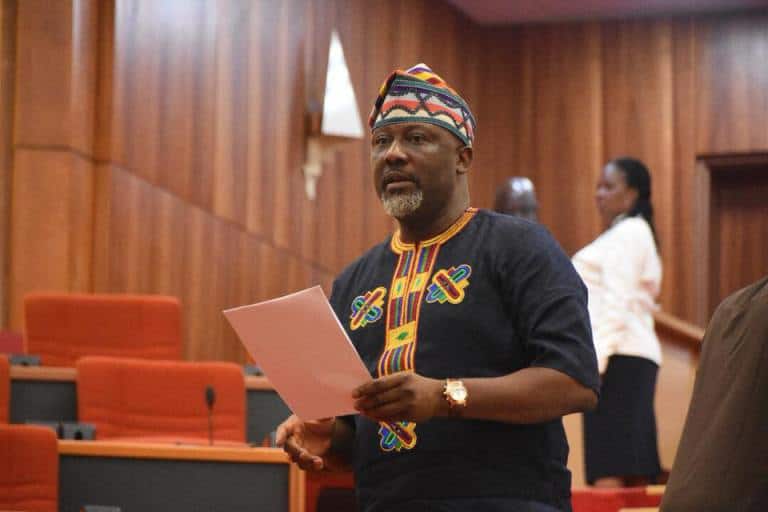 Senator Dino Melaye Arrested At Abuja Airport
The Chairman of the Senate Committee on FCT, Senator Dino Melaye (APC,Kogi) has narrated how he was arrested at the Nnamdi Azikiwe International Airport, Abuja this morning.
I was at the Airport lounge when they called me that my attention was needed by the officials of the Immigration. When I got there, they told me I'm under arrest on the request of the Police, " he said.
He said the Immigration officials showed him an instruction on his arrest
According to a tweet the senator posted on his Twitter account Monday morning, he said:
I have just been arrested at the international wing of the Nnamdi Azikiwe airport on my way to Morocco for an official engagement sponsored by the Federal Govt after checking in.

— Senator Dino Melaye (@dino_melaye) April 23, 2018
https://platform.twitter.com/widgets.js
Naija News learnt the Senator was blocked as he was undergoing security and immigration screening.
The senator while explaining the reason for his arrest and travel restriction, said he was told that the police had placed him on its 'no fly' list and that he was therefore barred from travelling at the airport.
Mr. Melaye said he "snatched back" his passport from the official who confiscated it and made to proceed to board his flight.
"But I was then circled by police officers trying to hold me and saying I am on Interpol wanted list," Mr. Melaye said.
"We have called Interpol and they said it is a lie. Someone has also mentioned to me that my name was placed at the airport by a police commissioner.