APC Members At Logger Heads Over Extension Of Tenure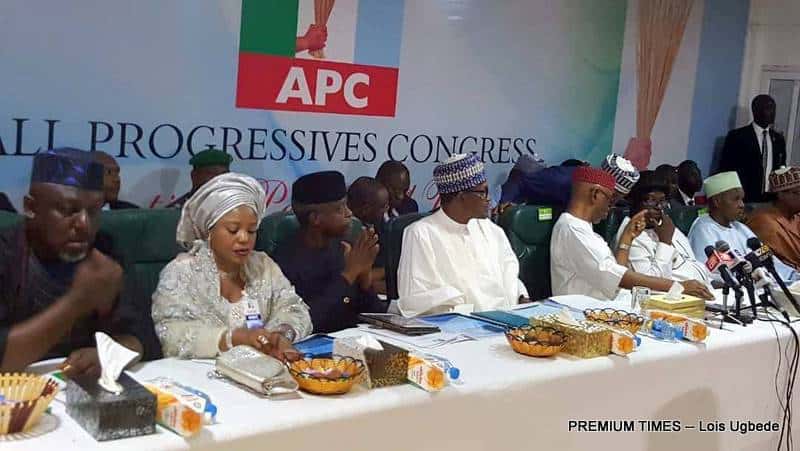 APC Members Move To Elongate Office Tenure
Certain members of the  All progressive congress (APC) are allegedly working covertly towards extending its NWC's tenure in office. This is in spite of President Muhammadu Buhari's advice against it.
There is no let up in the plan of the John Odigie-Oyegun-led National Working Committee (NWC)  of the party to elongate its tenure, Naija News learnt.
The National Executive Committee (NEC) also rejected tenure elongation on April 9 and granted the NWC members waivers to re-contest for their posts, if they wished.
The NWC appears to have exposed its tenure elongation bid in a letter to the Independent National Electoral Commission (INEC), notifying the agency of its plan to "fill vacant offices arising from effusion of time or appointment into government offices, death and other reasons as stipulated in Article 17 of our party's constitution."
This is contrary to the NEC decision, said a party official last night. He added that there might be no elections at the ward, local government and state congresses and the national convention.
The April 9 letter signed by APC National Secretary Mai Mala Buni was addressed to the INEC Chairman, Prof. Mahmood Yakubu.
The letter has created another crisis in the NWC. Sources said its content was known only to Oyegun, the national secretary and National Organising Secretary Osita Izunaso who fixed the dates for the elections.
As earlier reported by Naija News, the dates are ward congresses (May 2); local government congresses (May 5), state congresses(May 9) and national convention (May 14)
A source in the NWC said: "This letter was shocking to most of us. Instead of declaring all offices open, the notice is only talking of the need to fill existing vacancies. The NWC has overruled President Muhammadu Buhari through this notice.
"This is tenure elongation being perpetuated under the table by this team led by Odigie-Oyegun. Since the tenure of all officers at all levels has expired, the decision of our last NEC meeting was election across board.
"What they are plotting is affirmation of the continuation in office of all officers at the ward, local government, state and national levels.
"It is unfortunate that only the national chairman, the national secretary and the national organising secretary were privy to the letter."
Another NWC member, said: "This letter coup might have been planned with pro-tenure elongation governors because about a week ago, Governor Jubrilla Bindow of Adamawa State emphatically declared that there will be no election of officers.
"It is sad that the advice of the President on constitutional procedures amounted to nothing. The NWC has perfected the retention of all officers at all levels.
"If Buhari is not nominated by a properly and constitutionally elected NWC, he might lose the 2019 poll on technical ground. The opposition can go to court and nullify his mandate if he wins."