Speed Darlington Spits Fire On His Haters As He Marks 1000th Instagram Post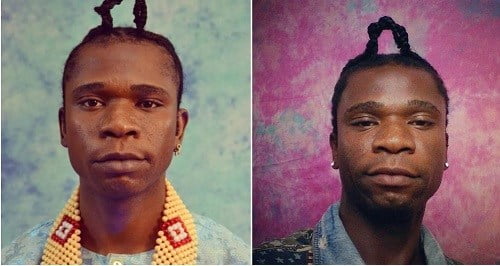 (Photo credit: 1Push News)
Speed Darlington is at it again. And this time he is cursing death upon a section of his haters who follow him for the sole purpose of flagging his videos.
The eccentric America-based Nigerian rapper is known for his braggadocio and outrageous claims. And his antics ensures he makes the news more often than his modest colleagues.
Celebrating his 1000th Instagram post he made a video saying;
"Death to those who hate me and still follow me just to flag my video may happiness NEVER find you Amen. You shall spend the rest of your life hating on others while they climb, by the time you realize it time already pass you. Man or boy woman or girl death to those who flag my video. Life to those who love me. Shoutout to my followers."
And Nigerians will always have something to say. Here are some of the comments;
Victator1: "Yes I followed you just to flag you and I will continue to. Your videos are harmful and your music is nothing but p*rn, ape like u"
Mrwemmy: "@victator1 You flagged his Video and you still have guts to come here and say it boldly on his page ……I swear nah to tear cloth and run enter market remain for you ! Coz you don mad already and u never see people tell u! Ur family Gat work to do on ur life! Lunatic"
Captaindee10: "Whoever is hating on this guy is a fool..How can you be hating someone who doesn't even make sense most of the time.His music and whatever it is..You hate in speedy who is actually having fun..You be mumu" oo
Ugombadiwe: "Kai I love this my brother ehn too much energy never giving up"
Visit 1 push blog for more entertainment news.
Read More News. Download Naija News App. Send us enquiries and press releases.