Ohaneze Youths Call For Total Restructuring Of Nigeria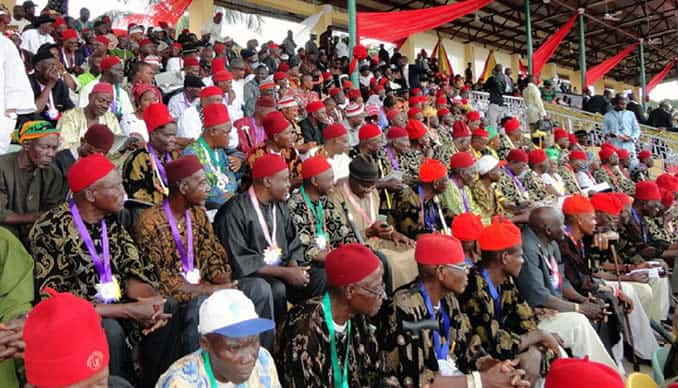 The South-South youth wing of the Ohaneze socio-cultural organization, has expressed support for the total restructuring of Nigeria, saying that it would benefit all zones.
Zonal coordinator of the group, Chief Chinedu Arthur-Ugwa, made the submission in an interview with NAN on Thursday at the sidelines of activities organised to mark the 6th anniversary of Gov. Seriake Dickson's administration in Bayelsa state.
Arthur-Ugwa noted that a situation where the central government has had to bail out several states within the last two years shows many states are not economically viable but restructuring would allow each region focus and develop areas in which it has comparative advantage.
The youth leader however warned that the group will not support anything short of total restructuring as it is the only way of resolving various agitations within the country.
"Restructuring is a panacea for peace amongst the federating units and can resolve the various agitations if implemented properly.
"We, however, want total restructuring and say no to taking an aspect of it and leaving other components behind.
"There is consensus amongst all stakeholders on restructuring and the Federal Government and the ruling party also the opposition party had all endorsed it that tells you that it is the way to go.
"However, it must be done in a holistic manner with all aspects of it taken along; it should not be an issue of political and campaign gimmick for political parties to win votes.
"I am urging the Federal Government to convene a multi-stakeholders forum for Nigerians to be on the same page and have a clear and unambiguous position on restructuring," Arthur-Ugwa said.