Sen. Danjuma Goje loses wife, Senate mourns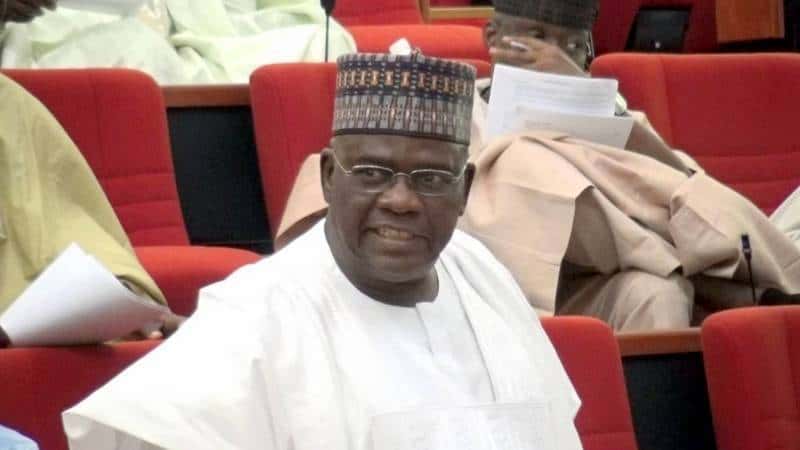 Senate mourns as Senator Danjuma Goje loses wife.
The Senate has extended its condolences to one of its own, Senator Danjuma Goje, who lost his wife, Hajia Yelwa Danjuma Goje, on Monday.
Naija News gathered that Senator Goje who was also a former Governor of Gombe State lost his wife today.
Her death was announced by his son, Ahmed Mohammed Goje, in a statement on behalf of the family.
The statement states: "With gratitude to Allah (SWT), I regret to announce the death of Her Excellency, Hajiya Yelwa Danjuma Goje, wife of the former Governor of Gombe State, Senator Mohammed Danjuma Goje.
Read also: Senator Ndume Slaps Lawmaker; Another Hon. Beaten Into Coma, Hospitalized For Months
"Aged 55, she died in a hospital in the United States of America. She is survived by her husband, Senator Goje, six children, 10 grandchildren, many relatives, supporters and admirers.
"The date and time of the funeral prayers in Gombe would be announced later."
The Senate, in a statement signed by its president, Bukola Saraki, therefore, commiserated with the family, describing Mrs. Goje as an exemplary pillar of support, a dedicated partner and mentor to many.
"On behalf of the entire Senate, I commiserate with our brother, friend and colleague, Senator Mohammed Danjuma Goje, Chairman of the Senate Committee on Appropriation, on the loss of his dear wife, Hajia Yelwa Mohammed Goje.
Read also: See full list of President Buhari's appointees since May 2015
"Over the years, Mrs. Goje served as an exemplary pillar of support to her husband and played the role of a dedicated mother and mentor to many in her community.
"As we join the Goje family to mourn her passing today, we pray that the Almighty Allah (SWT) grant her soul a place among the righteous ones in Al-Jannah Firdaus.
"We also pray that Allah grants the family of Senator Goje the strength and fortitude to bear this irreparable loss. Amin," he said.