El-Rufai weeps as Airtel donates to blind five-year-old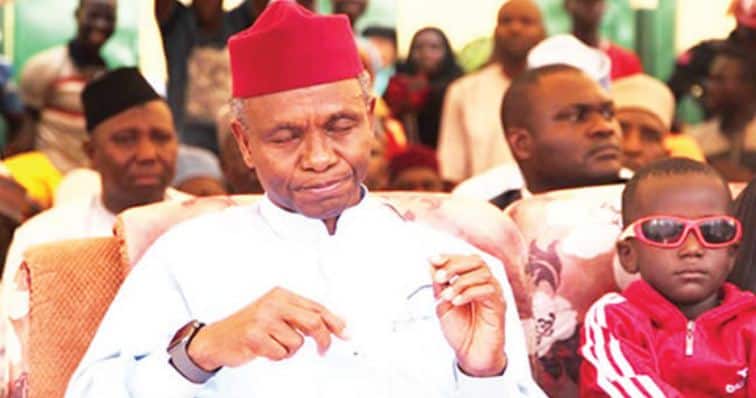 The Kaduna State Governor, Mallam Nasir El-Rufai on Wednesday was moved to tears as aid was given to Sadiq Abubakar, a five year old boy whose eyes were removed by suspected ritual killers last year in Zaria.
Abubakar was 4 year old when the incident happened and attended Ango Abdullahi International School, Zaria.
Naija News gathered that Airtel Nigeria, provided support for Abubakar under its 'Employee Volunteer Scheme' by presenting him a cheque of N400,000 for his school fees, a braille machine, laptop, typewriter and an abacus.
Read also: Biafra: Buhari meets Igbo Senators over IPOB, Nnamdi Kanu
However, Gov. El-Rufai shed tears when the Managing Director of Airtel Nigeria, Mr. Segun Ogunsanya announced their donations for the boy.
Ogunsanya according to Punch report, made the announcement during the inauguration of the Yahaya Hamza LGEA Primary School in Ungwan Liman, Zaria.
According to him, Abubakar would be able to learn to read and write and "enjoy all opportunities a good education provides."
He said, "It is tragic and heartbreaking to see an innocent child suffer. We were deeply moved by Sadiq's situation and decided to support him.
"Our support will not end here; Sadiq is now our adopted son and he will continue to be our priority and in our prayers."
Read also: Strike: FG and JOHESU's negotiations end in deadlock
He added that Yahaya Hamza LGEA Primary School in Zaria would join the five other Airtel Nigeria adopted primary schools spread across the country.
Ogunsanya said the firm would collaborate with the state in the education sector, stressing that the government alone can not do execute all that is to be achieved in the education sector.
"We believe in good education. It is a ticket to prosperity. It gives opprortunity for everyone to succeed. In recognition of the role that education plays in the development of a community, Airtel Nigeria has decided, as part of our Corporate Social Responsibility, to adopt Yahaya Hamza Primary School in Zaria," the Airtel boss said.
El-Rufai therefore, urged other organisations to emulate Airtel Nigeria to improve education standard in the state.