Rivers Governor, Nyesom Wike, gives portfolios to 20 new commissioners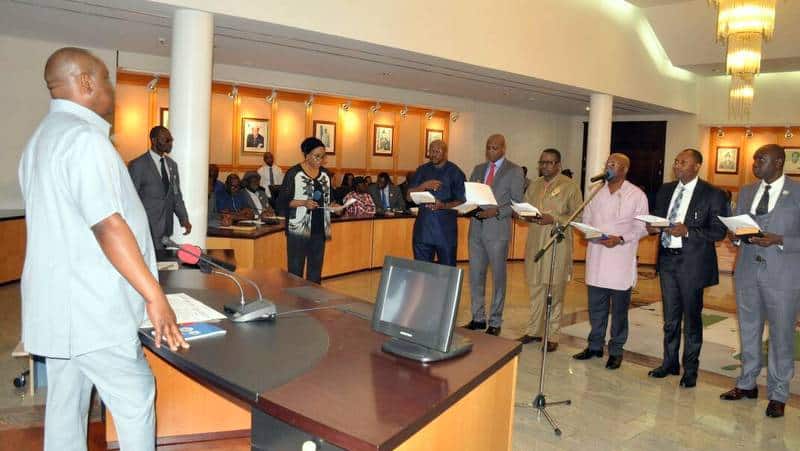 Governor of River State, Nyesom Wike, on Wednesday assigned portfolios to newly appointed commissioners the state.
The governor had on August 30 sworn in 14 of the commissioners, but did not assign them portfolios and nine of those appointees were part of the state executive council dissolved by Governor Wike in June.
According to a statement posted on Facebook by one of the new appointees, Emma Okah, the new commissioners and their portfolios are as follows.
1. Barr Emma Okah – Information
2. Prof Roseline Konya – Environment
3. Chief Ibibia Walter – Transport
4. Barr Isaac Kamalu – Budget
5. Mrs Tonye Oniyide – Culture
6. Prof Kaniye Ebeku – Water Resources
7. Rt Hon Dum Dekor – Works
8. Barr Mrs Ukel Oyaghiri – Women Affairs
9. Dr Fred Kpakol – Finance
10. Hon Tamunosisi Gogo Jaja – Education
11. Prof Chike Princewill – Health
12. Hon Damiete Herbert Miller – Social Welfare
13. Hon Ruderford LongJohn – Local Govt.
14. Hon Shedrack Chukwu – Power
15. Hon Boma Iyaye – Sports
16. Hon Emeka Onowu – Special Services
17. Chief Chinedu Tasie – Housing
18. Barr Sylvanus Nwankwo – Chieftaincy
19. Mr Charles Nwogu – Agriculture
Emmanuel Aguma, a Senior Advocate of Nigeria, had earlier been sworn in as attorney general and commissioner for justice, adding up the number of the commissioners in the state to 20.
Performing the swearing-in, Mr. Wike urged the commissioners to exhibit 100 percent loyalty and committment.
He said: "We demand 100 percent loyalty. This work deserves total commitment. When you have the opportunity to serve the state, it is a rare privilege. Therefore, you have to be committed to service.
Read also: Fayose challenges Lai Mohammed to reveal looters sponsoring IPOB
"We are rebuilding the state because a lot went wrong during the immediate past administration of the APC. You need to put in your best."
According to the governor, those who put in their best will be noticed by the people and rewarded in future.
"Once you do your work, people will notice you and appreciate the quality of your service to the state. That is why you must continue to put in your best," he said.
He urged the commissioners to respect their oath of office and live responsibly as top officials of the state government.
"Don't see your appointment as your time to eat because there is nothing to eat," he said. "You are appointed to work. If you cannot meet up with the tempo of the administration, just withdraw."