Aisha Buhari awards scholarships to primary school pupils in Daura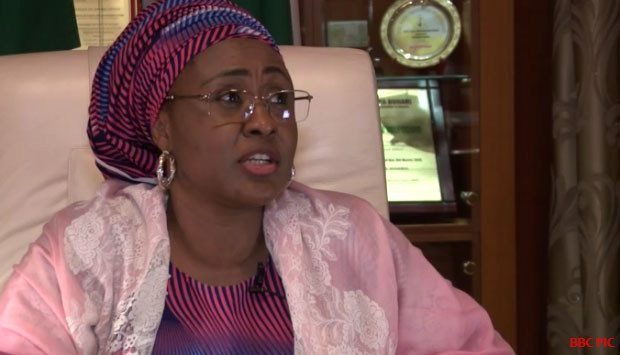 Wife of the President Muhammadu Buhari, Hajiya Aisha Buhari, has awarded scholarships to 60 orphans in primary school in Daura, Katsina state.
Aisha Buhari, who launched the scholarship scheme in Daura on Monday said the scholarships would cover the complete primary school education of the beneficiaries.
The aim of the initiative, according to her, was to promote education and increase access to the quest for education, especially for the Girl-child in the area.
She did not disclose the amount to be spent on the beneficiaries, but advised parents to take the education of their children seriously, adding that education was the bedrock of national development.
Buhari also distributed food items which included 60 bags of rice, 60 cartons of satchet tomato puree and 60 cartons of customised garri, to 75 women and some less privileged people in the area.
READ ALSO: How Buhari and his aides disgraced Nigeria – Reno Omokri
In his remarks, the Emir of Daura, Alhaji Umar Farouk, commended her love and concern for Nigerians.
He said the wife of the President had been consistent in discharging her responsibilities, "We are very grateful to you for constructing a multi million naira Child and Maternal Health Centre in Daura" .
Hajiya Zakiya Masari, the wife of Katsina State governor, also commended her for the gesture.
Masari prayed for the well-being of the nation and President Muhammadu Buhari.
Alhaji Lawal Kado, the Acting Chairman of Daura Local Government, also commended the Aisha Buhari.
Kado then thanked God for the well-being of the President.
Ambarut Sani, a female politician, lauded the efforts, and added that the food items and scholarships would go a long way in providing succour to the beneficiaries.
READ ALSO: Resident doctors begin nationwide strike
She called on the beneficiaries to ensure judicious use of the donated items, stressing that the scholarship awardees would be monitored to ensure consistency.
Aisha Baushe, one of the beneficiaries of the scholarship awards, thanked the First Lady for the gesture, describing it as "wonderful".
Other beneficiaries who went home with food items and undisclosed cash gifts commended Aisha Buhari for her magnanimity.
(NAN)