The Pan-Yoruba group, Afenifere has shown displeasure at the perceived partiality involved the settling of the crisis involving the Yorubas and Hausas in Ile-Ife.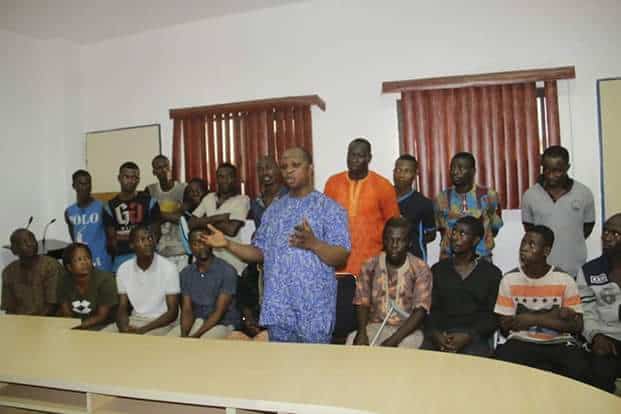 Afenifere, in an interview decried the fact Yorubas were arrested while the other warring group, the Hausas, were left alone by the police.
Mr Yinka Odumakin, the publicity secretary of Afenifere while speaking with Punch said that the parade of the suspects in Abuja showed "undue sectional deployment of federal might."
The police on Monday, arrested 39 suspects and paraded 21 of them after investigations led to evidence against them.
A check of the names of the arrested suspects who were paraded indicated that all of them were Yoruba, but the police spokesman denied that the investigation was targeted at a particular group.
The police Public Relations Officer, Jimoh Moshood insisted that: "It is not a one-sided thing; suspects from different backgrounds were arrested and some of them were released when investigations showed that they had nothing to do with the violence.
"To be specific, 38 suspects from various backgrounds and ethnic groups were arrested, but 20 of them, who were found culpable for direct and indirect participation in the killing of innocent people were detained and they would be prosecuted."
He did not, however, explain why none of the Hausa traders, who allegedly fought the Yoruba residents were not among the arrested suspects.
The group Afenifere decried investigation and arrest done by the Abuja police rather than the Osun state police command where the incident happened.
"The Abuja show is undue sectional deployment of federal might to intimidate and harass a party in the conflict. It is direct fallout of the threat of the Interior Minister (Abdulrahaman Danbazzau) after he visited Ife.
"The minister is not on record to have visited any scene of conflict where Fulani herdsmen have inflicted 'terror' on their host communities in the Southern and Middle Belt communities since he was appointed.
"The Ife crisis was sparked by the beheading of a Yoruba vulcaniser and the subsequent parade of his severed head on a pole. How come there is no member of the Arewa community paraded by the police?
"We reject the one-eyed Magistrate that the police have become in this matter and which is as a result of the ethnic composition of the police presently.
"We demand the immediate transfer of the suspects to Osun state. We will resist this ethnic vengeance through the police except we see arrests of the Fulani aggressors in the Ife conflict."
But the National Publicity Secretary of the pan-northern socio-political organisation, Arewa Consultative Forum, Alhaji Muhammad Ibrahim, said he would not comment on the arrest and the parade of the suspects in Abuja.
He said: "I won't comment on that matter. We don't want to give anything ethnic or religious colouration; that's why I don't want to comment on it. Sorry, I am in the hospital attending to people. One of my best friends is ill please."