see the suicide note of jealous airforce officer who killed his girlfriend
The jealous Air Force personnel, who killed his lover and colleague in the early hours of Sunday, Aircraft Man Kalu AB, wrote a suicide note after carrying out the act, it has been gathered.
Kalu had shot and killed Solape Oladipupo after accusing her of double dating at the Air Force Base in Makurdi, Benue State.
A snapshot of the said suicide note, which is making the rounds online, indicated that the airman had planned to take his own life afterwards.
He, however, did not go through with the plan and is being detained by the Air Force authorities.
In the note, the airman accused the lover he killed of deceiving him and his mother.
He said he was aware that "some idiot" would insult him for his actions, but bore no grudge as he would do the same if the tables were turned.
He, however, insisted that others in his shoes would do worse than what he did and suggested that he would prefer to be called the "crazy lover who died for heartbreak".
The Command Public Relations Officer, Wing Commander Emmanuel Iheoma said "the  letter must have been written before Kalu was picked up."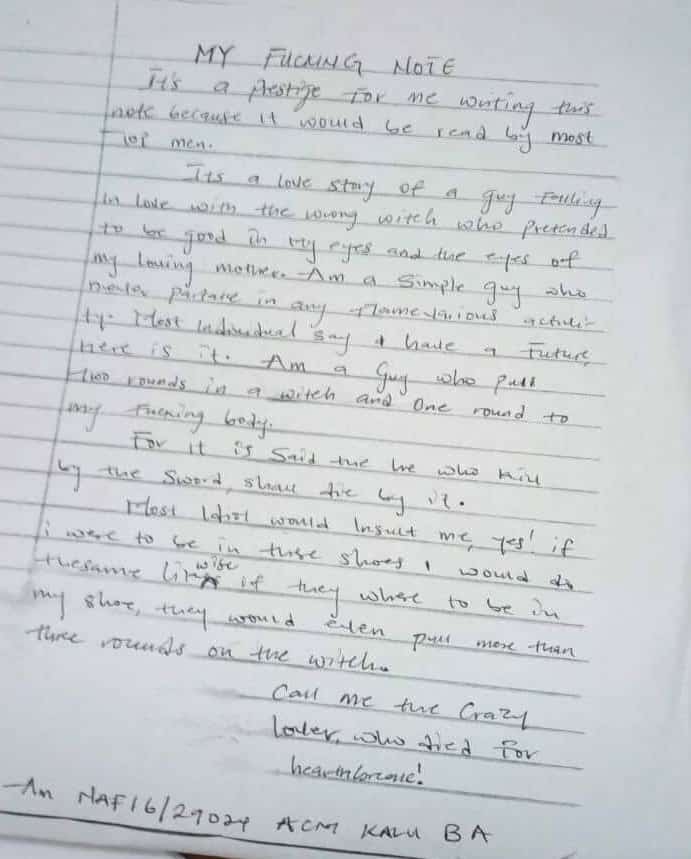 Watch video below:
https://youtu.be/JixU24gTml4