Opinion: President Buhari and his London vistors by Dele Momodu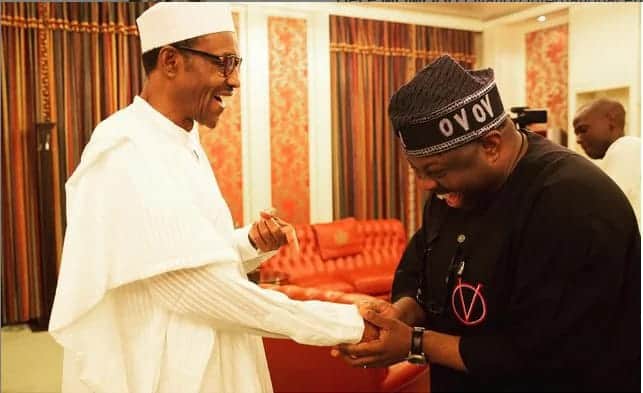 Fellow Nigerians, let me warn quickly that a new circus has come to town and there is a theatre of the absurd ongoing in the city of London. The patrons are very important personalities from Nigeria who have turned the supposed illness of our dear President Muhammadu Buhari into a stage play. At the rate these medical tourists are going, Nigeria may be empty of all its fat cats as they jostle to pay obeisance lest anyone accuses them of nonchalance and of plotting against the President or wishing him dead. Yes, we can be that petty in this clime.
When President Buhari suddenly left our shores, several weeks ago, he did what our late President, Alhaji Umaru Musa Yar'Adua failed to do which was to send a simple letter to the National Assembly about his intention to go on vacation or for medical treatment, or whatever, and hand over authority to his Vice President, Dr Goodluck Ebele Jonathan. At least, it shows President Buhari had learnt a useful lesson from the experience of his brother and we must praise God for little mercies. What else could he have done? I think he should have improved on this uncommon performance by telling Nigerians he's been battling with some debilitating ailment for some time which necessitated his having to travel regularly and sometimes suddenly. For God's sake, it is not a crime to fall sick. We all do, in various degrees, from time to time. At over 70 years on the surface of this earth, no one would expect President Buhari to be in the most perfect state of health. It is a miracle that he survived the harrowing vicissitudes of life after he was thrown into a dungeon in 1985 during the military coup that toppled his dictatorship. He also had to contest some bloody elections a record four times before fortune smiled at him. Naturally, all of these events would have combined to conspire against his health.
So why should he be ashamed of telling the world that his health is failing and that he would have to attend to it as frequently as possible? No one needs to consult a doctor or a prophet to know our President is not very well at this moment and that he deserves our understanding and prayers. Even if we thought otherwise, his London visitors have virtually confirmed our worst fears. Aso Rock media gurus who have been regaling us with tales of how well and fit the President is should have worked harder on their powerful friends to stay in Nigeria and wait to flood the airport whenever it pleases God to bring him back in one piece to Nigeria. Rushing to London to mark register is absolutely unnecessary and a total waste of scarce resources. The London visitors have wittingly or inadvertently attracted more attention to the President's frailty.
I have taken time to study some of the pictures that have emerged from the President's shrine in London and most of them did not do justice to whatever it is some people are trying to cover up by fire by force. The pictures have shown clearly why the President cannot just yank himself off from London and return home pronto as his tedious job demands. It is very obvious that the President is no longer in London of his own free volition, even if he ever was at some point. Someone should please beg the Good Samaritans to allow the President receive his medical treatment in peace and hopefully recuperate handsomely and adequately. Only his immediate family should be allowed access to him at this moment. The visitors actually make it look like they are on an espionage mission to ascertain the true state of the President's health in order to plot, position and manipulate what seems an impending power game, sooner or later. At the very best of intentions, the visits represent a free photo opportunity for the new and sudden emergency friends of Buhari.
Where's the coterie of acolytes who fell over themselves to display unsolicited affection when the President was sick and flown to Saudi Arabia? If President Buhari is in perfect condition, as his ubiquitous media handlers want us to believe, they should allow him enjoy his vacation and return home when he pleases instead of fighting over the pages of newspapers and the airwaves singing discordant notes on how he may arrive today or

tomorrow

or claiming that his return is delayed by the uncompleted servicing of the Presidential jet when there is more than one such jet and, in any case, it is not a crime to charter a private jet on this one occasion, or beg one of his wealthy party members or friends to send a comfortable plane to pick him up and return him home in perfect comfort. I'm sure they would be too happy and proud to do him that favour. Also, I know it is easier for the NTA to do a regular live broadcast from London whenever our President misses home to assure us there is no cause for alarm. The President and his team seem to forget the importance and pre-eminence of the ordinary Nigerian citizen in all this debacle. They elected the President.  He is answerable to them.  It is to them he needs to turn to in order to allay their fears about his health and rumoured death. He can do this by even a one minute video broadcast.
What we are witnessing right now is a negation of what Buhari ever stood for. Our President was known to be a man of very modest means and humble existence. His attraction during the campaigns and what made him readily sellable to majority of Nigerians was the abhorrence of ostentatious living as well as adherence to a disciplined and Spartan life. Many observers are wondering what has gone wrong that our President seems to have become totally oblivious to happenings around him. Nigerians trusted and still trust President Buhari.  He should not let his supporters lead him astray and betray that trust. He must continue to show that he knows that he is accountable to the people first and foremost and the only way to do this is to come clean about his state of health and when his doctors say he can return, whether now or later.  
This is certainly not the loud change we promised Nigerians two years ago. There is defalcation, decay and decadence everywhere. Budgets are still being padded left right and centre. Atrocious sums are apparently being spent on frivolities while Nigerian workers are gnashing their teeth everywhere. Our airports remain as hopeless as ever, nearly two years into the life of this government. We are still dishing out endless excuses about why provision of adequate electricity supply has remained rocket science in Nigeria. Government officials continue to run abroad for medicals in flagrant disobedience of instructions to stay at home. The voodoo economists have not been able to arrest the freefall of the naira against the American dollar. The list of woes is ad infinitum. This is DEFINITELY not what we assured our people when we went on the blistering attacks against President Goodluck Jonathan and his carpetbaggers.
We knew the journey won't be easy but didn't expect it to be this bad. There are some basic things that should have been easily fixed

in one year

of active governance. We should have put elevators and escalators in our airports. The jetways at Murtala Muhammed International Airport Lagos should have been modernised and upgraded. The odoriferous washrooms and the stench that oozes and welcomes citizens and visitors to Nigeria should have been permanently sanitised and deodorised. There is no basis for arguing these facts. Some of those saddled with the task of helping Buhari achieve his lofty dreams have failed the man and their country, and even God. I picked on those simple and visible projects in order to show the hopelessness of our situation despite the loquacious change we bandied two years ago. If I were to embark on more important things, I would weep uncontrollably and probably not complete this piece, especially, as I crisscross many poorer and less endowed African countries and marvel at their inspiring productivity. It is that bad! Are we to blame Jonathan again for the miserable states of our airports and the pitiable conditions of our infrastructure?   
The solution is not farfetched as I have preached for many years. A nation that sacrifices its best brains on the altar of ethnic balancing, religious sensitivity, greed and avarice, nepotism and jingoism can never prosper. What we need to do urgently is to reverse the dangerous drift towards perdition. We all know the solution to our calamitous problems but are too timid and irrational to take on our challenges. We are surrounded by seat-warmers and unrepentant gamblers who treat our dear beloved country like one big casino.
Only God can rescue us, if it is not too late.
Bashorun Dele Momodu OVATION International +234 805 506 9220 www.ovationinternational.com www.delemomodu2011.com
---
---
© 2023 Naija News, a division of Polance Media Inc.