How I Made Obasanjo President – Tony Anenih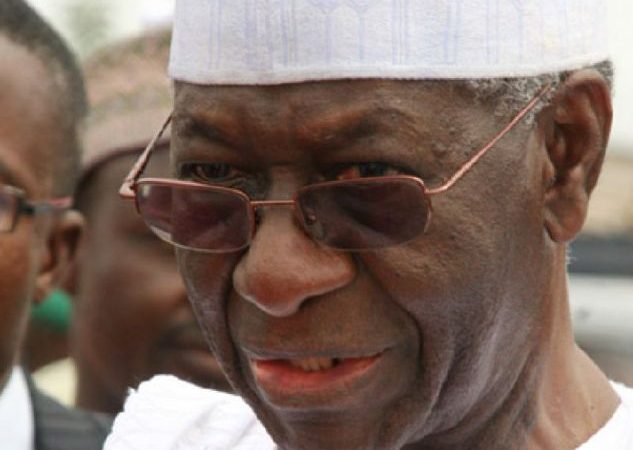 Former Peoples Democratic Party, Board of Trustees, BoT, Tony Anenih has revealed how former President, Olusegun Obasanjo, emerged as the party's candidate in 1999.
This was contained in his recently released book, "My Life and Nigerian Politics."
According to Anenih, the former President told him, "you should take me to Aso Rock but how you do it is not my business".
He said, "
We got the first notice (as PDM leaders) through Lt General Aliu Mohammed, later national security adviser, that General Olusegun Obasanjo was interested in the PDP presidential candidacy and would like PDM's support," he wrote.
"Seven PDM leaders met at Bolingo Hotel that morning and agreed to support Obasanjo mainly because of his stature, inspiring role in Nigerian politics, his voluntarily handing over to civilians (Shagari in 1979) and also because of his good relationship with Shehu Musa Yar' Adua.
"When his campaign outfit needed some strengthening and strategy, he called me on the phone in Benin from Ota one Sunday and when I came on line, he said it was Obasanjo. He then said: 'Chief, I have two messages for you. The first is that you should take me to Aso Rock. How you do it, is not my business. The second one is if we win, you must be a part of my government.' I was dumbfounded. Here was a former head of state making this passionate appeal to me. I replied: 'Sir, let us take the first part of the assignment and later, God will decide what happens thereafter."
Anenih said he met with Obasanjo in Abuja the next day, and he advised that they play the game by the rules.
 "I told him we must obey the rules of the game and he also assured me that he would make sure that the rules of the game were followed," he wrote.
"I began by arranging a dinner for the top hundred (100) politicians in this country at the place I was staying in Lake Chad Crescent, Abuja. After these invitees had all arrived, I then went to Nicon Hotel to bring him to the meeting. General Olusegun Obasanjo was surprised to see the number of cars parked around. I welcomed the guests after greeting round. I spoke to formally introduce General Obasanjo to the guests. I urged them to rally round him and challenged them thus: 'If all of you put your hands behind him, there is no way he would not win the nomination on the platform of the PDP. He will simply not fail. He will win the PDP nomination and the election ultimately.
"All these various committees helped me (as national campaign director) and Obasanjo to make sure that he won the primaries on the PDP ticket and went on to win the general election convincingly."
The former Minister of Works, had earlier revealed how he stopped former Vice-President, Atiku Abubakar, from being President.