How Nigerian security forces killed 150 pro-Biafra protesters – Amnesty International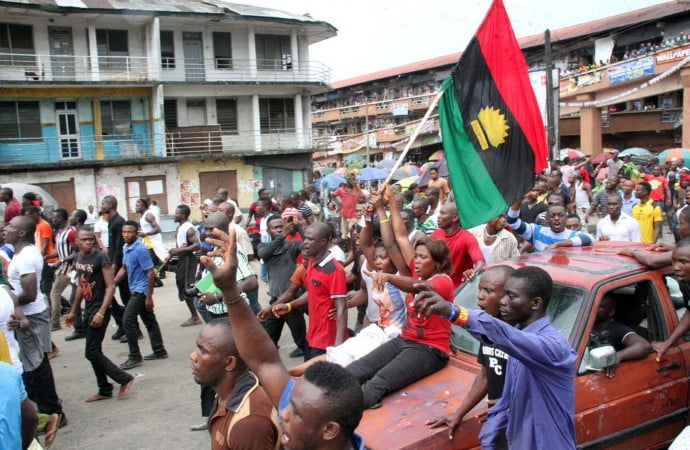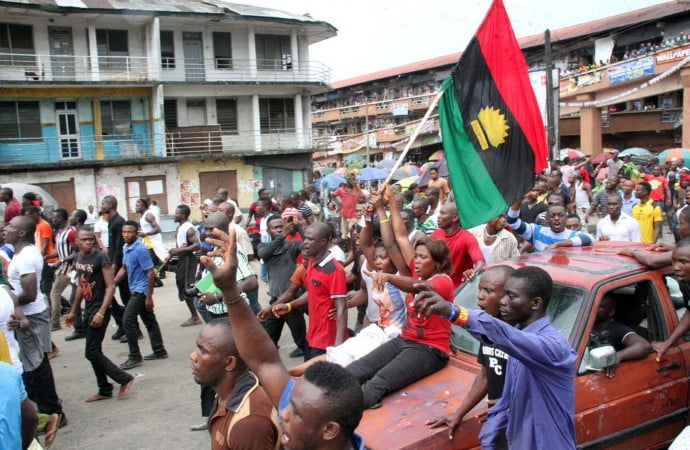 A new report by Amnesty International (AI) has revealed how extrajudicial execution and torture by Nigeria security forces, especially the Nigerian Army, led to the death of at least 150 pro-Biafra protesters across Nigeria's south-east, between August 2015 and August 2016.
The report titled: "Bullets Were Raining Everywhere": Deadly Repression of Pro-Biafra Activists,released on Thursday relied on the analysis of 87 videos, 122 photographs and 146 eye witness testimonies that revealed soldiers of the Nigeria military firing live ammunition to disperse protesters, most of them members of the separatist group, Indigenous People of the Biafra (IPOB), without warning.
According to AI, at least 60 defenceless IPOB protesters were shot dead within two days leading to the Biafra Remembrance Day of May 30.
IPOB, which was formed by Nnamdi Kanu, seeks the restoration of breakaway sovereign state of Republic of Biafra from Nigeria. Biafra was a secessionist state in the south-east region of Nigeria that existed from May 30, 1967 to January 1970. The secession of Biafra was the main cause of the Nigeria Civil War. Over 1 million people died in the war.
Mr. Kanu was arrested on October 14, and is being tried for treason. There has been an increase in the agitation of pro-Biafra activists since his arrest.
President Muhammadu Buhari is strongly opposed to the creation of Biafra. In May 2016 during a visit to the palace of the Emir of Katsina, Mr. Buhari suggested that it is better for Nigerians to commit mass suicide than for the actualization of the breakaway state of Biafra.
"We will not let that happen. For Nigeria to divide now, it is better for all of us to jump into the sea and get drowned," he said.
Extrajudicial Killings
The Amnesty International report revealed that the largest number of IPOB members were killed during the Biafra Remembrance Day of May 30, 2016. It stated that as over 1,000 members of the group gathered for a rally in Onitsha, Anambra State, security forces swooped on their homes and a church where they were sleeping.
"On Remembrance Day itself, the security forces shot people in several locations. Amnesty International has not been able to verify the exact number of extrajudicial executions, but estimates that at least 60 people were killed and 70 injured in these two days. The real number is likely to be higher," the organisation revealed in a statement accompanying the report.
Recounting some of the chilling incidents that happened on the day, AI spoke to a woman named simply as Ngozi (not her real name), the 28-year-old wife of one of the slain members of IPOB.
Ngozi told AI that her husband called her shortly after he left for work in the morning that soldiers have shot him in his abdomen. He said he was in a military vehicle with six others, four of whom were already dead.
"He started whispering and said they just stopped [the vehicle]. He was scared they would kill the remaining three of them that were alive… He paused and told me they were coming closer. I heard gunshots and I did not hear a word from him after that."
The next day after searching for her husband, Ngozi found his body in a nearby mortuary. The attendants at the mortuary told her that the military had brought him and six others. She said he had three gunshot wounds one in his abdomen and two in his chest, which confirmed that the military had executed him.
Similarly, Chukwuemeka (not his real name), a 25-year-old trader, told AI that he was shot and taken together with corpses to the barracks.
"They dumped us on the ground beside a pit. There were two soldiers beside the pit. The pit was very big and so many dead people were inside the pit. I cannot estimate the number of people in the grave. … We were dumped on the ground."
He said that he escaped and hid in the bushes.
The organization said it reviewed videos of a peaceful gathering of IPOB members at Aba National High School on February 9. The Nigerian military surrounded the group and then opened fire on everyone in sight without any warning.
Many of the protesters were then rounded up and taken away. Four days later, 13 corpses including some of the men taken away were found near the Aba Highway.
According to AI, the military took the bodies of people killed and injured in Onitsha and Asaba to the military barracks in Onitsha. Video footage shows soldiers loading dead and wounded people into their Hilux van.
"Initially, when they were still dumping corpses, I could see 10 to 12 lifeless bodies. That was in the morning. In the evening, there were more but I could not estimate," A man who was detained in the barracks and who saw the corpses dumped in front of the military mortuary said.
Torture
The report also revealed the disturbing use of widespread torture and ill-treatment of those arrested by the military.
Vincent Ogbodo (not his real name), a 26-year-old trader, said he was shot on May30, 2016 in Nkpor and hid in a gutter. He said when soldiers found him they poured acid on him.
"I covered my face. I would have been blind by now. He poured acid on my hands. My hands and body started burning. The flesh was burning… They dragged me out of the gutter. They said I'll die slowly."
A man detained at the Onitsha Barracks revealed that "those in the guard room were flogged every morning. The soldiers tagged it 'Morning Tea'."
"This deadly repression of pro-Biafra activists is further stoking tensions in the south east of Nigeria. This reckless and trigger-happy approach to crowd control has caused at least 150 deaths and we fear the actual total might be far higher," said Makmid Kamara, Interim Director of Amnesty International Nigeria.
"The Nigerian government's decision to send in the military to respond to pro-Biafra events seems to be in large part to blame for this excessive bloodshed. The authorities must immediately launch an impartial investigation and bring the perpetrators to book."
"It is chilling to see how these soldiers gunned down peaceful IPOB members. The video evidence shows that this was a military operation with intent to kill and injure," said Mr. Kamara.
AI stated that most IPOB protests have been largely peaceful. It however, added that on occasions, protesters hurled stones, burned tyres and in one case shot a police officer.
"Regardless, these acts of violence and disorder did not justify the level of force used against the whole assembly," AI stated.
Impunity
AI stated that despite overwhelming evidence detailing the extrajudicial killings and torture of protesters, no action has been taken by Nigerian authorities to investigate them or punish perpetrators.
It stated that this lack of accountability for human rights violations by the military is similar to documented cases in other parts of the country especially in the country's north-east region where the military fights a war against Boko Haram.
"Amnesty International has repeatedly called on the government of Nigeria to initiate independent investigations into evidence of crimes under international law, and President Buhari has repeatedly promised that Amnesty International's reports would be looked into. However, no concrete steps have been taken," said Mr. Kamara.
AI stated that the "Nigerian government must ensure adequate reparations for the victims, including the families. They should end all use of military in policing demonstrations and ensure the police are adequately instructed, trained and equipped to deal with crowd-control situations in line with international law and standards. In particular, firearms must never be used as a tool for crowd control."
Army's denial
Meanwhile, in a move aimed at countering the planned release of AI's report on Thursday, the Nigeria army on Wednesday evening released a statement denying that soldiers killed and tortured defenceless pro-Biafra agitators.
It stated that the report was an attempt to tarnish the reputation of Nigerian security forces and that of the army especially.
The statement by the acting director of army public relations, Sani Usman, a colonel, stated that IPOB members relished in the use of violence that threatens the security of the country.
It claimed that IPOB members attacked and killed people from other ethnic groups in the south-east and injured several soldiers and policemen. The statement also claimed that the protesters vandalised military and police vehicles.
He stated that the military acted within its mandate and in fact, approached the protesters with restrain despite their use of "unjustifiable violence".
"The evidence of MASSOB/IPOB violent secessionist agitations is widely known across the national and international domains.  Their modus operandi has continued to relish violence that threatens national security.  Indeed between August 2015 and August 2016, the groups' violent protests have manifested unimaginable atrocities to unhinge the reign of peace, security and stability in several parts of the South East Nigeria," the statement read.
"A number of persons from the settler communities that hailed from other parts of the Country were selected for attack, killed and burnt.  Such reign of hate, terror and ethno-religious controversies that portend grave consequences for national security have been averted severally through the responsiveness of the Nigerian Army and members of the security agencies.
"These security agencies are always targeted for attack by the MASSOB/IPOB instruments of barbarism and cruelty.  For instance, in the protests of 30 – 31 May 2016, more than 5 personnel of the Nigeria Police were killed, while several soldiers were wounded, Nigeria Police vehicles were burnt down same as several others of the Nigerian Army that were vandalized.
"The strategic Niger Bridge at Onitsha came under threat thus leading to disruption of socio-economic activities.  In the aftermath of the encounter that ensued between security agencies and MASSOB/IPOB militants many of own troops sustained varying degrees of injury.  In addition, the MASSOB/IPOB recurrent use of firearms, crude weapons as well as other cocktails such as acid and dynamites to cause mayhem remain a huge security threat across the region.
"Therefore, it is rather unfortunate for the Amnesty International to allow itself to be lured into this cheap and unpopular venture that aims to discredit the undeniable professionalism as well as responsiveness of the Nigerian Army in the discharge of its constitutional roles."
---
---
© 2023 Naija News, a division of Polance Media Inc.