Drama As Gbajabiamila, Wase 'Fight' Openly During House Plenary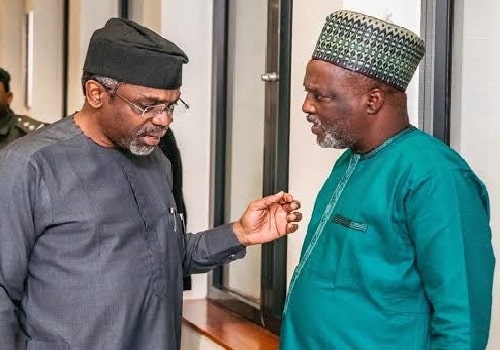 The Speaker of the House of Representatives, Femi Gbajabiamila on Wednesday had an open clash with his Deputy, Idris Wase during the plenary of the lower chamber of the National Assembly.
It is understood that Gbajabiamila had during plenary, told the Chairman of the House Committee on Rules and Business to ensure that the order paper for Thursday was not clouded with the day's business so the legislators can adjourn early and attend the official Commissioning of the permanent site of the National Institute for Legislative and Democratic Studies (NILDS).
Naija News reports the commissioning of the NILDS edifice is scheduled to be done by President Muhammadu Buhari by 3 pm on Thursday.
However, after the directive by Gbajabiamila, Deputy Speaker Idris Wase countered his directive, arguing that the priority of the House was lawmaking and other official businesses, adding that the commissioning of NILDS headquarters was not enough to adjourn the House.
He added that the plenary of the House should not be disrupted while lawmakers interested in attending the commissioning can go ahead while sitting continues.
This resulted in a war of words between the two lawmakers.
Responding, Gbajabiamila said: "DS, maybe the importance of NILDS is not clear to you like it is to some of us. We are not adjourning the House for members to attend the commissioning. I said the order paper should be made lighter because I will attend the commissioning."
But Wase fired back saying "Mr. Speaker, the House is not about I, but us".
After the first trade of words between Gbajabiamila and Wase, the Speaker made another announcement before returning to address his deputy saying, "DS, I have been in this House long enough to know that this is the first time in the history of this House that a Deputy Speaker will openly oppose what the Speaker says."
Gbajabiamila then re-issued the directive for the Chairman of the Committee on Rules and Business, to "make the order paper light for tomorrow."
He added that the House will adjourn at 2.00pm while members present at plenary chorused 'carried'.
It is understood that the open confrontation between the two lawmakers is linked to the reported recommendation of Tajudeen Abbas and Benjamin Kalu for Speaker and Deputy Speaker of the 10th House by Gbajabiamila, leading to their endorsement by the leadership of the All Progressives Congress (APC).
Wase who is eyeing the seat of Speaker himself is one of the aspirants and party members aggrieved with the decision of the APC leadership to adopt the zoning formula which cuts them off the race in the interest of the party's preferred candidate.