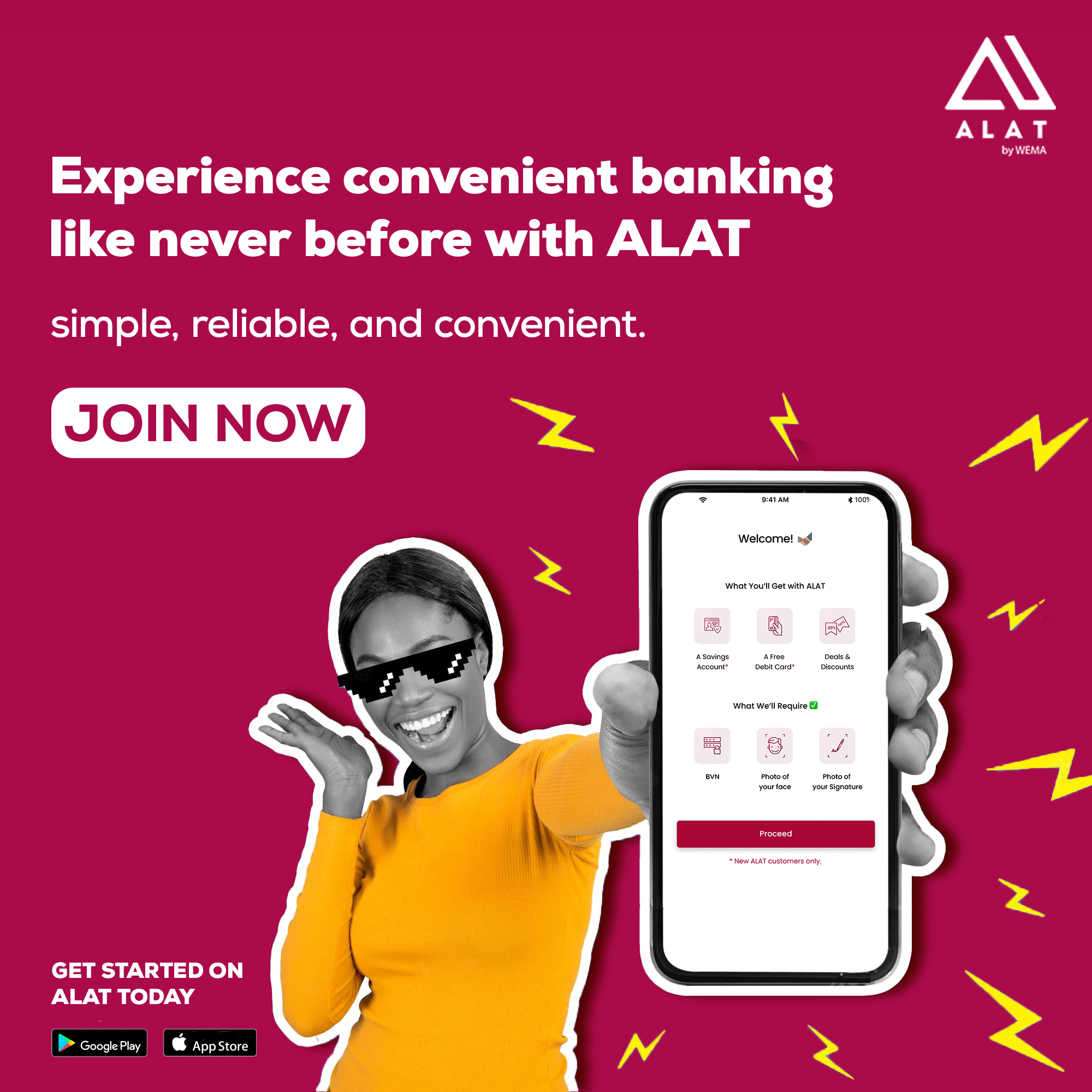 When it comes to having a buddy that keeps you financially in check, few are lucky to have one in their corner. Finding balance can be difficult sometimes, and you might find yourself stuck between enjoying life because you only live once and then saving for the rainy days. We all know that feeling. But life has become easier for Ade, thanks to his buddy, that ensures he is Always On.
Ade was more than lucky to find a buddy that completes his life and keeps him on top of his game when it comes to making financial decisions. With ALAT, Ade has found ease and peace in his financial life. What makes ALAT so unique that Ade would have nothing to do with no one else? Join me to find out.
Convenience & Reliability
Problem no dey ever finish, so if you find who or what gives you peace, you should hold it tight. This is precisely why Ade has held on so tight to ALAT. With ALAT as your digital bank, you save from the comfort of your own home on your schedule. You can set up automatic savings transfers, track your progress in real-time, and withdraw your savings whenever you need to. This means you do not have to ever deal with the stress of walking into a banking hall to fill out long, boring forms and stand in unending queues. The convenience and reliability ALAT offers easily places at the top of the list as the best bank in Nigeria.
Your Bill Payment Buddy
Rain, sun, and bills are three things that never seem to go away. The good news is that ALAT ensures you are Always On by being that trusted and reliable friend that never fails you when you need them. Want to make bill payments? ALAT lets you do that from your comfort zone. From your app, you quench multiple fires that might have erupted without having to move a limb.
Utilities make our lives easier, but remitting payments can be strenuous. With the ALAT utility card, you can pay for various services without needing cash or your regular cards. All of this from your comfort.
Always On-line
In the digital age, purchasing airtime and data has become essential to our daily life. It is how we stay connected, communicate, and access the internet. Whether it is airtime to make that call and catch up with a loved one or data to ensure you are not kept from the gist happening online, ALAT helps you always stay online. Never stress about running out of airtime or your data bundle getting exhausted. ALAT will always be present to rescue you.
Always On your Savings Game with ALAT
Cultivating a saving culture is one financial habit everyone should pick up. However, with the burden of our daily expenses and the financial obligations that come with life, keeping up with your saving habit can get challenging. So it was with Ade until he found ALAT and many savings options. With the ALAT stash, you can save up for specific things, regularly contributing to it until you make the target.
The Spend and Save option lets you save money as you spend. With this, you can earn interest on your savings every time you transact with your ALAT card. Other options like the Flexi save allows you to earn interest on your money while you still have access to it. And if you are a fan of ajoo, you can use ALAT's rotating savings feature to save money with a group of friends, but without the problems of the traditional system. ALAT group savings is also another way to save together with your friends and people you share common interests with. Finally, you can save towards a specific purchase with the target savings. You simply set a target amount you want to save and the date you want to make the purchase, and ALAT, your trusted buddy, will calculate the amount you need to save each day, week, or month to reach your target.
If you favour higher interests, then the ALAT investment savings is just for you, allowing you to earn higher interest than you would with a regular savings account through investment in low-risk investment options. With ALAT, the goal is for you to always win!
Credit Cards
ALAT offers you credit cards that are easy to use and offer you credit limits of up to N1,000,000! And to make it better, it comes with a 45-day interest-free period on purchases. This gives you the freedom to express yourself and live life the way that best suits you. Moreover, with the different varieties of credit card options, you can unlock your choices and never have to worry about being incapable of exploring your desires.
Loans
We always have needs, and sometimes, those needs outweigh the cash we have at the moment. This is where ALAT, our buddy steps in. With the different options of low interest loans available, you can take care of immediate, pressing needs without breaking a sweat. Quick loans and the personal loan allow you to borrow up to N2,000,000 with a tenor of only 12 months for the personal loans. If you are a business owner, you have access to the business loan of up to N50,000,000 with a 12-month tenor.
Loan on goals allows you to borrow specifically for a financial goal you have set, such as taking a car loan to get a much-needed family vehicle. This encourages you to save towards your goal while you gain access to funds to achieve these goals.
With ALAT, you always win. It is your ultimate solution for keeping you connected to your finances 24/7, no matter where you are. ALAT is designed to give you peace of mind, knowing that you can manage your finances whenever and wherever you need to. Whether you are at home, at work, or on the go, ALAT is always there for you, ensuring that you are Always On.
Get started with ALAT Always On today and experience the freedom and flexibility of banking on your own terms. Sign up for an ALAT account in minutes, and start enjoying the benefits of Always On banking.