2023 Presidency: Kalu Discloses Number Of States Tinubu Would Win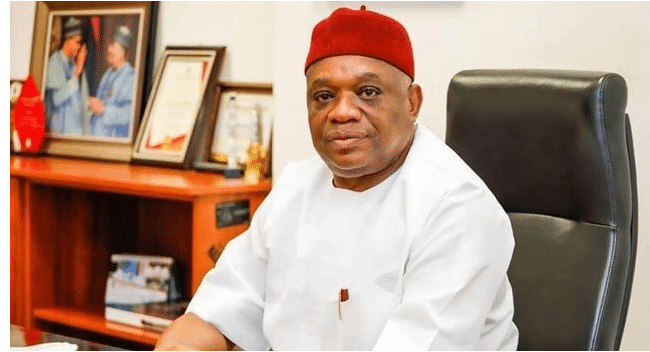 A chieftain of the All Progressives Congress (APC), Senator Orji Uzor Kalu, has said that the party will win 25 states at a stretch.
The Senator also claimed that all the presidential candidates contesting in the presidential election on Saturday are working for the victory of the presidential candidate of the party, Bola Ahmed Tinubu.
The Chief Whip of the Senate stated this during an interview with Arise Television's Morning Show programme on Tuesday, Naija News reports.
Speaking further, Orji stated that he would not be talking about Obi's candidacy because they are very good friends and go to the same church.
He, however, stated that he was certain that Tinubu would be declared the presidential-elect before midnight.
According to him, "The likes of Bola Tinubu (APC), Atiku Abubakar (PDP), Peter Obi (LP) and Dr. Rabiu Musa Kwankwaso (NNPP), among others, will contest during Saturday's presidential election to become Nigeria's next president.
"Peter Obi is a very close friend of my family and we go to the same Catholic church. I don't want to get involved talking about Peter Obi, so I don't want to discuss Atiku, I don't want to discuss anything [about Obi too]," Kalu said.
Any question you want to ask me should be centred on my presidential candidate [Bola Tinubu], who is the incoming president and commander in chief.
"This business is not done by tribe or region. It is about voting when all Nigerians agree that he will be president the way all Nigerians have agreed that Bola Tinubu will be president.
All the people contesting are helping our party. If you come here [Abia], the votes that will be shared are the votes of the PDP. If you go to the North, the vote that is supposed to be shared by Kwankwaso is a vote of the PDP.
"Anywhere you go. Our main base is in the North, and our main base is in the Southwest. We are going to win about 20 states or 25 states at a stretch. I have no fear that February 25, and before midnight, President Bola Tinubu will be announced, President-elect.