MC Oluomo: Watch It INEC, The Integrity Of 2023 Elections Matters!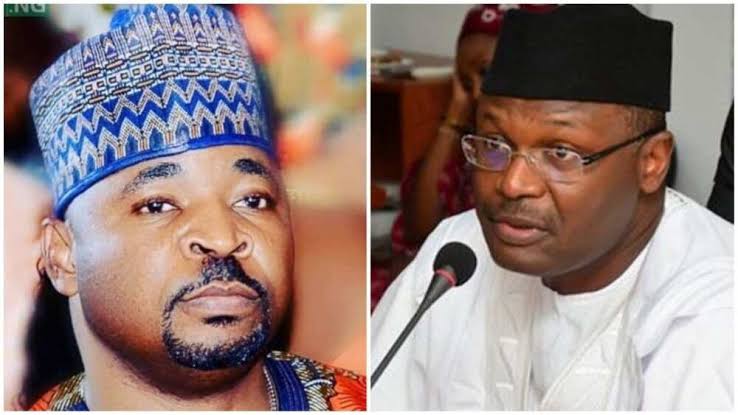 Reports from the Independent National Electoral Commission (INEC) this close to the general election are raising concerns and calling to question the credibility and neutrality of the electoral umpire in this critical national assignment. Aside from the commission using its verified Twitter account to endorse a comment that disparages a leading presidential candidate, Nigerians were worried when INEC Resident Electoral Commissioner in Lagos State, Olusegun Agbaje disclosed that Lagos State Parks and Garages (LASPG) Management will be engaged to distribute election materials and personnel on Election Day.
The apprehension stems from that this committee is headed by a member of the All Progressives Congress (APC) presidential campaign council, Musiliu Akinsanya, better known as MC Oluomo. The February 25 and March 11 general elections are too important to Nigerians that there should be no room for whatever will compromise the integrity of the polls. The arrangement elsewhere is that INEC works with the Nation Union of Road Transport Workers (NURTW) and the Road Transport Employers Association of Nigeria (RTEAN) to distribute election materials. But in Lagos State, Governor Babajide Sanwo-Olu banned the operations of both transport unions in the state after the latter suspended MC Oluomo.
Excerpts of the suspension letter signed by the general secretary of NURTW, Kabiru Yau, speak to the character of the man the INEC REC in Lagos wants to commit the transportation of logistics and personnel to: "This is to convey to you that in line with Article 42 section 5, subsection I, II, III, IV, V, and VIII of the union's constitution, you have been placed on indefinite suspension from office as State Chairman of Lagos State Council of National Union of Road Transport Workers (NURTW) with effect from March 9th, 2021.
"Your suspension is the sequel to sustained acts of insubordination and gross misconduct coupled with your clandestine plans to instigate crisis and unleash mayhem on any branch or branches of the union in Lagos state that refuses to obey your order or instructions not to accept directives from the national headquarters of the Union.
"Your orchestrated plan to attack branches that may disobey your orders aforesaid will ultimately endanger public peace and order in Lagos state. It is also very likely to threaten and/or affect the lives and property of the peace-loving people of Lagos state, particularly those doing their legitimate businesses within motor parks, hence the urgent need to take drastic actions against him," the letter read in part.
In a move that affirms his place in the levers of power in Lagos State, Governor Sanwo-Olu soon banned NURTW and RTEAN, setting up the MC Oluomo-led Park Management Committee to take over their operations. On the face of it, Agbaje can claim that INEC in Lagos State has no choice but to engage MC Oluomo's people in the distribution of election materials and personnel in the state on the day of the elections. It is however not true that the electoral umpire has no other option than to partner LASPG in Lagos. There are idle pools of vehicles and drivers in all federal government agencies and parastatals that can be saddled with this responsibility. There is also the option of using courier services and registered transport companies.
Why insult the sensibilities of Nigerians and stoke unnecessary tensions by opting to work with an unapologetic APC loyalist who has staged solidarity rallies for the party and its presidential candidate, Asiwaju Bola Tinubu? INEC will be playing into the hand of this interested party as the Lagos State Parks Management Committee had requested that its members be allowed to distribute sensitive electoral materials and transport election officials on Election Day. In a letter written to INEC in January 2023, LASPG pointed out that "Lagos, Oyo, Ogun, Ondo, Osun and some States are no longer under the National Union of Road Transport Workers (NURTW) as transportation is concerned. But under the various States Parks and Garages respectively", and audaciously appealed that "all transportation related arrangements in Lagos State should be at our preview".
Naija News is worried that the INEC REC beyond granting this request went ahead to make it public, a path that even the commission's headquarters is careful to tread. Many would have given up on the credibility of this all-important election just by hearing the news. REC Agbaje doesn't seem to understand what is expected of the person occupying his office at this critical time. He is the same public official who has been accused of complicity in a plan to disenfranchise Igbos residing in Lagos state during the general election. A group, Leaders After God's Own Spirit Initiatives (LAGOSI) said, "In a reckless political communication known only with thugs, Agbaje made it clear that the reason the residents of the area cannot have their PVCs is that many of them are from the South East part of the country, inferring that they are immigrants."
The group continued in a statement issued by its convener, Dr. Bolaji Akinyemi, that "Agbaje has done it before and by his comment on the Igbos, the signs are obvious of what he is capable of. If Igbo will vote in Lagos, and their votes will count like that of every other tribe, then Agbaje must not remain INEC REC in Lagos state". Indeed, such a REC who can't even conceal his bias or comport himself in a manner that instills confidence in the electoral process is a threat to a credible poll. It's unfortunate that there are lots of such elements in INEC like its Twitter handler who liked the post that wrongly accused the Labour Party presidential candidate, Peter Obi of being "an opportunist that can't deliver Nigeria"!
In the social media milieu, liking a post amounts to approval. The act is therefore a classic case of INEC descending into the arena and expressing a partisan view. This is highly unacceptable. Beyond fishing out and punishing the culprit, Naija News demands that INEC weeds out every biased mind in its system. The fast-approaching general election must not only be free, fair and credible but must be widely adjudged so. The world is watching and the perception people have of those saddled with the responsibility of conducting or playing any role in the electoral process goes a long way in determining the health of Nigeria's democracy. All lovers of democracy have welcomed the firm resolve and interest shown by Nigerians in this election cycle. INEC must not allow compromised or partisan officials in the system to dampen this palpable enthusiasm of the electorate to elect their leaders. Nigeria is on the brink, only a credible election this season can pull the country from the precipice!