Nothing Personal, I Will Continue To Criticize The Government – Bishop Kukah Tells Femi Adesina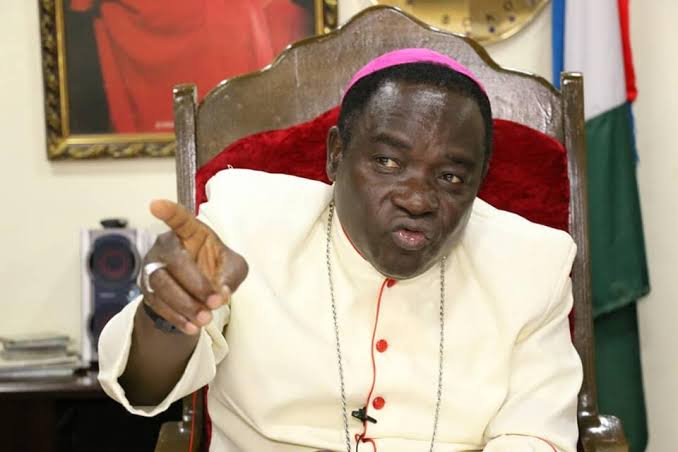 The Bishop of the Sokoto Catholic Diocese, Mathew Hassan Kukah has revealed details of a recent discussion between himself and the special adviser to President Muhammadu Buhari on media and publicity, Femi Adesina.
The fiery cleric said they met at the presidential villa in Abuja shortly after his Christmas day message which called out the administration of President Buhari.
Naija News recalls after the Bishop's Christmas day message in which he accused the Buhari government of ineptitude, nepotism, failure, and other things, the presidential media aide also released a response in which he said Kukah has no moral right to criticize his principal urging him to rather face the pulpit.
But speaking during an interview on Channels TV's Politics Today on Wednesday, Kukah said he is not worried about such statements or criticisms as he has a job to do and he knows Adesina is also getting paid to do his job.
He added that when they met at the Villa and the media aide accused him of criticizing Buhari, he replied that he had been criticizing the government before the current administration and would continue doing so after they leave office and hand over to another set of people.
Kukah said, "I always tell people that frankly I don't worry about criticism because I consider myself as an academic. I never take offense when somebody doesn't agree with me.
"Femi has got a job to do, he is actually being paid to do the job. I got my own job. But there is nothing personal about it. I read a lot of their criticisms; they don't bother me because some of them are meant to move away from the things I had said.
"I read his statement; I didn't think there is any reason for me to respond to what they have to say. And I remember the last time I was in the Villa, Femi said to me rather jokingly 'Bishop you are always criticizing my government; so you have come today. I told him I was criticizing government before you came and I will criticize government when you are gone."