2023: As PVCs Sell For N2000, INEC Better Be Steps Ahead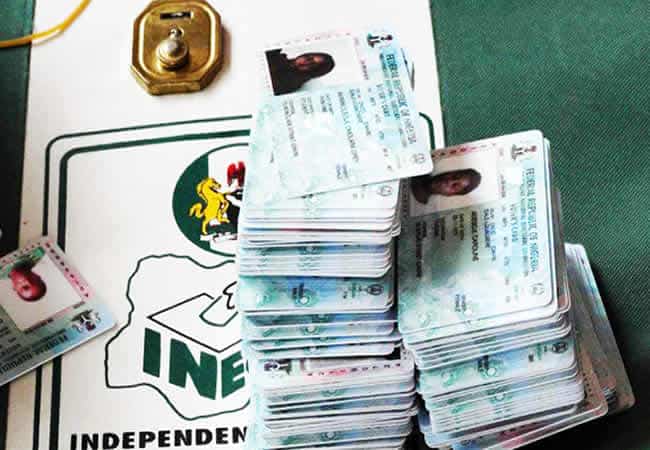 The move by desperate politicians to amass Permanent Voter Cards (PVCs) despite the planned use of Bimodal Voters Accreditation Machine System (BiVAS) for the 2023 general election isn't just to weaken the voting strength of the opposition. It rather points to a more devious means of compromising the integrity of the next elections. This targeted purchase has continued despite repeated assurances by the Independent National Electoral Commission (INEC) that systems instituted for the next election are so ironclad that rigging will be near impossible. It has also in line with the extant Electoral Act ruled out the resort to Incident Forms on Election Day.
Only yesterday, the Akwa Ibom Resident Electoral Commissioner, Cyril Omorogbe, pointed out the futility of politicians mopping up the PVCs of prospective voters in next year's polls. According to him, "Those buying PVCs are not going to use it to vote. My suspicion is that if that is happening is that they are trying to reduce the number of potential people that would likely vote against them. With the BiVAS technology, no one can vote by proxy or use another person's card to vote." Regardless, feelers from the political firmament indicate that politicians have gone beyond the cold calculation of buying up the voter cards of the electorate in areas they are unpopular. They seem to have found or are working on something more advantageous than reducing the number of votes against them or in favour of opponents.
INEC must understand that the ship has since sailed from harbour and should have a better reading of the tea leaf. Indeed, next year's election is proving to be the most competitive in Nigeria's democratic journey. The stakes are so high, particularly for some presidential candidates who will be perceived as too old should they aspire for the highest office in 2027. Seeing this as their last chance, those who have made occupying Aso Rock a lifelong ambition may just be going for broke. For these desperadoes, disenfranchising those who don't like them won't be as effective as subverting foolproof technological measures like BiVAS. This has therefore become an obsession and must be checkmated.
There have been rife reports of the Voter Identification Numbers (VIN) on uncollected PVCs being harvested by some unscrupulous elements ahead of the elections. Naija News hopes that INEC has put its house in order such that those playing this untoward game aren't being aided and abetted by insiders. As bad as the purchase of PVCs is, there is also the unsettling report that political gladiators and their agents have been making attempts at INEC's ICT infrastructure. This was confirmed by INEC's Head of Department, Voter Education and Publicity, Achumie Chuka, who revealed at a workshop that "politicians are doing everything possible to get into INEC server or even to manufacture BiVAS".
It is within this context that the buying up of PVCs by politicians can be better situated. BVAS is an electronic device designed to read PVCs and authenticate voters. Ordinarily, this machine renders useless any PVC that is not presented at the polling unit by the authentic owner. But when those out to game the system go as far as cloning the device, the ensuing industrial-scale rigging can only be imagined. Although Chuka was quick to add that "INEC is three steps ahead of their (desperate politicians') plots," the fact that wanton buying of PVCs has continued months before the general election raises cause for concerns. It indicates that the electoral umpire is yet to comprehend what those seeking elective positions are up to.
The country was stunned on Wednesday when the Northern Elders Forum (NEF) disclosed that millions of northerners are selling their PVCs for as little as N2000! In the words of the NEF spokesman, Hakeem Baba-Ahmed "Thousands, or possibly even millions of northern voters, particularly women, are being made to surrender their PVCs for a pittance, in most instances not more than N2000. In some instances, they are told their cards will be returned to them after they are processed for additional payments as poverty relief. No cards are returned." This is what obtains when the government willfully neglects the education needs of the populace. Regrettably, there is no end in sight to this charade as the same choice will be made by today's 20 million out-of-school children across the country when they are old enough to be registered voters!
It is chilling that registered voters in a country as plundered and misgoverned as Nigeria will give up a chance to change their fortune for less than $3. This is worse than selling one's birthright for a plate of porridge! Considering the difficulties and inconvenience people in other parts of the country endured to register or collect their PVCs, it is scandalous that N2,000 or N5,000 is the worth of all that stress to ignorant and pauperized Nigerians. This is how this segment of the electorate yokes the country with dimwits as presidents and governors who leave the country worse off. Enough of politicians weaponizing ignorance and poverty for election.
It is noteworthy that the said N2000 is less than what it costs other Nigerians to commute to PVC-collection points only to be told by INEC staffers that the plastic cards are still in the works. Naija News cannot but call out INEC at this juncture for failing miserably to make PVCs available to registered voters within the short window it opened for the collection. Reports we've been receiving from Lagos and the Federal Capital Territory indicate that most of those who were at INEC offices for this purpose were told to return in January because their PVCs are not yet ready. There is also the issue of crowd management which the commission should have developed capacity for.
Naija News demands that INEC gets its acts together to at least prove that it has an edge over dubious politicians who are out to game its best efforts. It is left to see how a commission that can't produce and distribute PVCs as promised is three steps ahead of forces bent on compromising the electoral process. The commission must take all precautions, including hiring cybersecurity experts to mitigate any threat posed to the e-management of the all-important 2023 general election. While this newspaper appreciates INEC's daunting challenges, the Commission must be told without equivocation that delivering credible, free and fair elections is not utopian. Forward-looking countries, even in Africa, have started taking this for granted. We believe that adopting advanced technology tools in Nigeria's electoral process should sound the death knell to rigging rather than open new vistas that upend the very essence of democracy in Nigeria!