2023: The Movement Is More About Peter Obi Than Labour Party – Moghalu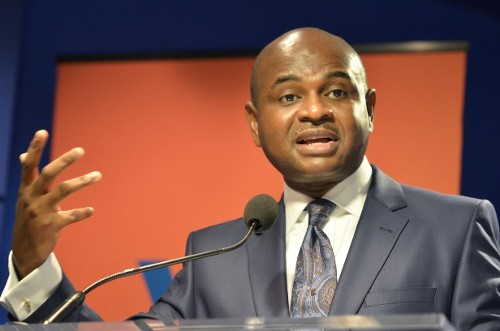 Former presidential aspirant, Professor Kingsley Moghalu has stated that many Nigerians may be shocked by Peter Obi's performance in the 2023 presidential polls.
Ahead of the 2023 elections, Moghalu submitted that the growing acceptability of Peter Obi is more about his personality than the Labour Party (LP) which he represents.
He argued further that religious sentiment attached to the 2023 presidential election may also work in favour of Obi at the polls as many voters may vote along ethno-religious lines.
The former Deputy Governor of the Central Bank of Nigeria (CBN) made this view known on Wednesday when he gave his opinion about the likely performances of four major contenders for the 2023 presidency.
He pointed out that as things stand, nobody is sure about who may eventually emerge as the winner of the 2023 presidential contest.
But he pointed at Bola Tinubu of the All Progressives Congress (APC), Peter Obi of the Labour Party (LP), Rabiu Kwankwaso of the New Nigeria Peoples Party (NNPP) and Atiku Abubakar of the Peoples Democratic Party (PDP) as the four major contenders.
Moghalu further expressed worries that the security/economic situation in the country is a major threat to the 2023 elections.
He wrote in a series of tweets: "The 2023 presidential election – if it holds, with a security/economic meltdown that'll likely get worse before it can get better – is the first since 1999 that no one can say for sure who will win.
"The balance of forces represented by the 4 main contenders is intriguing and well dispersed. @atiku, @officialABAT, @PeterObi, and @KwankwasoRM all have strong followings for different reasons."
How Votes May Be Shared In 2023
"If Kwankwaso goes all the way he will take away significant votes from APC in the core North, especially NW. Peter Obi will likely take significant potential PDP votes in SE, SS and Christian NC.
"Don't be fooled by Labour Party's weak performance in Osun or its evident lack of structure. The movement is more about PO than Labour Party. Meanwhile, a huge dose of religious sentiment has now been added to the ethnic one with Nigeria's main ethnic tripod of Yoruba, Igbo and mainly Muslim core North all strongly represented in the line-up.
"Many Nigerians will vote across ethno-religious lines, especially the youth but, I predict, not enough to give any candidate a decisive advantage.
"Will Atiku, perhaps the most cosmopolitan politician of the old guard, win enough ethnic votes in the North to off-set what he might lose to Obi in the South where Atiku had more support than his northern home base in 2019? Can Obi crack the Northern "wall"? Will the core north vote for Asiwaju and his Muslim-Muslim ticket before the "son of the soil" Atiku? If RMK does a "Tambuwal" at the last minute in favour of Asiwaju, what happens? Perhaps most important, how many of the new 12 million registered voters will actually vote, and for who?"