FG Slams US Senators Asking For Action Against Nigeria Over Alleged Persecution Of Christians In The Country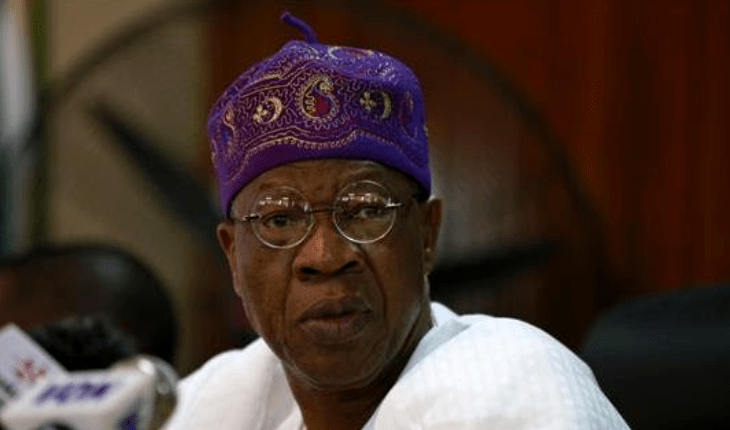 The federal government has replied some Senators of the United States of America asking for the redesignation of Nigeria as a country of particular concern over alleged cases of Christian persecution.
Speaking on Monday, Nigeria's Minister of Information and Culture, Lai Mohammed said the fresh allegations raised by the US Republican Senators after the country had been removed from the list are false and baseless.
Naija News understands the lawmakers had in a letter addressed to the US Secretary of State, Antony Blinken alleged that persecution of Christians was rife in Nigeria and called for action against the country for allowing such happenings.
The Senators want Nigeria returned to the list of countries designated as sources of concern over religious intolerance.
However, Mohammed who spoke in London said the allegations are not true as the perpetrators of the evil highlighted by the US Senators have no consideration for religion but are pure criminals who want to cause religious war.
Mohammed said the lawmakers lack an understanding of what is going on in Nigeria.
He added that some Nigerians running Non-Governmental Organizations (NGOs) are deliberately misinforming the American government to get more funds and support.
"You will recall that only few months ago Nigeria was taken out of the list of countries of particular concern because it was proven that there is no iota of truth in the allegation that Christians or any religion was being persecuted or people were not allowed to practice the religion of their choice,
'We want to say once again that Nigeria does not have a policy that denies people the freedom to practice their religion
"The country also does not have a policy of violation freedom of religion and it is not true that Nigeria persecute anybody on account of his or her faith," Mohammed was quoted to have told NAN in London.
The Minister submitted that nobody is being persecuted in Nigeria on religious basis as the country allows the free practice of religion which is guaranteed by the constitution.
He added that both Muslims and Christians as well as other religions have been victims of attacks from terrorists, bandits and other criminals claimed by the US lawmakers.
"Nobody in Nigeria is being persecuted But we have issues of criminality going on and the criminals really do not make a distinction of any religion.
"They kidnap for money, they hold people on ransome irrespective of their religion and there are some issues pf communal matters dating back to many years.
"If a statistic is to be taken, I can say confidently that as many Muslims as Christians have been victims of these criminals," he said.
Mohammed however highlighted that the Islamic State's West Africa Province (SWAP) is a terrorist group known to target Christians in its activities so as to create tension but added that the government is already doing everything possible to wipe out the terrorists.
He asked for international collaborations to ensure the government and military forces win the battle against the insurgents.
"What ISWAP is doing is that because of their dwindling influence hey are now attacking Churches and Christians n order to create a crisis between various religious groups.
"But as a government, we are after them," he said.