Atiku: Why PDP Panel Voted Wike Over Okowa As Party's Running Mate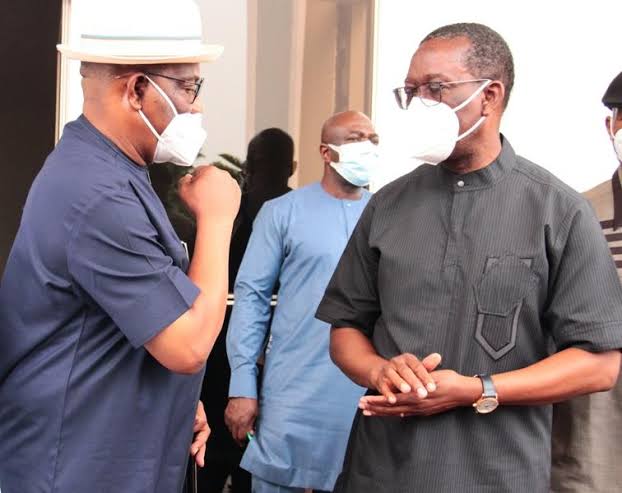 The Rivers State Governor, Nyesom Wike's loyalty to the Peoples Democratic Party (PDP) made panel members vote him as the running mate of the party's presidential candidate, Atiku Abubakar.
Naija News reports that an advisory panel set up by the PDP to help select Atiku's running mate had voted in favour of Wike over Governor Ifeanyi Okowa of Delta State and Governor Udom Emmanuel of Akwa Ibom State.
Recall that Wike had joined the race for the PDP vice-presidential ticket after losing to Atiku Abubakar in the opposition party's presidential primary.
Fresh reports revealed that Wike secured 13 votes out of 17 members of the panel to emerge the selected running mate.
Naija News however learnt that the final decision on the running mate will be take by the party's presidential candidate, Atiku Abubakar.
A source told Vanguard that: "The panel initially trimmed the list to three — Nyesom Wike, Ifeanyi Okowa, and Udom Emmanuel. When the names were subjected to further scrutiny and put to vote, 16 out of 19 voted in Wike's favour. With his track record of loyalty to the party and performance at our just-concluded presidential primaries, most of us felt this is the right thing to do."
Another party source said the PDP took a cue from the United States where "Joe Biden picked Kamala Harris as running mate after he defeated her in the Democratic Party presidential primary in a bid to unite the party."
Wike lost to Atiku at the PDP presidential primary after scoring 237 votes against the 371 polled by the former Vice-President.