I Am Not A Child Of The Devil – Ifu Ennada Begs Nigerians To Spare Her After Spending Millions On Skull Dress
Former BBNaija housemate, Ifu Ennada has pleaded with Nigerians to stop accusing her of having affiliations with the devil after spending huge money for her AMVCA Award outfit.
Some Nigerians have claimed that Ifu Ennada's dress means she has a connection to  the devil
However, the reality TV star explained via her Insta stories that her dress is simply a work of art and there are no spiritual connections.
She revealed further that she is a child of God with a bible app on her phone which she uses to study the word of God daily.
"I am born again. I have a whole Bible App I use to study the Word of God daily. Pls stop this narrative of me being devilish because of my AMVCA look. I am a child of God…it's all fashion." the reality star said.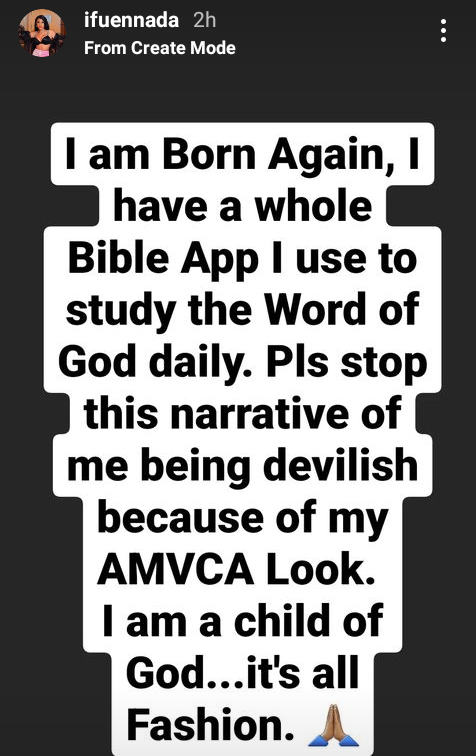 Meanwhile, Former Nollywood actress, Cossy Orjiakor, has relived sad memories of the s3x with dog scandal that ruined her acting career about 20 years ago and she's demanding justice against the journalist who reported the fake news.
Naija News recalls in the wake of the death of popular filmmaker, Chico Ejiro, Cossy Orjiakor said his silence over the dog story ruined her career in Nollywood.
Embittered Cossy called out the late Chico Ejiro over his silence on the viral story that cost her career, life, fame and innocence. Read more