NLC To Hold Nationwide Protest In Jan 2022 Over Fuel Subsidy Removal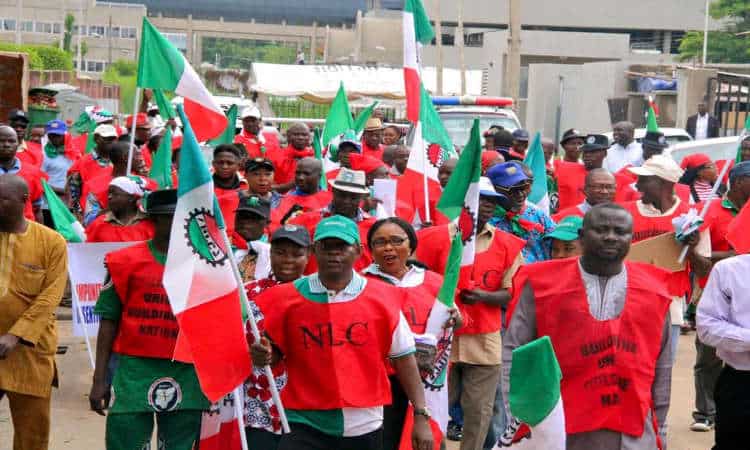 The Nigeria Labour Congress (NLC) is set to hold a nationwide rally to protest against the plan by the federal government to remove the fuel subsidy on January 27, 2022.
Naija News reports that the labour made this known in a communique released after its National Executive Council (NEC) meeting on Friday in Abuja.
The communique signed by the NLC President, Ayuba Wabba, and its Secretary, Emmanuel Ugboaja, added that a national protest would take place in Abuja on February 1 2022.
The NLC said in case the government decides to announce new petrol prices before the proposed protests, the protest will kick off instantly in every state of the federation and the Federal Capital Territory without any other further notice.
Recall that the Minister of Finance, Zainab Ahmed had unveiled plans to start paying N5,000 stipend as transport allowance to Nigerians for at least six to twelve months from 2022.
The minister stated that the palliative is to relieve citizens from the effect of total fuel subsidy removal which may kick in by the second half of 2022.
Ahmed lamented that fuel subsidy is costing the country resources that should have been channelled to other sections of importance like education and health.
According to the NLC, it rejects and resists the planned removal of subsidy on petrol and the increase in the pump price of petrol by the Federal Government.
The union stated that the planned fuel subsidy removal is extremely insensitive to the sufferings being experienced by Nigerian workers and people.
It advised the federal government to promote local refining of petroleum products and address the cost of cooking gas and building materials.
The communique reads: "The NEC, therefore, resolved to reject and resist the planned increase in the pump price of petrol by the Federal Government, as it is extremely insensitive to the acute hardship being experienced by Nigerian workers and people.
"Pursuant to its rejection and resistance of further increase in the price of petrol, to organise protest rallies in all the 36 States of the Federation on Jan. 27, 2022.
"This would culminate in the submission of protest letters to all the 36 State Governors. Subsequently, a National Protest will take place on Feb. 1, 2022 in Abuja.
"In case the government decides to announce new petrol prices before the proposed protests, the protest will kick-off instantly and without any other further notice in every state of the federation and the Federal Capital Territory."
Download NAIJA NEWS app: