Man Shares Wedding List Received From Igbo In-laws |Photos
A man has taken to social media to share a marriage list from the eastern part of Nigeria, received from Igbo in-laws.
The Twitter user simply identified as The Oracle took to the microblogging platform to share the long list of traditional marriage items requested by a bride-to-be's family.
Sharing the photo of the list, he wrote, 'a marriage list from the east.'
Amongst the items listed that was needed for the traditional marriage includes; Drinks (18 cartons), a goat, a table for counting money and unending list of items needed.
See photos of the list below;
Meanwhile, a beautiful bride, who rocked popular traditional Igbo attire Isi Agu during her church wedding, has said her love for Africa and black people inspired the outfit. 
Naija News earlier reported that a Nigerian couple shunned the white wedding dress for the bride and the groom in exchange for Isiagu.
In the photo shared online, the groom wore a gown top made from Isiagu material and cream pants while the bride wore a dress made from Isiagu with a white veil embroidery with the Isiagu material sewn to it.
The couple trended after the photo became viral.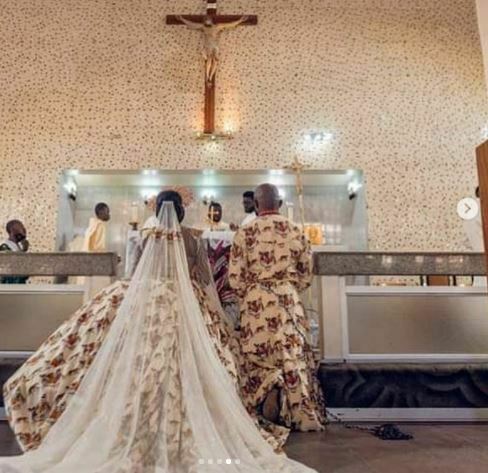 The bride during a recent interview with BBC disclosed that her decision was inspired by her undying love for African and black people, adding that she wanted to create something different 
According to Ikejiofor Ella Amy, "I am a fashion designer, so i wanted to use the medium to send out my message. And from people responses and reactions, I am happy we all love to embrace our own"
She also noted that her idea was like a mystery when she first came out with the plan, adding that she has received so many accolades on social media.
Mrs Ella said that she's happy that the younger generation can go back to their roots and embrace their own.