SwiftScores: UK Sports Reporting Outlet Opens Its Doors In Nigeria
Outside of utilizing a computer to keep connected, mobile phones have this capability as well, allowing you to stay current with current events. The web is a popular means of communication that allows individuals to stay informed about what is going on in their environment. You will always be able to find news about the sports you enjoy on a website dedicated to them.
Swiftscores.com, a website that brings you through a world of visceral passion and good old sporting traditions, has a similar culture.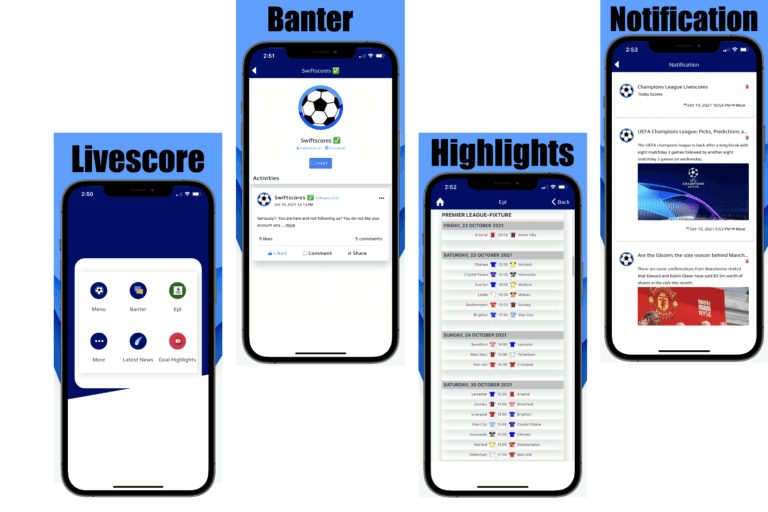 SwiftScores is a UK-based independent publishing network that operates under the umbrella of Ssu-Technology Limited, also known as Swiftspeed. The company's CEO, Mr. Akinola Abdulakeem, recently announced the company's expansion into Nigeria on Twitter.
"We care too much about the game to let it carry on without sticking in our oar where it's due."

-Akinola Abdulakeem, CEO SwiftScores & Ssu-Technology Limited
SwiftScores is well-known for providing comprehensive Livescore and football news coverage, via the beautiful mobile app and a wide range of popular football headlines. Their talented teams are dedicated to producing high-quality journalism, utilizing their knowledge and experience to serve millions of football fans across the world with inspiring, entertaining, and informative sports coverage.
SwiftScores has been making waves with professional sports involvement throughout social media for a while, and according to their website, they've been covering football extensively with a forthright attitude. They've managed to attract a receptive audience who is willing to contribute to their business across all platforms.
A football website must give live statistics from ongoing matches in the Premier League, Champions League, and other top European competitions. SwiftScores is built up in such a way that readers can observe current sports livescores, which sets it apart from the competition.
The mobile app, which is available on all platforms, appears to be one of the most complete football apps available, providing fans with the most up-to-date live football scores, trustworthy news, and in-depth information, both historical and in-play. Live Scores, Match Previews and Reviews, Breaking News, Fixtures and Results, League Tables, and more are all regular features.
Football news websites should provide you with valuable insight and awareness of the game, which can take many forms in addition to providing you with the newest information from your favorite football team. SwiftScores has this as one of its primary features. You can download the app here.
The image above shows SwiftScores being ranked among the top 15 sports apps on App Store, checked on October 21, 2021.
Being a fan of any specific football club, this is an excellent way to keep updated and understand what to expect in upcoming matches and football games. While reviewing some of the news on their website, it was noted that they currently have a feature where every fan has a voice, a medium to send in an article or opinion and get it in front of their audience, albeit subject to editorial reviews. Imagine a football website with a welcoming environment for different football fans regardless of country, location, religion, or ethnicity to thrive and have the right to an opinion.
SwiftScores has been covering football with an open mind for a time now, and they're starting to gather traction. Huge football supporters, but no cheerleaders. They specialize on talking points. They're on top of everything humorous, questionable, sanctimonious, or simply strange in football, and their readers seem to expect it.
SwiftScores is your privileged window into Nigerian football stories, delivered to you by Nigerians themselves, if you are enthusiastic about the game. They give Nigerian football coverage more prominence and have a specific area on their website, as shown in the image below.
Furthermore, they clearly grasped the task. Football fans can be emotional, so it's always important to give them a chance to express themselves constructively about a particular team, player, or match. On their app, they have a feature called banter community where football enthusiasts may exchange funny banters. SwiftScores is the first and only football app to include such functionality in a live score mobile app.
They also showed that they were aware of the task. Because football fans can be emotional, it's important to provide them a chance to express themselves constructively about a specific team, player, or match. They had a banter community feature on their app where football enthusiasts could exchange amusing banters. SwiftScores is the first and only football app to include this feature in a mobile live score app.
Readers can voice their ideas by commenting on each post on the SwiftScores Twitter page and conversing in the Banter Community on the SwiftScores app.
Here's what we discovered when we looked into the origins of SwiftScores.
SwiftScores happens to be the creation of Swiftspeed, a UK-based software development and technology business that specializes in mobile application development. In 2017, Ssu-Technology Limited with RC number 1572178 and Ssu-Technology Limited with company registration number 13179884 were officially incorporated in Nigeria and the United Kingdom respectively. More information on them can be found here. Swiftspeed Appcreator and SwiftspeedShare are two other products from the same company.