Sultan Speaks On Street Begging, Recalls When He Was Almajiri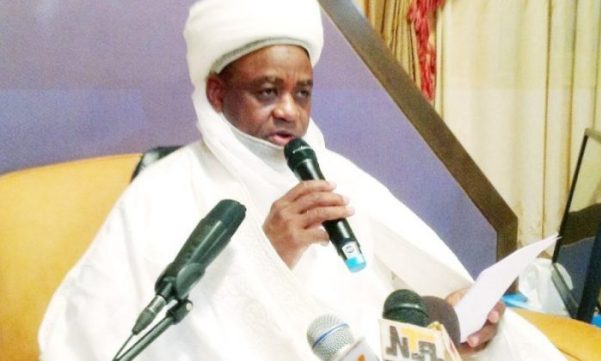 The Sultan of Sokoto, Alhaji Muhammad Sa'ad Abubakar, has disclosed that he and many other notable northerners were products of the traditional Almajiri system but nothing linked their quest for Arabic and Islamic knowledge with begging on the streets.
Naija News reports that Abubakar stated this during the closing of a two-day workshop for the modernisation of the Almajiri- Nizamiyya Education system in Sokoto at the weekend, where he advocated the use of Islamic and western education to end the Almajiris syndrome in the North.
He maintained that the sultanate council and others must unite for the success of the initiative aimed at ending street begging in the state and northern Nigeria.
According to him, "Parents must be sensitised against allowing their children to resort to begging. We were not encouraged to beg in any guise but to strictly seek knowledge".
The Sultan stated that all hands must be on deck to deepen awareness and sustain the call against the begging culture.
He called on the government to put more effort towards sustaining adequate funding of education of Nigerians through supporting efforts of state governments and relevant agencies.
Abubakar called for funds to be made available to states committed to the project initiative with vigour, noting that nothing works without funds.
"We are efficiently driving the objectives to curtail or mitigate the negative trend and consequences associated with the socio-moral ills on the society as protection for the future of young ones.
"It is our duty to close ranks and salvage as well as protect lives for the continued meaningful existence and survival of humanity by providing the necessary instruments of development educationally," he said.
Also speaking at the workshop, Governor Aminu Tambuwal said his administration was committed to educational standard, excellence as well as development.
"Our resilience for the initiative is not just to adopt it but ensure a sustained and workable plan for acceptable solutions that would last the expectations of the drivers. I wish to appreciate the UNICEF intervention programme in the state education sub-sector, especially towards actualising the model and for this reason.
The state government will come up with a standing committee under the leadership of Malam Lawal Maidoki for the realisation of the desired success of the programme transformation process," he said.