Mixed Reactions As Alleged Photo Of Rev Mbaka's Biological Child Surfaces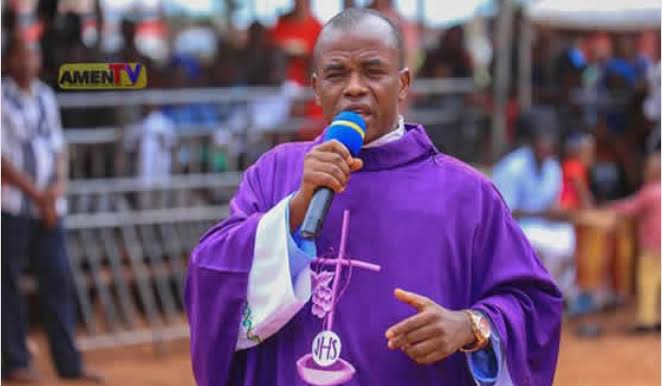 Nigerians on social media have reacted to a viral photo of Catholic Priest and Spiritual Director of Adoration Ministry, Enugu, Rev. Fr Ejike Mbaka, carrying a baby alleged to be his child.
This comes after a controversial blogger identified as Ifeoma shared a photo of the Catholic Priest carrying a new born baby revealing that the child is his. Before the revelation, a middle-aged woman from Enugu had earlier accused the reverend father of sleeping with her daughter, which conceived a child that was allegedly his.
The woman also alleged that when her daughter, Uloma became pregnant, Mbaka arranged a man to marry her, but the marriage failed. She also advises the Reverend father to quit the priesthood and marry her daughter to raise their child together. 
The photo surfaced barely 24hours after the Nigerian mother cried out to the priest to leave her daughter alone. However, Naija News understands that there are no solid indications that the baby is his biologically child as all accusations seems unfounded and baseless.
See photo below;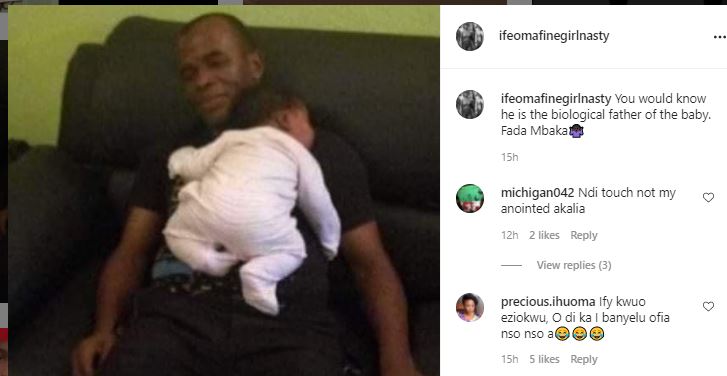 See comments the photo regenerated below;
@michigan042 wrote; 'Ndi touch not my anointed akalia'
@flourishingmira1 wrote; 'What if the baby is from the orphanage/ motherless baby home?'
@bellanwabekee wrote; 'So Bcos Mbaka said d truth.. now agenda must agend ..'
@ijele_egooyibo wrote; 'His gullible followers will come and defend him now as if there's no blood flowing in his joystick.'
@sugarcynthia_wrote; 'That's not true. I don't believe you on this not possible'
@ezinne_empirewrote; 'But it's not bad if he fathered a child, children are blessing from God'
@Fer_goddess wrote; 'How can we judge just a common pix, a man holding a baby'