Meet 21-Year-Old Man Who Feeds On Grasses From Birth – [Doc. Video]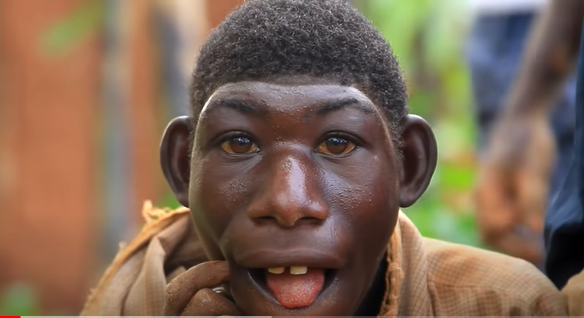 Ellie, 21, was born into a humble family in Rwanda, in East Africa. The young man who is said to be the only surviving child of his parent lives in the forest among the wild animals, Naija News reports.
This online news platform understands that the documentary of the child who is born differently was recently produced by Afrimax Ltd, an ISP company in Malawi.
Speaking on the special abilities and life challenges of Ellie, his mother told reporters that the boy has learning difficulties as he cannot communicate with humans. She revealed that Ellie is always mocked and beaten by villagers because he was he can't communicate.
She continued that he is treated like animals as he lives in the forest where he eats grasses like animals. She added that he never touch her foods, instead, he enters inside the forest to hunts for bananas and other fruits.
Naija News understands that even though Ellie is 21 year of age, he never attended any school and is afraid of his fellow villagers.
According to the mother, her child is a special child and a gift from God, noting that she and her husband lost five children at birth. Ellie because of his unusual lifestyle has been nicknamed 'monkey' by bullies in the village.
Ellie's mother confessed that after losing her five children, she and her husband asked God to provide them with a child even if he is disabled. Subsequently, according to her, God answered their prayer and gave them Ellie.
She said, "After losing our five children we asked God to at least give us a disabled child, as long as he does not die as early as the previous ones. When he delivered him, I knew it was a message from God."
She added, "He doesn't like food. He prefers eating bananas. He doesn't know anything, he can't do anything.
"All he does is run. When he sees people, all he does is run from them. Wherever he runs I have to run after him. In a whole week we can cover 230km.
"If I do not follow him, he might not come back home."
Watch the touching documentary of Ellie below;
Meanwhile, in what seems strange but true, a young man said to be a wizard, has 'crash-landed' on the rooftop of a building, after he allegedly lost his powers.