Diego Maradona's Lasts Words As Argentina President Declares Public Holiday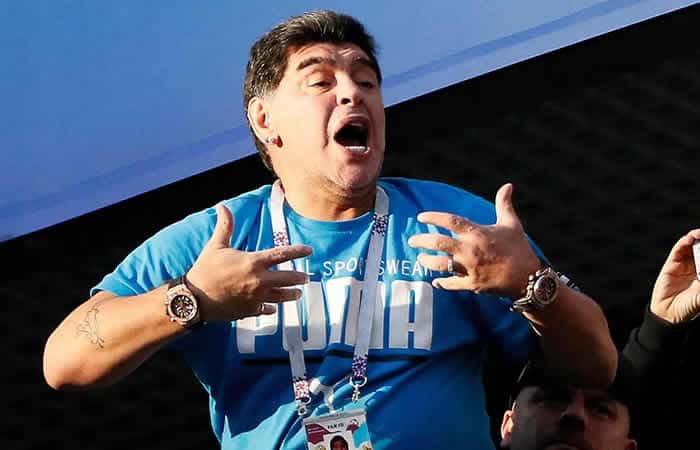 Yesterday, NaijaNews reported the death of former Barcelona, Napoli and Argentina playmaker, Diego Maradona.
He was said to have died aged 60, after her suffered a heart attack in his native Argentina.
According to his family, the football legend's last words were "I dont feel well"
His nephew, Johnny Esposito explained that Maradona stated to complain of not feeling well, after he had breakfast, adding that he was going to lay down.
Johnny described how Maradona had awoken in the morning looking pale and complaining of feeling cold.
He went back to bed after a quick breakfast where he is said to have pronounced his last words: 'Me siento mal' – English for 'I don't feel well.'
After in laid down, he was said to have suffered the heart attack which eventually claimed his life.
A nurse who was looking after Maradona following his release from hospital this month after his brain scan operation phoned for an ambulance and several responded.
However, all effort to revive him proved abortive, as he had already passed away.
State prosecutors have launched a routine inquiry into Maradona's death just to be sure he died of natural causes.
Prosecution chief John Broyad, speaking outside San Andres as the retired footballer's body was taken to a nearby morgue for an autopsy, said: "Diego Armando Maradona died around 12pm local time.
"The forensic police began their work at 4pm.
"The autopsy is being carried out to determine beyond any doubt the cause of death but we can say at this stage that everything is pointing to natural causes."
Meanwhile Argentina President Alberto Fernandez, has already announced three days of national mourning.
Maradona, only turned 60 on October 30. In an interview 15 years ago, he revealed what he wanted engraved on his tombstone.
The famous former footballer in the interview said "getting old with his grandchildren would mean a peaceful death" for him.
Asked by the interviewer what he would write on his grave, Maradona responded: "Thanks for having played football because it's the sport that gave me most happiness and freedom and it's like having touched the sky with my hand. Thanks to the ball.
"Yes, I would put on the tombstone, 'Thanks to the ball."