US Female Pastor Quits Church To Become A Stripper
A United States Pastor,Nikole Mitchell has given up the Church, her Christian faith to become a stripper.
Naija News Understands that the Mum-of-three said she always wanted to become an erotic dancer but she was brought up in a strict Christian family which put a damper on her dreams.
She said:
"I started off really timid like just topless photos, but now I'm at the point where I take personal requests and make videos very tailored to people's specific desires."
She has now come out as bisexual and carved a new career as a stripper, model and erotic dancer.
Nikole regularly post semi-clad images on her Instagram page to her 42,000 followers and runs a successful OnlyFans account where people pay to see explicit photos and videos of her.
The 36-year-old said she always longed to be a stripper but she grew up in a strict Baptist family so was "indoctrinated to believe her desires and body were innately sinful and bad".
Nikole got married and became a pastor – which she said was a move seen as rebellious in her family's eyes as a "woman's place was in the kitchen and looking after her children."
But when Nikole, and her now ex-husband, joined an evangelist megachurch in St. Paul, Minnesota, she had an epiphany which led to her life-changing decision.
See her twitter screenshot profile page below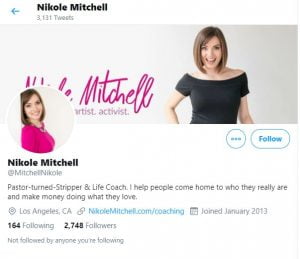 Source: Naija News